Glenn Youngkin May Run After All
Virginia's governor is reportedly taking a shot at the 2024 Republican nomination.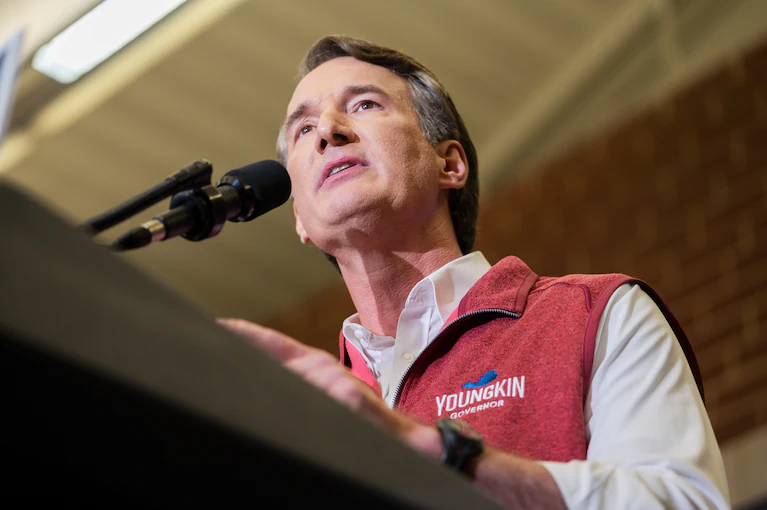 Axios ("Scoop: Virginia Gov. Glenn Youngkin reconsiders 2024 bid"):
Virginia Gov. Glenn Youngkin is reconsidering a bid for the 2024 GOP presidential nomination, after earlier taking himself out of the race as polls made former President Trump look increasingly formidable, top Republican sources tell Axios.
Pretty much every poll shows twice-impeached former President Donald Trump running away with the Republican nomination. Younkin is reasonably popular here in Virginia but is less than a blip in the national polls. So, what gives?
What's happening: Youngkin told Richmond reporters in April that he was focused on this fall's Virginia legislative races.

"Listen, I didn't write a book, and I'm not in Iowa or New Hampshire or South Carolina," he said. "I am wholly focused on the Commonwealth of Virginia."
But that has changed amid a rocky few months for Florida Gov. Ron DeSantis (R), who is expected to announce his presidential candidacy Wednesday.

What we're hearing: Some powerful GOP donors, who won't support Trump but are beginning to be concerned about DeSantis, are encouraging Youngkin to jump into the 2024 field.

"He's reconsidering," a top source close to Youngkin told Axios. "He'd be in his own lane: He's not never-Trump, and he's not Trump-light."
A top Virginia GOP strategist told Axios there are "serious discussions happening on re-engaging in the presidential" race.

Youngkin faces high-stakes state legislative races in November. So an announcement about a presidential race is likely to wait until right after that, Republican sources said.

A senior Youngkin aide told Axios: "If the guy flips any seats at all, it's proof that his political machine is ready to go."
Youngkin isn't a nut on the order of DeSantis or Gregg Abbott but threaded the needle too closely to the MAGA line for my tastes in the 2021 campaign. Much as with Trump in 2016, I voted for the Democrat, Terry McAuliffe, despite being my least favorite Democratic candidate for the office since I started voting for it.
He's governed more-or-less responsibly, though. He's not quite Larry Hogan or Chris Sununu, having engaged in more populist grandstanding than I would prefer. But he's certainly preferable to a Trump or DeSantis.
And there's something to the "lane" idea. Neither Nikki Haley nor Asa Hutchinson has gained any traction, so there may indeed be room for a candidate who's neither MAGA nor so anti-Trump as to have alienated the GOP base. As much as I liked the idea of nominating Jon Huntsman in 2012, he seemed to go out of his way to get people not to vote for him. And the base is decidedly more angry now than it was then.
Still, Axios saves the more likely reason for last:
Between the lines: Virginia governors have just four years in office — they can't serve consecutive terms. That makes it tough to spend the final year of the term in Iowa, New Hampshire and other early-voting states.

"2028 may be the real play," the source close to Youngkin said. "A lot of these guys consider this a dress rehearsal."
It probably makes sense to get his name recognition up by running in 2024 as a sitting governor rather than waiting until 2028 when he's been out of office for years.