Democrats Worried About Youngkin
Virginia's governor has raised a ton of money.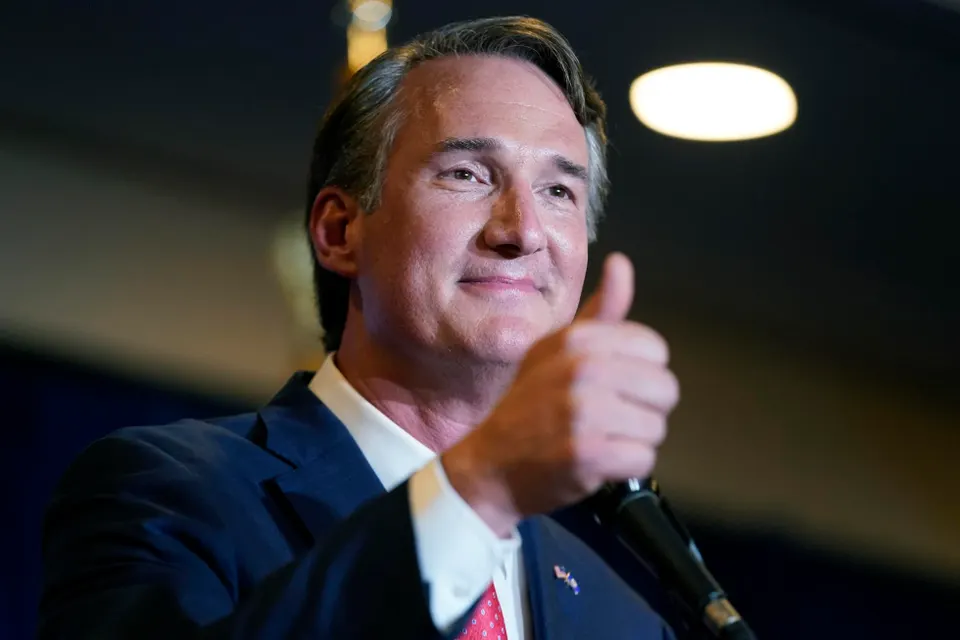 NBC News ("Virginia Democrats raise alarms that Gov. Glenn Youngkin could be building toward a national bid"):
Virginia Democrats are worried the national party isn't doing enough to stop Republican Gov. Glenn Youngkin, raising alarm bells that he could try to use wins on the state level to pull Virginia to the right and, potentially, mount a presidential bid.

Chief among their worries is this fall's legislative elections. Every single seat in the commonwealth's General Assembly, which is currently split between the two parties, is up for re-election in November. Republicans now hold a five-seat edge in the House of Delegates with three vacancies, while Democrats control the Senate by the same margin. Youngkin's statewide operation is aiming at a GOP sweep, which would open the door to a conservative governing package Democrats have largely been able to stymie during his first two years in office.

"So much is at stake in terms of controlling the legislature and I just don't see that same national energy, candidly, from the White House, on how important Virginia could be not just this year, but next as well," Sen. Mark Warner, D-Va., said.

Democrats fear that if he's successful this fall, Youngkin will continue to enhance his national profile, make the state even more competitive on the presidential level and perhaps even jump into the race for the White House himself in 2024. Republicans counter that Youngkin is solely focused on winning the General Assembly in November and correcting the state's policy trajectory after years of Democratic rule.
While I think Youngkin would be a formidable candidate against President Biden were he the Republican nominee, I continue to believe there's next to zero chance someone other than Donald Trump gets the nod. Living in Northern Virginia, which is its own animal, I have very little sense of the pulse of the rest of the state vis-a-vis the legislative elections in November. Indeed, I'm only vaguely aware there's an election as I've seen essentially no signs of a campaign.
"I don't think he ever stopped running for higher office," said Democratic state Sen. Mamie Locke, who is running for re-election in her Hampton-based district. "He certainly does not have Virginia as his priority. He has a spotlight on something much higher."
Virginia is one of the only states remaining that prohibits its governor from running for consecutive terms. An eye to future office is baked into the cake. Both of our current Senators are former governors.
Youngkin and his team have strategically avoided the topic of his political future without ruling out the possibility that he could jump into the race for president at a late stage.

"His sole focus and sole priority is on these state House and state Senate races," said David Rexrode, the executive director of Youngkin's state PAC, Spirit of Virginia. "He's doing town halls in Fredericksburg and Prince William, Loudoun and Roanoke, not in Des Moines, Manchester and Charleston."
This is objectively true. Indeed, he told the NYT when asked about a potential Presidential run in April, "Listen, I didn't write a book, and I'm not in Iowa or New Hampshire or South Carolina." I'm sure he'd seize an opportunity to enter the race just before Iowa if it presented itself. My guess, though, is that he'll wait until 2028, when there's not an incumbent President and a former incumbent President in the way. He's only 56, so he has time.
This, though, is interesting:
Spirit of Virginia has become a financial engine the likes of which Republicans have not seen since 2011, when then-Gov. Bob McDonnell, then seen as a rising GOP star, became chair of the Republican Governors Association. Youngkin has raised $9.5 million since the beginning of the year from donors across the U.S., including recent fundraisers on Nantucket in Massachusetts and in the Hamptons in New York, a source familiar with the PAC's finances confirmed. That money is now aimed at arming Virginia's GOP candidates with the resources they need to win in November. And Youngkin is building ties with prominent and connected leaders across the country along the way.

It is an out-of-state money and political machine that Virginia Democrats say they haven't matched. The commonwealth's two Democratic senators are now getting involved, with a specific focus on pushing the national party to pay attention to what is at stake this fall.

"I don't think there's the same national donor focus on Virginia as Gov. Youngkin is pushing on the Republican side," said Sen. Tim Kaine, D-Va., a former governor himself.

Kaine argues that if Youngkin's political machine is successful this fall, it puts Virginia in play on many levels in 2024.

"We may be battleground leaning blue, but we're not a blue state," Kaine said. "And that means electoral votes have to be fought for every year."

Kaine will be on the ballot in 2024 after announcing his intention to seek re-election.
Virginia was a decidedly battleground state when I moved here in 2002. While it had pretty consistently voted Republican for President, it has been mostly electing Democrats to the state house and US Senate. But it's now gone Democratic at the Presidential level four straight times. I think it's safe to call it a blue state at this point.
Still, that Younkin has built such a huge war chest is a sign of his appeal and skills as a politician. That's pretty impressive for a finance guy whose first political campaign was the one for his current office two years ago.