Global Temperatures Set Another Record In 2016
The reality of global climate change made itself evident again in 2016.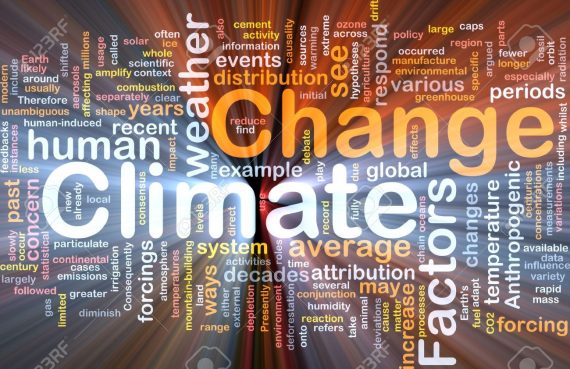 For the third consecutive year, the planet experienced its highest average temperature in recorded history:
Marking another milestone for a changing planet, scientists reported on Wednesday that the Earth reached its highest temperature on record in 2016 — trouncing a record set only a year earlier, which beat one set in 2014. It is the first time in the modern era of global warming data that temperatures have blown past the previous record three years in a row.

The findings come two days before the inauguration of an American president who has called global warming a Chinese plot and vowed to roll back his predecessor's efforts to cut emissions of heat-trapping gases.

The data show that politicians cannot wish the problem away. The Earth is heating up, a point long beyond serious scientific dispute, but one becoming more evident as the records keep falling. Temperatures are heading toward levels that many experts believe will pose a profound threat to both the natural world and to human civilization.

In 2015 and 2016, the planetary warming was intensified by the weather pattern known as El Niño, in which the Pacific Ocean released a huge burst of energy and water vapor into the atmosphere. But the bigger factor in setting the records was the long-term trend of rising temperature, which scientists say is being driven by increasing levels of carbon dioxide and other greenhouse gases.

"A single warm year is something of a curiosity," said Deke Arndt, chief of global climate monitoring for the National Oceanic and Atmospheric Administration. "It's really the trend, and the fact that we're punching at the ceiling every year now, that is the real indicator that we're undergoing big changes."

The heat extremes were especially pervasive in the Arctic, with temperatures in the fall running 20 to 30 degrees Fahrenheit above normal across large stretches of the Arctic Ocean. Sea ice in that region has been in precipitous decline for years, and Arctic communities are already wrestling with enormous problems, such as rapid coastal erosion, caused by the changing climate.

"What's going on in the Arctic is really very impressive; this year was ridiculously off the chart," said Gavin A. Schmidt, head of the Goddard Institute for Space Studies in Manhattan, a unit of the National Aeronautics and Space Administration that tracks global temperatures.

But Arctic people were hardly alone in feeling the heat. Drought and starvation afflicted Africa. On May 19, the people in the town of Phalodi lived through the hottest day in the recorded history of India, 123.8 degrees Fahrenheit.

El Niño has now ended, and climate scientists almost universally expect 2017 to be cooler than the year before. But the scale of the heat burst has been startling to many of the experts, and some of them fear an accelerated era of global warming could be at hand over the next few years.

Even at current temperatures, billions of tons of land ice are melting or sliding into the ocean. The sea is also absorbing most of the heat trapped by human emissions. Those factors are causing the ocean to rise at what appears to be an accelerating pace, and coastal communities in the United States are spending billions of dollars to fight increased tidal flooding. Their pleas for help from Congress have largely been ignored.

The finding that a record had been set for the third year in a row was released on Wednesday by three government agencies, two American and one British, that track measurements made by ships, buoys and land-based weather stations. They analyze the figures to correct for known problems, producing an annual average temperature for the surface of the Earth. The national meteorological agency of Japan also confirmed the findings in a preliminary analysis.

The findings about a record-warm year were also confirmed by the Berkeley Earth Surface Temperature project, a nonprofit California group set up to provide a temperature analysis independent of governments. That group, however, did not find that three records had been set in a row; in its analysis, 2010 was slightly warmer than 2014.

In addition to the surface measurements, satellites are used to measure the temperature of the atmosphere a few miles above the surface. Two groups that analyze these figures showed a record-warm 2016 in data going back to 1978, though in one data set it was a record by only a small margin.

Since 1880, NOAA's records show only one other instance when global temperature records were set three years in a row: in 1939, 1940 and 1941. The Earth has warmed so much in recent decades, however, that 1941 now ranks as only the 37th-warmest year on record.

The modern era of global warming began around 1970, after a long stretch of relatively flat temperatures, and the past three years mark the first time in that period that three records were set in a row. Of the 17 hottest years on record, 16 have now occurred since 2000.
For some time now, it's been clear that worldwide temperatures have been on the upswing since at least 1970 and that those temperature spikes have become more common since the turn of the century, with each new year seeming to set new records either worldwide, for particular parts of the planet, or both. While it's true that the records we're talking about only reliably go back to the late 19th Century, additional evidence uncovered via the examination of soil samples and other methods seem to indicate that this trend is a real phenomenon rather than just a fluke that will pass us by in a few years. At this point, one would have to deliberately be sticking their heads in the sand to ignore the clear scientific data that shows these facts, and already there is evidence from around the globe of the impact that these rising temperatures are likely to have in years to come, from rising sea levels and daily temperatures in major cities to increasingly erratic weather in many parts of the world. The world is getting warmer, and there's going to be a point at which we will be powerless to do anything about it, assuming, that is, that we haven't already passed that point. Instead of recognizing that reality, though, many people in the United States continue to deny the basic facts that show that the global climate is undergoing radical change and have chosen instead to attack those who are attempting to make this information public.
In addition to the fact of global climate change, it also seems undeniable that human activity has played at least some role in bringing the current situation about. The lifestyle that much of the world has come to know rely upon depends on vast quantities of energy, and in large part that still means relying upon sources of energy that dump carbon into the atmosphere on a regular basis. In some nations, such as China, this has resulted in things such as days on which Beijing and other cities are so covered in smog that one can barely see buildings across the street. In others, it has led to already measurable increases in sea levels that, if they continue, will have an impact on everything from recreation and housing to fresh water supplies. Drought has been an issue in several parts of the world for many years now, leading many people in the third world to abandon agricultural areas for major cities that are already crowded and barely able to accommodate their current populations. This isn't to say that human activity is the only cause of the current round of climate change, of course, or that we should all go back to some sort of pre-industrial way of living in order to 'save the planet.' The first idea ignores the reality that global climate is a complex phenomenon that is influenced by a wide-ranging series of factors, many of which we have no control over. The second is simply an unrealistic strawman typically used by those who deny the reality of climate change to shut down any discussion about what, if anything, can be done to at least stem the tide of change that appears to be headed for us in the coming years and decades.
As I've noted in the past, there is very little ground for denying the reality of global climate change. The data is all there, and the vast majority of scientists studying the climate are in agreement that it is in fact happening. Additionally, as I said, there seems to be little doubt that human activity has played some role in bringing this about. What's unclear is what, if anything, can or should be done in response to these facts. Some responses, such as accelerating research into forms of energy production that minimize the amount of carbon that ends up in the atmosphere seem to be self-evident, for example. Additionally, there seems to be very little wisdom in continuing to subsidize forms of energy such as coal that are clearly bad for the environment. Beyond that, though, there is plenty of room for debate about the appropriate response to what seems to be an increasing reality. Unfortunately, the incoming Trump Administration appears ready to do practically nothing about this issue:
Two of the agencies that issued Wednesday's figures, NOAA and NASA, will soon report to cabinet secretaries appointed by President-elect Donald J. Trump, who has expressed doubt about the findings of climate science. Mr. Trump famously issued a tweet in 2012 that said: "The concept of global warming was created by and for the Chinese in order to make U.S. manufacturing noncompetitive."

(…)

Fear has erupted within the agencies about whether their data will now be subject to political manipulation. However, Mr. Trump and his cabinet nominees have given no detailed indication of what their broad climate policies are likely to be, much less how they will manage the scientific enterprise of monitoring the climate.

Some Republicans in Congress have long been hostile to the findings of climate science, and have repeatedly investigated scientists. It is not clear what will happen with these efforts in the new political era.

Beginning in 2015, for instance, the chairman of the House Committee on Science, Space and Technology, Texas Republican Lamar Smith, issued subpoenas to NOAA, seeking to prove that adjustments the agency made to its data set were a deliberate attempt to make global warming appear worse.

But a paper recently issued by the Berkeley group confirmed the scientific validity of the changes NOAA had made. "NOAA was not cooking the books," said Zeke Hausfather, a researcher with the Berkeley Earth project and the lead author of the paper.

(…)

Democrats on the Science committee have been exasperated by what they regard as attempts by Republicans in Congress to intimidate scientists and undermine basic scientific findings.

Eddie Bernice Johnson, a Texan who is the ranking Democrat on the committee, said in a statement, "As the world breaks temperature records seemingly every single year, we desperately need this committee's and our country's leadership to reject this anti-science agenda, and get serious about addressing the reality of climate change."
In a less political polarizing time, we'd probably have a more united front on this issue. For the foreseeable future, though, it's likely that there will be few serious discussions about what can realistically be done and the can will be kicked down the road for another four years at least. At some point, it will likely be too late to do anything about whatever the future may hold.