Going To College Is Still The Best Thing To Do For Your Future, Graduating Is Even Better
Going to or, preferably, graduating from college makes it far more likely you'll have a job. The numbers don't lie.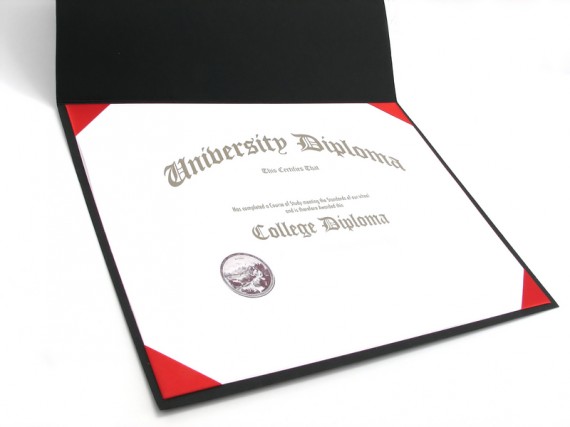 In the wake of the release of the November Jobs Report, Joseph Brusuelas, the Chief Ecoomists at RSM US, LLP who was named one of the '26 Economists You Should Be Following' by The Huffington Post posted this chart based on the new data showing the U-3 unemployment rate based on level of education going back all the way to 1995 (click graphic to enlarge):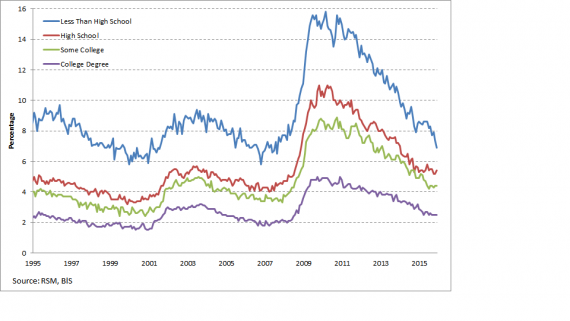 The story that the chart tells shouldn't be all that surprising. Basically, the more education you have, the less likely it is that you'll be unemployed at any given point in time. By way of comparison, during the height of the Great Recession, the unemployment rate for people who did not graduate High School went as high as 16%, while those with at least a High School Diploma saw their unemployment rate peak at just above 10% at roughly the same time. For people who had at least some college education, their unemployment rate never got higher than roughly 8%, while people who graduated college never saw unemployment rates that went above what appears from the chart to be roughly 4.5-4.75%. Even during the best of economic conditions, the disparity is still quite wide. The unemployment rate for those who never got a High School Diploma didn't really go below 6% at any point in the last twenty years. For those with a diploma, there were times during the late-90s economic boom when their unemployment rate actually dipped below 4%, and in any case spent long periods at or near the 4% rate until the Great Recession started. Having at least some college education meant that your unemployment rate dipped well below 4% for a good part of the past two decades, and appears to be headed back to its historic norm. Finally, if you graduated from college, you saw periods of time where unemployment actually fell below 2% and, in any case, never went much above 3% until the Great Recession started.
Obviously, these statistics are for groups as a whole and don't necessarily tell the story of the difficulties faced by some sub-sets of workers regardless of their level of education. During the Great Recession, for example, there were plenty of stories about recent college graduates who had considerable difficulty finding jobs in their fields, or who ended up taking jobs in fields where their education seemingly wasn't all that relevant to what they were doing on a daily basis. Additionally, the chart itself just speaks to the fact of whether or not someone is employed full-time, not whether they are being paid well or what the status of benefits like health insurance might be. Nonetheless, we know from other statistics that people who are better educated are also paid better and have better earning potential over time, so while the generation of college graduates who had the misfortune to get out of school in the midst of the Great Recession and the recovery that has slowly followed had major difficulties they have, on average, had it better than those who didn't graduate, those who didn't go to college, and most certainly those who didn't even graduate from High School.
All of this goes to an argument that has been popular lately, and one which I have been guilty of making myself, that college education outside of the STEMs and fields that lead to graduate school aren't worth what students are paying for them. These statistics would seem to make clear that this isn't necessarily true and that, at the very least, you're more likely to have a job if you've graduated college than in any other circumstances. Certainly, there are individual anecdotes on both sides of the argument about people without a complete education who have become hugely successful and people who graduated college who aren't doing well at all. Those clearly seem to be the exceptions rather than the rule, though, and the efforts to disparage college education by pointing to people like Bill Gates and Mark Zuckerberg, who have become hugely successful notwithstanding the fact that they never graduated college, don't really hold water. Those two men, though, are clearly the exception rather than the rule. On balance, going to college is the best choice you can make for your future, and that's not likely to change any time soon.