Good Bye Peak Oil Hypothesis
Remember Peak Oil? Whatever happened to that idea?
Good Bye Peak Oil Hypothesis
I have posted on this topic in the past and have been very skeptical of this concept and the Hubbert model in particular. The story is simple and very believable, the amount of oil is finite therefore the production of oil will follow a "bell curve" in that it will rise, peak and then go into decline. It is inevitable and there are potentially very bad implications (the more dire predictions sound like something out of a Mad Max movie).
However, I present the following: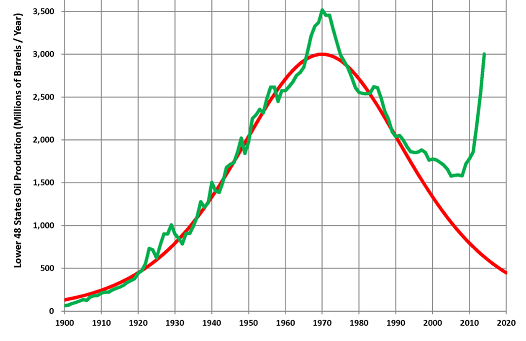 That graph is for the production of oil in the lower 48 states of the U.S. The green line is actual, the red line is the "Hubbert" curve. Notice a problem starting in the mid to late 1990s? Yeah, it no longer is following the model. This was one of the few accurate predictions those pushing this peak oil/Hubbert view clung too. Hubbert got right the production in the lower 48! Welp…not so much.
What happened? Fracking. That deviation and then complete reversal of trend is due to hydraulic fracturing, aka fracking. In short, my claims that the Hubbert curve as a predictive model were correct. It is a rubbish model for predictive purposes. The usual response is well you can fit more than one "bell curve". Great! How many? A predictive model should tell you that? What you can't? Sorry, your model is rubbish. Crap. Junk. Useless. In short, just get out.
As for peak oil, that too is a load of crap. Yes, someday we'll peak in terms of oil production just as we have peaked in the production of lots of other things. I am sure we are well past our production of covered wagons, wooden teeth, and whale oil. While the prediction is almost surely going to be true, it is one that is really not all that big a deal. When we hit our peak in oil production that is when alternatives will start to look more appealing. Alternatives like solar.
Solar, you scoff. Let me tell you about solar power. Here in California in the electricity market we will have 50% of our electricity needs met by renewables like solar and wind in the not too distant future. Already, one of the problems with solar and wind is that when combined with base load generation there are some hours of the day when electricity prices can go negative. Yes, negative. Base load plants cannot ramp up and down quickly. And if it turns out that solar and/or wind production is greater than was anticipated there is an over-supply of electricity and prices will go negative.
Another interesting story is that of the Net Energy Metering customers in Hawaii, California and other states. These are residential customers (there are some commercial and industrial, but the bulk are residential) and they have solar panels on their roofs. Another interesting thing is that during the day when most residential customers are out at work or school their load is very low…right about the time their solar production is peaking. So they actually export energy back to the grid.
And then there is the effects of fracking on natural gas production. Like oil fracking has lead to a dramatic rise in natural gas production as well. This is good for heating, using natural gas to generate electricity in base load and combustion turbine plants, as well as even possibly as fuel in cars.
So this notion that suddenly we are going to be plunged into a world of horror and destruction because of peak oil, let alone just increasing economic problems is not…laughable. Is it a coincidence that the Oil Drum made their last official post on September 2013? Maybe, but I'm guessing they saw that the old discussion was now pointless. All the hand wringing about peak oil, Hubbert curves and that crap was…well crap.
I'll also point out that the various people who fell for this nonsense should have known better. The reason for this is The Coal Question: An Inquiry Concerning the Progress of the Nation, and the Probable Exhaustion of Our Coal-Mines which was published by the great William Stanley Jevons, co-discoverer of the marginal utility theory along with Carl Menger and Leon Walras. The article is Jevons concern about there being enough coal to sustain the current pace of economic growth.
DAY by day it becomes more evident that the Coal we happily possess in excellent quality and abundance is the mainspring of modern material civilization. As the source of fire, it is the source at once of mechanical motion and of chemical change. Accordingly it is the chief agent in almost every improvement or discovery in the arts which the present age brings forth. It is to us indispensable for domestic purposes, and it has of late years been found to yield a series of organic substances, which puzzle us by their complexity, please us by their beautiful colours, and serve us by their various utility.

And as the source especially of steam and iron, coal is all powerful. This age has been called the Iron Age, and it is true that iron is the material of most great novelties. By its strength, endurance, and wide range of qualities, this metal is fitted to be the fulcrum and lever of great works, while steam is the motive power. But coal alone can command in sufficient abundance either the iron or the steam; and coal, therefore, commands this age—the Age of Coal.

Coal in truth stands not beside but entirely above all other commodities. It is the material energy of the country—the universal aid—the factor in everything we do. With coal almost any feat is possible or easy; without it we are thrown back into the laborious poverty of early times.

With such facts familiarly before us, it can be no matter of surprise that year by year we make larger draughts upon a material of such myriad qualities—of such miraculous powers. But it is at the same time impossible that men of foresight should not turn to compare with some anxiety the masses yearly drawn with the quantities known or supposed to lie within these islands.

Geologists of eminence, acquainted with the contents of our strata, and accustomed, in the study of their great science, to look over long periods of time with judgment and enlightenment, were long ago painfully struck by the essentially limited nature of our main wealth. And though others have been found to reassure the public, roundly asserting that all anticipations of exhaustion are groundless and absurd, and "may be deferred for an indefinite period," yet misgivings have constantly recurred to those really examining the question. Not long since the subject acquired new weight when prominently brought forward by Sir W. Armstrong in his Address to the British Association, at Newcastle, the very birthplace of the coal trade.

This question concerning the duration of our present cheap supplies of coal cannot but excite deep interest and anxiety wherever or whenever it is mentioned: for a little reflection will show that coal is almost the sole necessary basis of our material power, and is that, consequently, which gives efficiency to our moral and intellectual capabilities. England's manufacturing and commercial greatness, at least, is at stake in this question, nor can we be sure that material decay may not involve us in moral and intellectual retrogression. And as there is no part of the civilized world where the life of our true and beneficent Commonwealth can be a matter of indifference, so, above all, to an Englishman who knows the grand and steadfast course his country has pursued to its present point, its future must be a matter of almost personal solicitude and affection.
In other words, Jevons was worried, deeply worried, about running out of coal. Jevons could not foresee what would replace coal and thus…there was nothing. Jevons wrote this 1865. Clearly Jevons' fears were unfounded. And let me be quite quite clear. People knew about oil back then. Oil was actually a Bad Thing™. If you had oil on your land it reduced the value of your land….until one day when somebody figured out you could do something useful with it, like refine it into kerosene (note by the way, most refineries making kerosene…dumped this useless by product into rivers…that by product…wait….wait…gasoline). Some might say, "Oh, well that was just dumb luck." I would argue, no, that is not dumb luck. Much of our economic progress is done via innovation where somebody ways, "You know I could find a use for that," or "I can do something with that and people will pay me for it," or "I have this crazy Idea, how about we build a machine so we can fly?"
People sit there and cannot see the Next Big Thing™ and thus to them the Next Big Thing™ cannot possibly come to be. But it does. We now walk around with phones that have more computing power than computers from 35 years ago. Because somebody had a crazy idea. Yes, lots of crazy idea are crazy ideas and nothing comes of them. But the one's that do…that is where things can take sudden and surprising leaps and turns. Take a look at technology in 1865 when Jevons was deeply worried about coal and look at what we have now. Trying to tell a brilliant person like Jevons we'd have these devices where we could walk around and in the blink of an eye communicate with hundreds even thousands of people and he call you a kook.
[Note: And if you really like the idea of peak oil, don't worry it won't really die. Horribly bad ideas never die. They just get revived like in the movie Re-Animator and want to eat your pineal gland. It will be back and there we much hand wringing and worrying.]