Google Killed the Library
Why does Hermione Granger go to the library instead of just Googling it?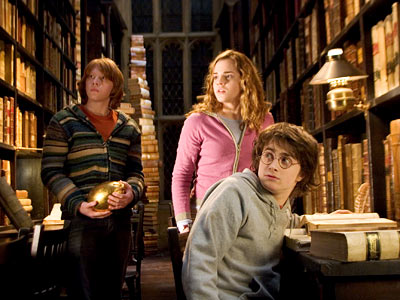 Adam Gopnik notes how fundamentally the Internet has changed our perceptions:
When the first Harry Potter book appeared, in 1997, it was just a year before the universal search engine Google was launched. And so Hermione Granger, that charming grind, still goes to the Hogwarts library and spends hours and hours working her way through the stacks, finding out what a basilisk is or how to make a love potion. The idea that a wizard in training might have, instead, a magic pad where she could inscribe a name and in half a second have an avalanche of news stories, scholarly articles, books, and images (including images she shouldn't be looking at) was a Quidditch broom too far. Now, having been stuck with the library shtick, she has to go on working the stacks in the Harry Potter movies, while the kids who have since come of age nudge their parents. "Why is she doing that?" they whisper. "Why doesn't she just Google it?"
In fairness to J.K. Rowling, the books are set in the immediate pre-Google era:
The main narrative of the novels is set in the years 1991-98, with significant memories from the year 1976 (Harry's parents' Ordinary Wizarding Level (OWL) year) and memories from various determinable and undeterminable periods after 1945; though little reference is made to features of any period. The only specific dates given in the series are in the last book, on the grave of James and Lily Potter which identifies them to have died in 1981, and in on Nearly Headless Nick's deathday cake in Chamber of Secrets, which points out the date as 1992.
But, of course, 1998 may as well be 1938 to a 12-year-old: It's simply the Olden Days.