GOP Digs HRC with 404 Page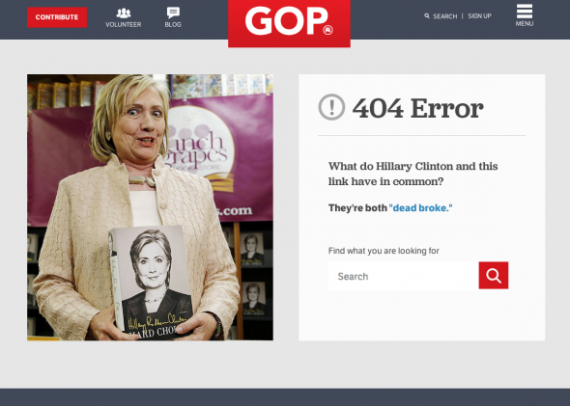 Slate's Will Oremus calls attention to a clever Republican jab at the Democratic frontrunner for 2o16: "The Republicans' 404 Error Page Is a Hillary Clinton Joke."
The Republicans have not lately been known as the party of Internet savvy, as eventheir own party operatives will admit. But give them credit, at least, for making the best of a bad situation when something goes wrong on the party's official website, GOP.com.
Granted, the joke—a reference to a comment Clinton made in a June interview with Diane Sawyer—is not exactly comic genius. But it's probably good for at least a chuckle from the party faithful, which is a step up from the frustration that 404 notices typically engender. And it's certainly better than the "page not found" that appeared in 2010 when visitors to the re-launched GOP.com clicked on a link to its "Future GOP leaders" page.
It may not be comic genius but it's pitch-perfect:  poking fun at the opponent without being mean spirited and also subtle, intended to deliver a chuckle to those who stumble on it by accident rather than an in-your-face jab. Once upon a time, that was SOP for the GOP.