Greedflation?
The evidence is pretty thin.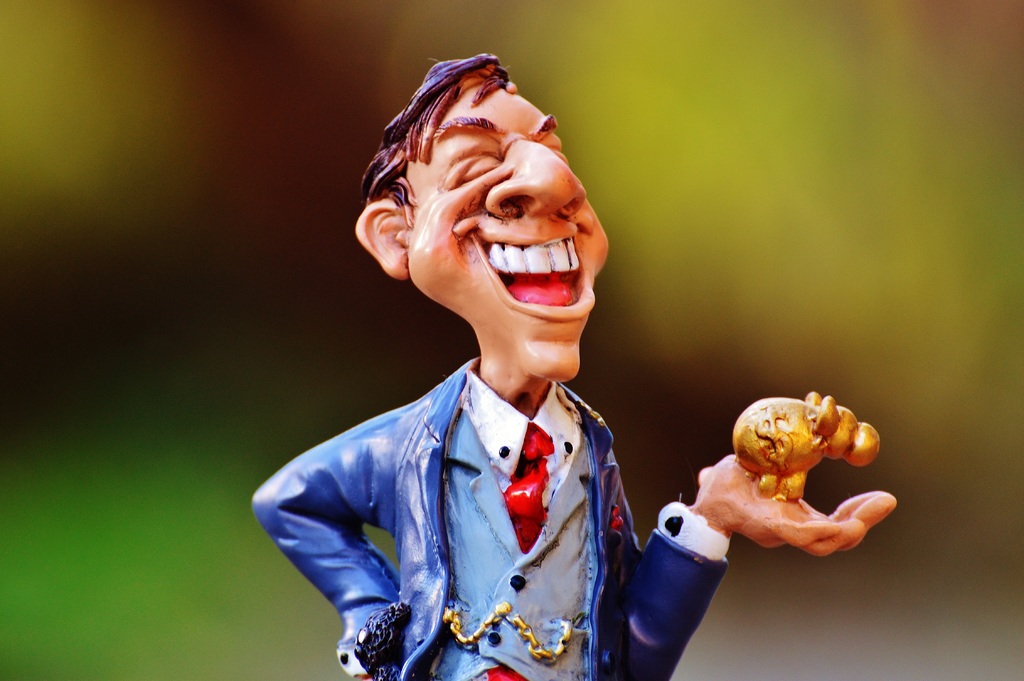 The New York Intelligencer's Eric Levitz contends "The 'Greedflation' Debate Is Deeply Confused." The relevant bit of the setup:
[M]ainstream economists argue that today's inflation was born out of a mismatch between demand and supply. The pandemic recession reduced the global economy's productive capacity by shuttering factories, disrupting supply chains, and nudging many older workers into retirement. At the same time, a series of historically large relief packages increased U.S. consumers' purchasing power. Virus-averse consumers then shifted their copious disposable income away from in-person services and toward goods en masse. Demand for myriad manufactured products therefore soared while supply fell. This enabled producers to command higher prices for their wares. And it also encouraged them to rapidly expand production by hiring more workers, thereby pushing up the cost of labor. This, in turn, increased costs for providers of services like childcare facilities, physical-therapy clinics, and fast-food restaurants. A general and persistent increase in prices ensued.

Some progressives suggest that this account is all wrong: Today's inflation has little to do with fiscal policy or demand conditions. Rather, it is the product of a frenzy of profiteering in the corporate sector. In my view, their case is weak.

More precisely: There is a crude version of the "greedflation" argument that is obviously wrong, and a sophisticated version that is plausible but unproven (and which does not actually refute the relevance of demand conditions).
That the post-COVID inflation was caused mostly by "greed" is so absurd that it's hard to believe anyone is taking it seriously. Greed, after all, is the natural condition of the capitalist. If companies could raise prices on a whim, they'd have done so long before the pandemic.
The crude version of the greedflation argument, as articulated by former Labor secretary Robert Reich and The Lever, goes (roughly) like this: The relationship between the demand for, and supply of, goods and services has little to do with inflation. Rather, rising prices are a product of excess corporate power. As Reich writes, "Corporations have the power to raise prices without losing customers because they face so little competition." And they face so little competition because, "since the 1980s, two-thirds of all American industries have become more concentrated."

This raises an obvious problem: Corporate concentration has been transpiring over decades. In 2019, U.S. industries were roughly as concentrated as they were in 2022. Yet in the former year, inflation sat near 2 percent, a low level by historical standards. In the latter year, by contrast, prices rose by 6.5 percent. So why did corporate concentration yield historically low inflation throughout the 2010s, only to suddenly produce exceptionally high inflation following the pandemic?

Reich acknowledges that the pandemic did increase corporations' costs, raising the price that manufacturers must pay for energy, metals, and workers. But companies then used these genuinely higher costs "as excuses to increase their prices even higher" than necessary for offsetting those costs. Empowered by such excuses, and sheltered from competition by market concentration, avaricious companies powered inflation through price gouging.
So, that's certainly more plausible. But, again, profit has always been the goal. Firms were never constrained in their pricing by mere "necessity" but by what the market would bear. Absent collusion—which has been illegal for a very long time—they have to worry both about being undercut by competitors and by consumers rejecting their product for substitutes.
The idea that market consolidation that has created behemoths like Amazon allows those firms to raise prices because consumers are essentially trapped is appealing. But it's not exactly a sudden phenomenon.
But that's basic economics. Why are smart people like Reich falling for it?
The primary evidence for this claim is the correlation between rising inflation following the pandemic and an increase in corporate profits. Between the fourth quarter of 2019 and the second quarter of 2021, pretax profit margins jumped from 15.6 to 17.9 percent. Proponents of the greedflation hypothesis will often support their argument with charts like this one from the IMF, which shows that profits "account" for far more of inflation in the euro area than labor costs do.
That's actually pretty compelling, right? The red boxes (profits) are getting bigger and the dark blue boxes (labor costs) are going down!
But, again, if corporations could simply jack up their profits whenever they wanted, they'd do so all time time.
There are several problems with this argument.

First, it is unclear why corporations would feel compelled to wait for an "excuse" before seeking to maximize their profits. Ironically, Reich's version of the greedflation thesis implies that corporate America put the public good above its own financial self-interest for years if not decades: During the 2010s, corporations could have charged much higher prices for their goods, as they were insulated from competition by concentration. But for years and years, they decided not to maximize their profits, since they lacked a compelling "excuse" for charging a financially optimal price.

This is an odd theory of corporate behavior. Generally speaking, companies do not feel compelled to provide an excuse for pursuing their mercenary interests. As Reich is keen to highlight in other contexts, U.S. firms have been perfectly happy to offshore jobs to low-wage areas, even in the absence of an economic crisis that would serve to rationalize such profit-maximizing endeavors. Pharmaceutical firms, meanwhile, routinely price-gouged on life-saving medicines, even when inflation was near historic lows.

A second problem with the crude version of the greedflation thesis is that the correlation between rising profits and rising prices does not actually tell us much about the cause of the latter.
Well, sure. But the fact that they're making excess profits during a pandemic and post-pandemic recession—with President Biden getting blamed for it!—is bad, no?
Let's stipulate that the conventional theory of post-COVID inflation is correct: Fiscal policy enabled demand for goods to outpace their supply, as the economy struggled to ramp up productive capacity following the pandemic recession. In that scenario, producers of goods would see the market value of their wares increase, since such goods would be scarce while consumer appetite for them would be abundant. This would make it possible for firms to secure a higher price for their goods, and therefore, to earn higher revenues. Those higher revenues would then either go to workers in the form of higher wages or owners in the form of higher profits, depending on the balance of power between labor and capital within the firm. But in either case, higher wages or higher profits would be an effect of the inflationary environment, not its cause.
Which makes sense, right? If car dealerships are being supplied fewer cars than customers are wanting to buy, they're obviously not going to be very interested in negotiating lower prices for them. Indeed, they're likely going to be able to command prices above MSRP. That is, I supposed, greedy. They could just sell them at 2020 prices. Or, only enough above 2020 prices to recap whatever additional costs they've incurred. But that's never been how businesses operate.
Indeed, Levitz turns that example himself:
Matt Bruenig helpfully illustrates this point with reference to inflation in the used-car market. Following the COVID recession, demand for personal vehicles outstripped their supply. This was largely a result of a shortage in semiconductors, a key input into modern automobiles. During the pandemic, consumers suddenly increased their spending on various electronics that use semiconductors. At the same time, COVID lockdowns in China (among other things) restricted the global economy's capacity to produce chips. As a result, carmakers lacked the inputs to crank out autos at a normal pace.

Unable to secure new vehicles, consumers turned to the used-car market. The price of used cars accordingly skyrocketed. Between June 2020 and January 2022, the price of a used car in the United States jumped by nearly 60 percent, after previously holding steady or declining for 25 years.

Sellers of used cars did not see their costs increase; such sellers have virtually no costs since they're selling an already completed product. As a result, the increase in prices in the used-car market went almost entirely into higher profits. In the phrasing of the IMF chart above, profits would "account for" nearly 100 percent of used-car inflation.

But that wouldn't mean that profiteering by car owners "caused" that inflation in any meaningful sense. The used-car market did not grow suddenly more concentrated after the pandemic recession, nor did car owners suddenly become more greedy. In the aggregate, they have always sought to get the best price they could for their vehicles. That "best price" simply increased due to a mismatch between the demand for, and supply of, used vehicles.
Indeed, it wasn't just sellers of automobiles. Both the state of Virginia and the county where I live impose an annual property tax on automobiles. Our tax bill went up considerably even though the cars were all a year older because their market values went up. Ditto the property tax on our home. The fact that we didn't sell them or realize a profit on them matter in the slightest.
Proponents of the greedflation thesis suggest that their analysis has recently been vindicated by reports from the Kansas City Federal Reserve and European Central Bank. But as Bruenig notes, these claims rely on misreadings. Both reports note that profits have contributed to inflation more than wages. But in doing so, they are merely (awkwardly) describing the distribution of inflation's benefits, not its causes. When discussing actual causal mechanisms, the ECB suggests "demand outpacing supply in many sectors" as one critical factor. The Kansas City Fed, meanwhile, explicitly rejects "the simple explanation of 'greedflation,' understood as either an increase in monopoly power or firms using existing power to take advantage of high demand."

Notably, as the economy's productive capacity has recovered, and supply has grown less constrained, profit margins have fallen. In the first quarter of 2023, pretax profit margins were back down to pre-COVID levels, even as inflation persisted (albeit, at a decelerating pace).
So, as the economy slowly gets back to normal, so do profit margins?
The final problem with the crude greedflation argument is that it simply ignores the very strong evidence behind the conventional account of the post-COVID inflation. Congress really did mount a historically aggressive response to the pandemic recession, providing households with so much financial aid, Americans' disposable income actually increased during the economic downturn and has remained above 2019 levels ever since.
At the same time, fear of contagion led consumers to suddenly, collectively shift their spending away from in-person services and toward goods en masse, producing an abrupt surge in demand for goods.

Combine this with battered supply chains and a shrinking labor force (as many older Americans opted to retire all at once), and we would expect to see inflation, irrespective of corporations' greed or market power.
Which, oddly, was the story we were being told in real time.
In sum, the crude greedflation argument has no satisfying explanation for why prices rose when they did, relies overwhelmingly on a correlation that does not imply causation, ignores copious evidence that a mismatch between supply and demand has been the primary cause of inflation, and cannot account for the fact that price growth has persisted in 2023 even as corporate profit margins declined.
Yet Levitz's article goes on considerably longer. Why? Well, because there's a version of the "greedflation" argument for which there is at least a modicum of support: that firms all along the supply chain padded their profit margins a little bit because they could get away with it.
Kevin Drum supplies a succinct summary:
During periods of low inflation, price increases are conspicuous and consumers react to them. Big, flashy price increases run the risk of consumers abandoning your product and substituting something else.

But when the economy is chaotic and inflation is already high—and consumers are faced with endless news coverage of it—these constraints ease. If inflation is running at 8% and everyone is panicking, it's barely noticeable if a bag of Cheetos goes up 8% or 17%. It just seems like yet another wild price increase, like eggs or beef or used cars experienced for a while. At the same time, there's little risk of your prices being undercut, not because of corporate concentration but because everyone else is suffering supply shortages at the same time.
Levitz cautions that the evidence for this is decidedly mixed but it would hardly be shocking behavior.