Gutenberg Didn't Invent The Printing Press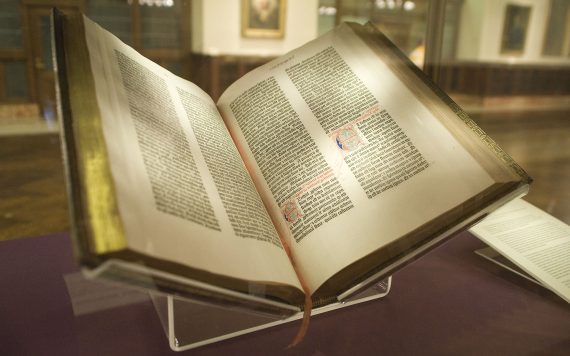 One of those things you learning in history class that isn't necessarily true:
It is a little-known but undisputed historical fact that Johannes Gutenberg did not invent the printing press. Though the Gutenberg Bible was certainly the first mass produced printed work, it was hardly the first printed book — nor was it even the first made using movable type. Chinese and Korean inventors had been producing printed books for centuries before Gutenberg was born.

One of the truisms of Western history is that a German guy named Gutenberg invented the printing press, changing the course of civilization forever. There is no doubt that Gutenberg's printing press was a novel technology. But to say that he invented the printing press is like saying Steve Jobs or Bill Gates invented the computer. He certainly made it a commercially available device, but Gutenberg's role was as a popularizer and entrepreneur. As a technology, the printing press has its origins in Asia, where it existed for centuries before making its way to the West. Gutenberg's real genius was in adapting the technology for a Western market, capitalizing on a few quirks of the Roman alphabet to bring printed books to the mainstream.

(…)

Over 350 years before Gutenberg was even born, the Chinese were experimenting with the technology that the German would later turn into a publishing empire.

Perhaps the best-known example of Chinese movable type printed books is Wang Zhen's Book of Agriculture, printed in 1313. Wang improved on Bi's device by using wooden moveable type (and possibly bronze) to set part of his book. Not only is the book remarkable for how it was printed, but also for being one of the most comprehensive records of Chinese science during the 14th century. Wang describes movable type in this book, noting that printers were also experimenting with tin for use in movable type devices.

Then, in 1377, we have evidence that a Korean monk named Baegun invented metal moveable type technology to produce the Jikiji (pictured), a book that collected pieces of Zen wisdom from great Buddhist teachers. With metal movable type, each character or letter would be cast as a separate metal piece, and then reused.
As the article goes on to note, it's not so much that Gutenberg stole the Asian ideas since we don't even know for sure how much he was aware of them. His true innovation, though was, adapting the technology for the Roman type and creating a printing press that could be used by anyone. Think of him as the Steve Jobs and Steve Wozniak of the 15th Century. Like them, he didn't necessarily invent the technology, but he did create a new way of making it that made it more widely available.
H/T: Andrew Sullivan