Happy 35th Birthday, Atari 2600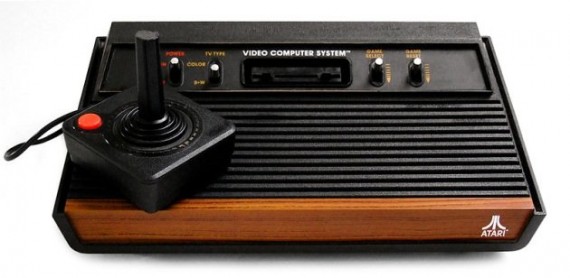 It was 35 years ago today that a video game system that created an industry that continues to thrive to this day first debuted: 
1977: A time when the average annual income was $15,000, the bikini was the swimsuit of choice and Jimmy Carter was elected President.

It was also the year Atari — perhaps the most sensational video gaming system of all time — hit the market.

Most any child of the eighties fondly remembers the hand cramp from gripping the joystick too tight while maneuvering the amphibian across the busy street in Frogger or shooting down enemy planes and refueling on-the-go to conquer River Raid.
Indeed.
I can't remember at this point whether I got my Atari 2600 in 1977 or 1978, or even whether it was a birthday present or a Christmas present. I just remember it being the coolest thing ever and spending several years afterwards accumulating game cartridges, some of them great and some of them crappy, I just remember it being the coolest thing ever and playing those games for many, many hours. The graphics on the games were sometimes crappy, and they certainly weren't on the level of the arcade games I could play at the movie theater just a few miles away, but it was still pretty freaking amazing. After Atari introduced this little console, a whole industry came into existence and it continues to this day. Apparently, people like playing games on their computers and, now, their phones.
Yahoo's Chris Morris lists 35 pretty cool facts about Atari's groundbreaking product, many of of which I was completely unaware of.
So, Happy Birthday Atari!
Photo via Yahoo