'Happy Days' Didn't Jump The Shark After Fonzie Jumped The Shark
The writer of the infamous "Fonzie Jumps The Shark" episode of Happy Days breaks his silence.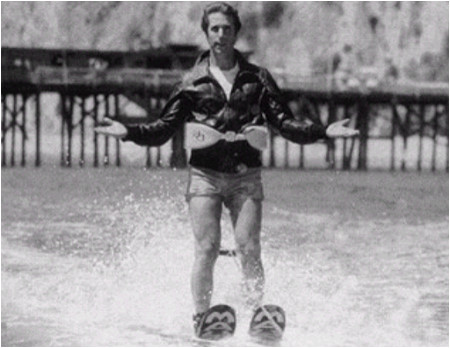 Fred Fox, Jr. takes to the LAT to confess that he wrote the infamous "Fonzie Jumps The Shark" episode of Happy Days. And note that, despite what some guys sitting around a dorm room ten years later — and now everybody with Internet access — happen to think, it wasn't a defining moment for the show.
"Happy Days" was finishing the 1976-77 season as the most popular series on television, an accomplishment we were all proud of. That year had begun with a highly rated three-part story in which Fonzie ( Henry Winkler) rekindled the flame of a former love, Pinky Tuscadero. Because of this success, ABC and Paramount wanted us to open the next season, our fifth, with another three-part story.

After discussing different scenarios, we decided to take the "Happy Days" gang to Hollywood, with Fonzie invited for a screen test. One of the plot lines would be Fonzie clashing with "The California Kid," a cocky local beach boy. Since Henry water skied in real life, it was suggested the characters race and then, as a tiebreaker, have to jump a shark in a netted area in the ocean.

Now, whose idea was it for Fonzie to jump the shark? Amazingly, I can't remember — which is frustrating, as I can usually watch a "Happy Days" episode from any season, hear a joke and recall who wrote it. My friend Brian Levant, then a talented new member of the writing staff, believes that Garry Marshall, the show's co-creator and executive producer, and Bob Brunner, the show runner at the time, made the suggestion. But what I definitely remember is that no one protested vehemently; not one of us said, "Fonzie, jump a shark? Are you out of your mind?"

[…]

There were no objections from the cast, the studio or the network concerning "Hollywood 3," as it came to be titled. It aired Sept. 20, 1977, and was a huge hit, ranking No. 3 for the week with a 50-plus share (unheard of today) and an audience of more than 30 million viewers.

[…]

All successful shows eventually start to decline, but this was not "Happy Days'" time. Consider: It was the 91st episode and the fifth season. If this was really the beginning of a downward spiral, why did the show stay on the air for six more seasons and shoot an additional 164 episodes? Why did we rank among the Top 25 in five of those six seasons?

[…]

Fortunately, my career didn't jump the shark after "jump the shark." When "Happy Days" ended, I went directly to the ABC Paramount hit show "Webster" and, after that, wrote and produced, among others, "It's Your Move," "He's the Mayor, "The New Leave It to Beaver" and "Family Matters." In 1987, Brian Levant and I created the action comedy which won an International Emmy.
Having characters go off to California or Hawaii for a multi-episode adventure was a staple of television sitcoms from the 1950s through the 1980s; I can't recall it happening much since. It was, presumably, a way to bring some life into a show that had been around for a number of years filming on the same set.
Frankly, I can't think of a show offhand that lasted more than four or five seasons that didn't go into a decline. After awhile, people are tuning in to keep up with the characters they've come to care about over the years rather than because the show is particularly entertaining.
Certainly, "Happy Days" was pretty weak in its declining years. It went from being a show about high school kids making the awkward adjustment into adulthood with the help of loving parents and a tough but decent biker friend to a series of gags involving a guy in a leather jacket who could make various appliances do things they weren't supposed to through the power of "cool." But they managed to hang on for eleven seasons, almost all at the top of the ratings.
via Ken Levine