Penny Marshall, Actress, Comedienne, and Director, Dies At 75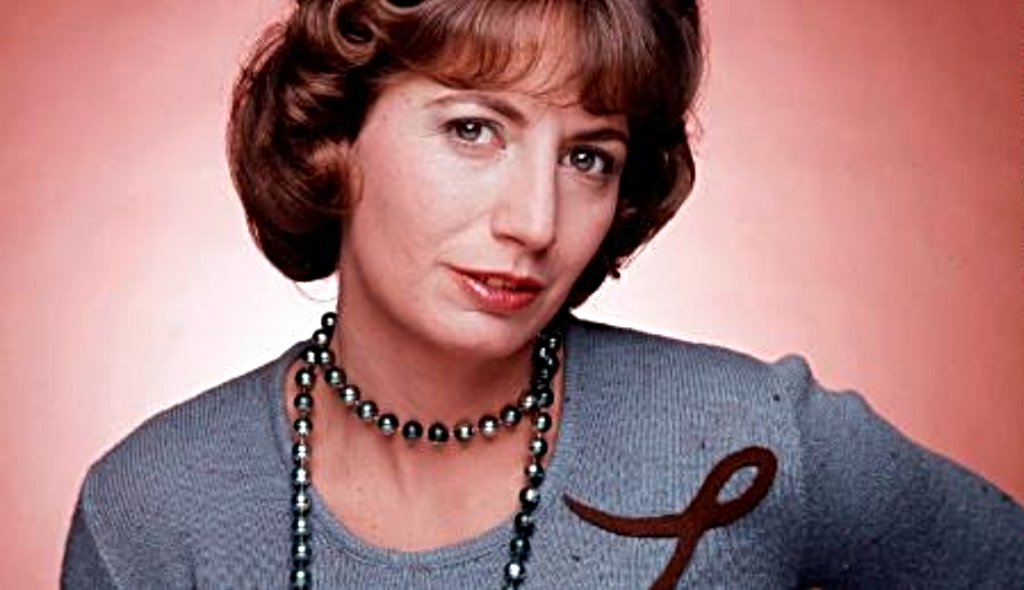 Penny Marshall, the comedienne, and actress who gained fame as one-half of the iconic Laverne & Shirley and who later became an acclaimed director who brought classic films such as Big and A League Of Their Own to the silver screen, has died at the age of 75:
Penny Marshall, the nasal-voiced co-star of the slapstick sitcom "Laverne & Shirley" and later the chronically self-deprecating director of hit films like "Big" and "A League of Their Own," died on Monday at her home in Los Angeles. She was 75.

Her publicist, Michelle Bega, said the cause was complications of diabetes. Ms. Marshall had in recent years been treated for lung cancer, discovered in 2009, and a brain tumor. She announced in 2013 that the cancer was in remission.

Ms. Marshall became the first woman to direct a feature film that grossed more than $100 million when she made "Big" (1988). That movie, a comedy about a 12-year-old boy who magically turns into an adult (Tom Hanks) and then has to navigate the grown-up world, was as popular with critics as with audiences.

The Washington Post said it had "the zip and exuberance of a classic romantic comedy." The Los Angeles Times described it as "a refreshingly grown-up comedy" directed "with verve and impeccable judgment." Mr. Hanks received his first Oscar nomination for his performance.

Four years later she repeated her box-office success with "A League of Their Own," a sentimentally spunky comedy about a wartime women's baseball league with an ensemble cast that included Madonna, Geena Davis, Rosie O'Donnell and Mr. Hanks.

In between, she directed "Awakenings" (1990), a medical drama starring Robert De Niro as a patient coming out of an encephalitic trance and Robin Williams as the neurologist who helps him. "Awakenings," based on a book by Oliver Sacks, was only moderately successful financially, but Mr. De Niro received an Academy Award nomination.

A writer for Cosmopolitan magazine once commented that Ms. Marshall "got into directing the 'easy' way — by becoming a television superstar first." That was a reference to her seven seasons (1976-83) as Laverne DeFazio, the brasher (yet possibly more vulnerable) of two young roommates, brewery assembly-line workers, on the hit ABC comedy series "Laverne & Shirley," set in 1950s and '60s Milwaukee.

In Hollywood Ms. Marshall had a reputation for instinctive directing, which could mean endless retakes. But she was also known for treating filmmaking as a team effort rather than a dictatorship.

That may or may not have been a function of her self-effacing personality, which colleagues and interviewers often commented on. But in 1992 Ms. Marshall confessed to The New York Times Magazine that she wasn't completely guileless.

(…)

Carole Penny Marshall was born on Oct. 15, 1943, in the Bronx and grew up there, at the northern end of the Grand Concourse. Her father, Anthony, was an industrial filmmaker, and her mother, Marjorie (Ward) Marshall, taught dance. The family name had been changed from Masciarelli.

After she graduated from Walton High School, in the Kingsbridge section of the Bronx, Ms. Marshall attended the University of New Mexico. There she met and married Michael Henry, a college football player. They had a daughter, but the marriage lasted only two years, and Ms. Marshall headed for California, where her older brother, Garry, had become a successful comedy writer.

She made her film debut in "The Savage Seven," a 1968 biker-gang drama, and had a small part the same year in "How Sweet It Is!," a romantic comedy starring Debbie Reynolds and James Garner.

Ms. Marshall continued acting, mostly playing guest roles on television series, until she got her big break in 1971, when she was cast in the recurring part of Jack Klugman's gloomy secretary, Myrna Turner, on the ABC sitcom "The Odd Couple." Her brother, a producer of the show, got her the job, but nepotism had nothing to do with it when viewers fell in love with her poker-faced humor and Bronx-accented whine.

That same year she married Rob Reiner, who was then a star of the hit series "All in the Family." He adopted her daughter, but they divorced in 1979, when "Laverne & Shirley" and Ms. Marshall were at the height of their television popularity.

That series grew out of a 1975 episode of "Happy Days," in which Laverne (Ms. Marshall) and Shirley Feeney (Cindy Williams), two fast blue-collar girls, turned up at the local hangout as blind dates for Richie Cunningham and Fonzie, the two lead characters.

When "Laverne & Shirley" ended in 1983, after considerable on-set conflict between the co-stars and a final season without Ms. Williams, it was the first time in 12 years that Ms. Marshall had not had at least a relatively steady job on a television series.

She began making a handful of films and television appearances. Then Whoopi Goldberg, a friend, asked her to take over for a director she wasn't getting along with on "Jumpin' Jack Flash" (1986), a comic spy caper. (Ms. Marshall had directed a few episodes of "Laverne & Shirley.") The movie was far from an unqualified success, but it led to "Big."

Ms. Marshall's two films after "A League of Their Own" were not as well received. "Renaissance Man" (1994), starring Danny DeVito as an adman turned teacher of Army recruits, was savaged by critics and earned only about $24 million, considerably less than it cost to make, in the United States (in contrast, "Big" earned almost $115 million). "The Preacher's Wife" (1996), a remake of the heartwarming 1947 fantasy romance "The Bishop's Wife," starred Denzel Washington and Whitney Houston. Critics found it likable but weak, and it brought in just under $50 million domestically.

Ms. Marshall did not direct again until 2001. "Riding in Cars With Boys," a saga of teenage motherhood starring Drew Barrymore, earned mostly positive reviews but was a box-office disappointment. It was the last film Ms. Marshall directed. Her farewell to television direction was a 2011 episode of the multiple-personalities series "United States of Tara."

She devoted some time to producing, recently with the 2005 movie inspired by the classic sitcom "Bewitched," and took on the occasional acting job, including a 2012 guest spot on the series "Portlandia" and voice-over narration in the film "Mother's Day" (2016), directed by Garry Marshall, who died in 2016.
More from Variety:
Penny Marshall, who starred alongside Cindy Williams in the hit ABC comedy "Laverne & Shirley" and then became a successful director, died on Monday night at her Hollywood Hills home due to complications from diabetes, Variety has confirmed. She was 75.

Marshall was the first woman to direct a film that grossed more than $100 million, the first woman to direct two films that made more than $100 million, and she was only the second woman director to see her film Oscar-nominated for best picture.

"Laverne & Shirley" ran from 1976-1983 and proved an enormous success for ABC. It was the No. 3 show on television in 1975-76, No. 2 in 1976-77, and No. 1 in 1977-78 and 1978-79, spawning ancillary revenue in the form of merchandising, a record album, and an animated series based on the show.

Marshall began her directing career by helming several episodes of "Laverne & Shirley." With little experience, she replaced Howard Zieff as director on her feature directorial debut, the Whoopi Goldberg vehicle "Jumpin' Jack Flash," which grossed a respectable $30 million in 1986. Far more successful, however, was Marshall's second outing, the 1988 sentimental comedy "Big," which sported a subtle, delightful, Oscar-nominated performance from Tom Hanks — and hauled $151 million worldwide, reportedly becoming the first film directed by a woman to cross $100 million.

Her third film, the critically acclaimed "Awakenings," starring Robin Williams and Robert De Niro, and based on the Oliver Sacks book, reeled in $52 million and drew three Oscar nominations — including best picture and best actor for De Niro. The movie was only the second directed by a woman that was nominated for best picture (Randa Haines' "Children of a Lesser God" was the first, in 1986). Roger Ebert said, "Because this movie is not a tearjerker, but an intelligent examination of a bizarre human condition, it's up to De Niro to make Leonard not an object of sympathy, but a person who helps us wonder about our own tenuous grasp on the world around us."

"A League of Their Own," set in the world of women's baseball during World War II, and starring Hanks, Geena Davis, Madonna, and Rosie O'Donnell, made$132 million worldwide, including about $25 million overseas. The movie was selected in 2012 for inclusion in the National Film Registry, and it spawned a short-lived television adaptation.

Marshall's run of extraordinary success ended with her next film, the critically derided "Renaissance Man," which starred Danny DeVito as a reluctant instructor in the U.S. Army. The New York Times' Janet Maslin began her review by declaring, "If you're looking for a learning experience, 'Renaissance Man' is ready to teach you what the words simile, metaphor, oxymoron, and formula mean."

She returned with some gusto with "The Preacher's Wife," starring Denzel Washington and Whitney Houston in a remake of a 1940s Christmas classic. The Times' Stephen Holden was happy to declare, "The movie is a shrewdly conceived update of the 1947 comic heart-warmer 'The Bishop's Wife.'" After enumerating a few misgivings, he finished by saying, "All these loose ends don't keep 'The Preacher's Wife' from producing a mild feel-good glow." The film made $48 million.

After five years, Marshall returned with her final film, 2001's "Riding in Cars With Boys," starring Drew Barrymore, which drew so-so reviews and about $35 million worldwide. Peter Rainer in New York magazine said, "Beverly is supposed to be a bad girl running with the wrong crowd, but most of the time she seems to be right out of a serioso episode of 'Laverne & Shirley.'"

(…)

But it all started, really, with "Laverne & Shirley."

The show, which premiered in January 1976, scored in the ratings immediately. Within months of the series' debut, Marshall and Williams were asked to record an album, "Laverne & Shirley Sing." They sang one song from the album, a cover of the Crystals' hit "Da Doo Ron Ron," on a float during the Macy's Thanksgiving Day Parade that November.

An animated series, "Laverne & Shirley in the Army," ran in ABC's Saturday morning lineup in 1981, with Marshall and Williams voicing the characters. After 13 episodes, an animated Fonzie (voiced by Henry Winkler) and his dog were added, and the product was wedded to the animated version of "Mork & Mindy" to create "The Mork & Mindy/Laverne & Shirley/Fonz Hour."

The show inspired a line of tie-in merchandise, including Laverne, Shirley, Lenny, and Squiggy dolls, a board game, puzzles, and a great deal more.

Marshall and Williams also made crossover appearances — back on "Happy Days," where they'd started; on the 1978 pilot of "Mork & Mindy" together with Winkler's Fonzie; and on the brief Garry Marshall-created show "Blansky's Beauties" in 1977.

Meanwhile, "Laverne & Shirley" itself evolved. The first five seasons were set in Milwaukee, with the two leads employed in a brewery; the sixth season relocated the characters to Burbank, Calif.; and then, in the eighth and final season, Williams and her husband feuded with Paramount, the producers, and Marshall when Williams became pregnant, resulting in her abrupt departure from the show, although no one agrees exactly who was to blame. Marshall and Williams did not speak to each other for several years, but eventually reconciled.
Before Laverene & Shirley, Marshall had been briefly considered for the role of Gloria (Bunker) Stivic on All In The Family, on which she would have ended up starring opposite her second husband, Rob Reiner. That role fell through but it was only about three years later that Marshall was cast in a guest role alongside Cindy Williams in a Happy Days episode that proved to be so popular that it led to what became the longest running and most successful of all the Happy Days spinoffs. After that show ended, probably a season or two later than it should have, Marshall went on to the successful directorial career that many will remember her for, but for those of a certain age she'll always be Laverne DeFavio: