Happy Thanksgiving From Outside The Beltway!
Happy Thanksgiving!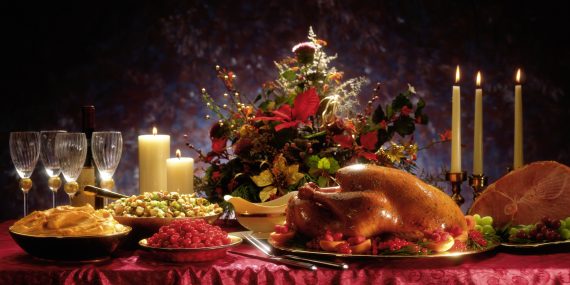 Happy Thanksgiving from all of us at OTB!
It was 152 years ago that President Abraham Lincoln set forth the precedent that led to the fourth Thursday in November being declared a National Day of Thanksgiving with this Proclamation:
The year that is drawing toward its close has been filled with the blessings of fruitful fields and healthful skies. To these bounties, which are so constantly enjoyed that we are prone to forget the source from which they come, others have been added which are of so extraordinary a nature that they can not fail to penetrate and soften even the heart which is habitually insensible to the ever-watchful providence of Almighty God.

In the midst of a civil war of unequaled magnitude and severity, which has sometimes seemed to foreign states to invite and to provoke their aggression, peace has been preserved with all nations, order has been maintained, the laws have been respected and obeyed, and harmony has prevailed everywhere, except in the theater of military conflict, while that theater has been greatly contracted by the advancing armies and navies of the Union.

Needful diversions of wealth and of strength from the fields of peaceful industry to the national defense have not arrested the plow, the shuttle, or the ship; the ax has enlarged the borders of our settlements, and the mines, as well of iron and coal as of the precious metals, have yielded even more abundantly than heretofore. Population has steadily increased notwithstanding the waste that has been made in the camp, the siege, and the battlefield, and the country, rejoicing in the consciousness of augmented strength and vigor, is permitted to expect continuance of years with large increase of freedom.

No human counsel hath devised nor hath any mortal hand worked out these great things. They are the gracious gifts of the Most High God, who, while dealing with us in anger for our sins, hath nevertheless remembered mercy.

It has seemed to me fit and proper that they should be solemnly, reverently, and gratefully acknowledged, as with one heart and one voice, by the whole American people. I do therefore invite my fellow-citizens in every part of the United States, and also those who are at sea and those who are sojourning in foreign lands, to set apart and observe the last Thursday of November next as a day of thanksgiving and praise to our beneficent Father who dwelleth in the heavens. And I recommend to them that while offering up the ascriptions justly due to Him for such singular deliverances and blessings they do also, with humble penitence for our national perverseness and disobedience, commend to His tender care all those who have become widows, orphans. mourners, or sufferers in the lamentable civil strife in which we are unavoidably engaged, and fervently implore the interposition of the Almighty hand to heal the wounds of the nation and to restore it, as soon as may be consistent with the divine purposes, to the full enjoyment of peace, harmony, tranquillity, and union.

In testimony whereof I have hereunto set my hand and caused the seal of the United States to be affixed.

Done at the city of Washington, this 3d day of October, A. D. 1863, and of the Independence of the United States the eighty-eighth.

ABRAHAM LINCOLN.
And here's President Obama's Proclamation for 2016:
Nearly 400 years ago, a small band of Pilgrims fled persecution and violence and came to this land as refugees in search of opportunity and the freedom to practice their faith. Though the journey was rough and their first winter harsh, the friendly embrace of an indigenous people, the Wampanoag — who offered gracious lessons in agriculture and crop production — led to their successful first harvest. The Pilgrims were grateful they could rely on the generosity of the Wampanoag people, without whom they would not have survived their first year in the new land, and together they celebrated this bounty with a festival that lasted for days and prompted the tradition of an annual day of giving thanks.

This history teaches us that the American instinct has never been to seek isolation in opposite corners; it is to find strength in our common creed and forge unity from our great diversity. On that very first thanksgiving celebration, these same ideals brought together people of different backgrounds and beliefs, and every year since, with enduring confidence in the power of faith, love, gratitude, and optimism, this force of unity has sustained us as a people. It has guided us through times of great challenge and change and allowed us to see ourselves in those who come to our shores in search of a safer, better future for themselves and their families.

On this holiday, we count our blessings and renew our commitment to giving back. We give thanks for our troops and our veterans — and their families — who give of themselves to protect the values we cherish; for the first responders, teachers, and engaged Americans who serve their communities; and for the chance to live in a country founded on the belief that all of us are created equal. But on this day of gratitude, we are also reminded that securing these freedoms and opportunities for all our people is an unfinished task. We must reflect on all we have been afforded while continuing the work of ensuring no one is left out or left behind because of who they are or where they come from.

For generations, our Nation's progress has been carried forward by those who act on the obligations we have to one another. Each year on Thanksgiving, the selflessness and decency of the American people surface in food banks and shelters across our country, in time spent caring for the sick and the stranger, and in efforts to empathize with those with whom we disagree and to recognize that every individual is worthy of compassion and care. As we gather in the company of our friends, families, and communities — just as the Pilgrims and the Wampanoag did centuries ago — let us strive to lift up others, promote tolerance and inclusiveness, and give thanks for the joy and love that surround all of us.

NOW, THEREFORE, I, BARACK OBAMA, President of the United States of America, by virtue of the authority vested in me by the Constitution and the laws of the United States, do hereby proclaim November 24, 2016, as a National Day of Thanksgiving. I encourage the people of the United States to join together — whether in our homes, places of worship, community centers, or any place of fellowship for friends and neighbors — and give thanks for all we have received in the past year, express appreciation to those whose lives enrich our own, and share our bounty with others.

IN WITNESS WHEREOF, I have hereunto set my hand this
twenty-third day of November, in the year of our Lord two thousand sixteen, and of the Independence of the United States of America the two hundred and forty-first.
As in the past, few real posts today absent major earth-shattering news, and probably not even then. However, in keeping with the political spirit of what we do here, I must once again share these classic clips from The West Wing
First, President Bartlet pardons a turkey:
Second, the great Joe Bethersonton calls the Butterball Hotline:
Enjoy the day, or the long weekend as the case may be.