Helen Thomas: Easy Target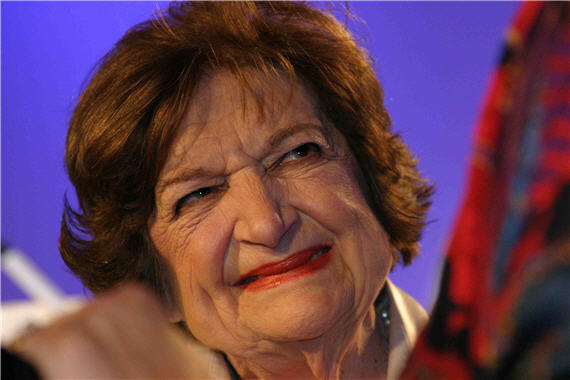 As Doug noted Saturday, Helen Thomas said the Jews should leave Israel and go back to Germany and Poland.  She quickly came under fire and has already been dumped by her speaking  agency and had a former White House spokesman call for her firing as a Hearst columnist.
Now, I'm no fan of Helen Thomas.  I thought she was an over-the-hill embarrassment during the Bush Administration.   The George H. W. Bush Administration.   She's a lousy columnist and holds some rather bizarre views on a wide variety of subjects.  And, despite her being a pioneer who has refused to go away, I don't think she should have a place reserved for her in White House press conferences, much less in the front row.
All that said, I'm with John Cole and Stacy McCain — a rather rare alignment of the poles! — in thinking it rather unsporting to continue piling on a crazy old woman for saying outrageous things.  The sky is blue.  Water is wet. Helen Thomas is a nut.
Beyond that, I'm befuddled that so many bloggers are so enthusiastic about getting someone fired over airing controversial views.   That's the nature of our enterprise, isn't it?
Further, while I don't agree with Thomas' policy position here, aside from being woefully misinformed about the origin of much of the Israeli population, why exactly is it beyond the pale? She's not calling for Jews to be exterminated or even forcefully evacuated, merely that they "go home."   That most of them are home, in the sense that they were born in Israel, makes the statement vapid.  But so horrible that the likes of Craig Crawford have to disassociate themselves?  Hell, I've heard more than one American Jew express similar opinions.
UPDATE: This is largely irrelevant now that Thomas has "retired" as a columnist.   But many are taking the most uncharitable possible view of Thomas' remarks — that she was advocating "ethnic cleaning" or supporting the Holocaust — and attributing any defense of her as condoning that sentiment.  If that's what Thomas meant then — and this shouldn't need to be said — I of course condemn it.
But modern day Germany and Poland are not killing Jews.  So, the plain meaning of Thomas' words are simply that she wishes that the Jews would "go home" to a perfectly safe place and thus magically end the stand-off that exists in the region.  It's a ridiculously dimwitted notion, for reasons expressed in the original post, but not an odious one.