Herman Cain's Tax Consultant Says 9-9-9 Isn't A Serious Plan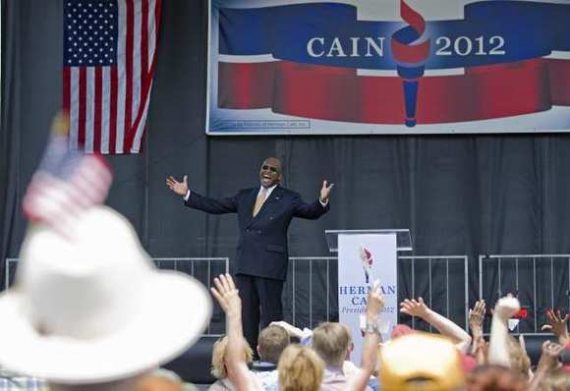 One of the men who worked on Herman Cain's 9-9-9 plan  isn't a fan of the candidate's own tax plan and considers it little more than a theoretical construct:
Herman Cain expressed confidence at Tuesday's debate that his much-touted "9-9-9" plan to revamp the tax code would pass Congress, but the paid campaign consultant who scored the plan for Cain said the idea was more of a theory than a politically viable solution — and not the route he would suggest himself.

"You're trying to go to a system that taxes income once and only once and quits double-taxing savings," Gary Robbins told POLITICO on Wednesday. "That's something that can really juice the economy, it's probably worth 15 percent in growth. … The problem with the big-bang changes like that, the flat tax or the fair tax, is that they are so alien to the current system that it would be a great big shock."

Though Robbins says the plan would work fiscally and economically, he believes people would never accept such drastic changes.

Cain has repeatedly declined to name the people involved with crafting the plan besides Rich Lowrie, Cain's chief economic adviser, a Cleveland-based wealth manager for Wells Fargo who is not a trained economist. But it was Robbins, an economist who has worked for Steve Forbes's flat-tax campaigns and was a longtime Treasury employee, who conducted a 10-page analysis of the plan in September. Robbins found the plan to be revenue neutral, as Cain's been trumpeting in recent debates and in interviews.

"Economically, it's fine, there's nothing wrong with the plan and nothing wrong with the proposal," Robbins said. "What Cain has done is really smart and saying if you go this route, this is the way to go. He's done a very good job and the fellows who were beating on him last night were making a mistake."

(…)

While Robbins praised the idea of 9-9-9, he took steps during an interview to distance himself from its author.

"It's not a plan that I concocted," Robbins said. "There's nothing wrong with the plan, it just wouldn't be the one I picked."
Obviously not. That one's gonna hurt.