Hillary Clinton 2012 Ad Running
The first ad of the 2012 presidential cycle has aired, by some dentist touting Hillary Clinton. She's not running. Could she?
The first ad of the 2012 presidential cycle has aired.  The "candidate"?  Hillary Clinton.
No, Hillary Clinton does not endorse this message.   CNN's Paul Steinhauser, Rebecca Stewart, and Frances Sanchez explain:
"She has more experience working in and with the White House than most living presidents. She is one of the most admired women in our nation's history. Let's make sure the president we should have elected in 2008 will be on the ballot in 2012. Hillary 2012: Hillary Clinton for President. Start now. Where there's a Hill there's a way," says an ad that began running on television in New Orleans Wednesday.

The commercial was paid for by a Chicago dentist named William DeJean.

When asked why he put the ad up, DeJean told CNN Thursday that "I'm a dentist and I don't think this country is headed in the right direction."

Regarding Clinton, DeJean says "I think she is the most qualified."

DeJean adds that he thinks people are having buyer's remorse about President Barack Obama and says the current administration is ruining the Democratic Party. He says he spent $5,000 to create the commercial and tells CNN that besides New Orleans, the ad will run in Washington, New York and Los Angeles, and possible Houston. DeJean says he chose to first run the ad in New Orleans because he's a native of the city and because the city's in the news due to the fifth anniversary of Hurricane Katrina.

[…]

Since becoming secretary of state in the Obama administration, Clinton has squashed any talk of her either challenging Obama in 2012 or making another bid for the White House down the road.  In an interview with NBC last October, Clinton said "no" three times to the question "will you ever run for president again?"  At town hall in Saudi Arabia in February, Clinton said "I am very proud to support Barack Obama and I will continue to support Barack Obama."
For the record, I take her at her word.    No doubt, she'd still very much like to be president.  But she knows how the game is played and, barring calamity, Obama will be her party's 2012 nominee and she'll likely be too old and too far removed from her glory days to get the nod in 2016.
It's not unthinkable that non-tragic circumstances could arise that would leave Obama open for a serious primary challenge, though.   He's still reasonably popular — remarkably so given the dismal state of the economy — but his numbers are going in the wrong direction.  And Jimmy Carter and George H.W. Bush both faced competition in getting re-nominated under less trying circumstances than now exist.  If we still have double-digit unemployment a year from now, the door's open.
Could Clinton pull a Teddy Kennedy?  I don't see it.  While the Clintons have surpassed the Kennedys as the First Family of the Democratic Party, it's an incredibly risky move and the Clintons are known for their political caution.  (Other forms of caution, not so much, as least in Bill's case.)  And she couldn't plausibly make her move as Obama's Secretary of State.    And she missed her chance to resign to the applause of her base when she enthusiastically backed the Afghanistan Surge.
If there's going to be a primary challenge from the Left, it'll have to come from someone who's, well, actually to Obama's Left on issues that matter to the Democratic nominating electorate.
UPDATE:  Doug Mataconis notes this graph: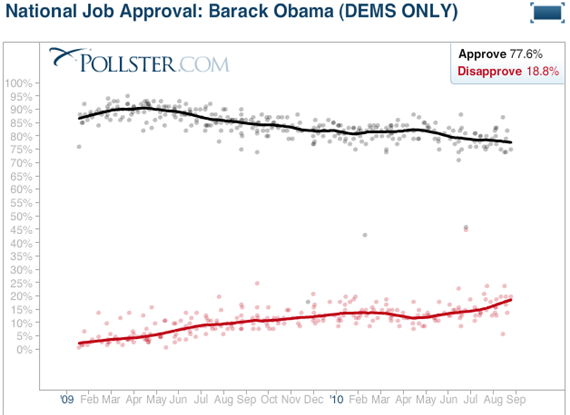 The disapproval numbers are definitely going up but 77.6% approval is quite remarkable all things considered.  Even granting that the disapprovers are more likely to turn out in a primary, Obama's a long way from needing to worry about getting his party's 2012 nod.