Hillary Clinton Blames Obama, Biden, Others for Her Loss
Hillary Clinton's latest memoir lashes out at those to blame for her unexpected loss.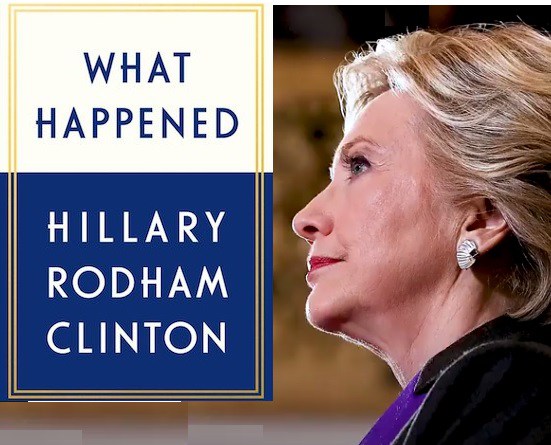 After thirty-two years of voting Republican for president, I went the other way in 2016—despite the Democrats fielding the nominee that I liked least of all their previous offerings during that stretch.  Hillary Clinton's latest memoir demonstrates both why she was obviously far superior to Donald Trump as a presidential choice and why it took me so long to convince myself to actually vote for her.
CNN's Dan Merica and Kevin Liptak provide an early look.
While she casts blame for her shocking less widely, she begins with herself:
"I go back over my own shortcomings and the mistakes we made. I take responsibility for all of them. You can blame the data, blame the message, blame anything you want — but I was the candidate," she writes. "It was my campaign. Those were my decisions."

In a voice that swings from defiant to conciliatory to — at rare moments — deeply vulnerable, Clinton does assume ownership where the fault lines are obvious. And in overarching terms, she admits she badly misjudged the environment in which she was running and the candidate she was running against.
But she quickly shifts to others in her own party:
But Clinton still finds ample blame to go around. She writes bluntly that sexism hampered her ability to reach voters effectively. She offers unvarnished assessments of those who have cast doubts on her campaign, including Vice President Joe Biden and Sen. Bernie Sanders, her former rival. And she singles out James Comey — a "rash FBI director" — for direct and lashing criticism.
Sanders is obvious. His campaign bloodied her on the left and arguably paved the way for Jill Stein and others to siphon votes that might have made the difference. But Obama and Biden?  All I can gather from the report is that she's annoyed at Obama for not doing more to push the Russian interference narrative (see later in the post) and an offhand post-mortem from Biden:
"Joe Biden said the Democratic Party in 2016 "did not talk about what it always stood for — and that was how to maintain a burgeoning middle class,'" Clinton writes. "I find this fairly remarkable, considering that Joe himself campaigned for me all over the Midwest and talked plenty about the middle class."
But Joe Biden wasn't running for president. The fact that others—including Donald Trump—were doing a better job than she was at addressing this sore spot is problematic.
I find her inner wonkiness endearing:
She tells readers she has spent the months since her defeat reading studies, reports and news articles (all cited in her book) that offer suggestions at how her style of campaigning was lost on an angry and disillusioned electorate. In places, "What Happened" reads like the term paper of a student studying the most unpredictable loss in modern American politics.
And this seems more than reasonable, if perhaps a skosh resentful:
"I think it's fair to say that I didn't realize how quickly the ground was shifting under all our feet," she writes. "I was running a traditional presidential campaign with carefully thought-out policies and painstakingly built coalitions, while Trump was running a reality TV show that expertly and relentlessly stoked Americans' anger and resentment."

Clinton makes frank admissions about the places she fell short. She acknowledges it was bad "optics" to deliver paid speeches to Wall Street banks after the financial meltdown last decade. She says her comment during a CNN town hall about putting coal miners out of business was the misstep "I regret the most." And, as she has before, Clinton calls her decision to use a private email server during her time at the State Department as "dumb."
But she quickly turns the blame back outward:
"Comey's letter turned that picture upside down," Clinton writes about her tarnished image, which she said had gone from a picture of a steady leader to one compromised by scandal.

In a lengthy middle section, Clinton unpacks Russia's meddling in the election, openly wondering whether a more forceful public response from then-President Barack Obama could have changed matters.

And she describes her regret at not facing Russian leader Vladimir Putin as a US president — a form of vengeance she can now only imagine.

"There's nothing I was looking forward to more than showing Putin that his efforts to influence our election and install a friendly puppet had failed," she writes. "I know he must be enjoying everything that's happened instead. But he hasn't had the last laugh yet."
There's no need to rehash their decisions—we've done that plenty in the months leading up to and shortly after the election but suffice it to say that Comey, an Obama appointee, and Obama, her former boss and head of the Democratic Party, were both in a damned if you do, damned if you don't situation. While it's easy to understand her post hoc bitterness, their actions would have actually helped her had she—as all indications had led us to believe—won the Electoral College in addition to the popular vote.
A report in The Hill from Jonathan Easley provides a few more insights into Hillary Clinton's complaints—and shows some Democrats annoyed that she won't just go away.
In the book, Clinton says she was put in a "straightjacket" during the primary by former President Obama, who she writes advised her not to attack Sen. Bernie Sanders (I-Vt.), her rival in the Democratic primary, out of fear it would divide the party ahead of the general election.

Clinton writes that she bristled at former Vice President Joe Biden's suggestion that she failed to adequately convey the Democratic Party's commitment to helping the middle class.

And Clinton unloads on Sanders, mocking his policy proposals as pie-in-the-sky fantasies and ripping his supporters on social media — the so-called Bernie bros — as sexist.

Clinton says that Sanders's attacks did "lasting damage" to her general election hopes. She accuses him of "paving the way" for Trump to cast her as a corrupt corporate stooge deserving of the nickname "Crooked Hillary."

Sanders brushed off Clinton's criticism in a Wednesday interview with The Hill, saying it's time for Democrats to "look forward, not backward."

Not everyone was so charitable. Even some of Clinton's allies have grown weary of her insistence on re-litigating the 2016 campaign at a time when the Democratic Party is looking to forge a new identity in the age of Trump.

"The best thing she could do is disappear," said one former Clinton fundraiser and surrogate who played an active role at the convention. "She's doing harm to all of us because of her own selfishness. Honestly, I wish she'd just shut the f— up and go away."
There's very little chance of that.
Merica and Liptak note that,
[Clinton] wonders aloud why, after terms as first lady, US senator, secretary of state and two-time presidential candidate, the public still just doesn't seem to like her. "What makes me such a lightning rod for fury? I'm really asking. I'm at a loss," she asks her readers, before concluding: "I think it's partly because I'm a woman."
There's little doubt that she both benefitted from and was hampered by her sex. Negative attacks simply don't land as well when they're directed at—or coming from—a woman. And women have a much tougher balancing act in demonstrating that they're "tough" while at the same time expected to be warm and nurturing.
But sex likely permanently colored her image for those of us over a certain age because she didn't conform to the norms of the unelected office of First Lady. Many in the Democratic Party love her for it but she rubbed a lot of people the wrong way. And, while public sympathy for her after the Monica Lewinski scandal helped her win a Senate seat in a state where she'd never lived, there are also many who resent her enabling her husband's awful behavior. She apparently devoted considerable space in the book to the issue:
Clinton also opens up about her personal life with lengthy passages dedicated to her daughter, her mother and, most notably, her husband. She describes her marriage to former President Bill Clinton as one with "many, many more happy days than sad or angry ones" and confronts all the worst public assumptions about the relationship.

"I heard it again on the 2016 campaign … it's just a marriage on paper now," she writes, adding "(he is reading this over my shoulder in our kitchen with our dogs underfoot and in a minute he will reorganize our bookshelves for the millionth time … but I don't mind because he really loves to organize those bookshelves)."

[…]

In describing her scrutinized marriage to the 42nd president, Clinton reveals deep resentments at the rumors and innuendo that have colored public speculation about the partnership since the late 1990s.

Writing with pique, Clinton is unapologetic for wanting to keep the personal aspects of her marriage private, even in a world where the details of her husband's affairs have been widely aired.

"There were times that I was deeply unsure about whether our marriage could or should survive," she wrote. "But on those days, I asked myself the questions that mattered to me: Do I still love him? And can I still be in this marriage without becoming unrecognizable to myself — twisted by anger, resentment, or remoteness? The answers were always yes."

Clinton also appears to be wrestling with other demons throughout "What Happened" as she comes to terms with the aftermath of her devastating loss. Searching for answers, Clinton steadfastly insists that the woman who has spent decades persevering in a harsh spotlight won't be embittered by a final humiliating blow.

In the same manner she has remained by her husband's side, Clinton writes she is intent on remaining in public life — despite its dark moments and uncertain payout — instead of seething in solitude.
Oddly, I think that she's have improved her vaunted "likability" if she'd been more open about this aspect of her life during the campaign.