Hillary Clinton Comes Out Against Trade Bill She Negotiated and Touted
Obama's first Secretary of State has come out against Obama's Trans Pacific Partnership.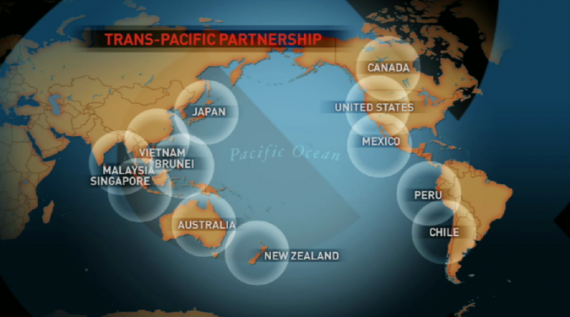 Hillary Clinton has joined the rest of the field for the Democratic nomination opposing the Trans Pacific Partnership, a trade deal she helped negotiated as Secretary of State and which she praised in her book Hard Choices.
Just days after the U.S. and 11 nations released a monumental trade deal that still faces a fight in Congress, Hillary Clinton says she does not support the Trans-Pacific Partnership. Speaking with Judy Woodruff Wednesday, the Democratic presidential candidate said that as of today, given what she knows of the deal, it does not meet her bar for creating jobs, raising wages for Americans and advancing national security.

Speaking at Cornell College in Mount Vernon, Iowa, as part of a two-day swing through the leadoff caucus state, Clinton said that she's worried "about currency manipulation not being part of the agreement" and that "pharmaceutical companies may have gotten more benefits and patients fewer."

"As of today, I am not in favor of what I have learned about it," Clinton said, later adding, "I don't believe it's going to meet the high bar I have set."
Bloomberg's Jennifer Epstein notes that this further separates Clinton from Vice President Joe Biden, who is expected to soon announce whether he's joining the race:
Democratic presidential candidate Hillary Clinton voiced her opposition Wednesday to the Trans-Pacific Partnership trade deal, bucking her former boss and creating more distance between herself and possible primary rival Vice President Joe Biden.

"What I know about it, as of today, I am not in favor of what I have learned about it," the former secretary of state said in an interview with PBS News Hour. "I don't believe it's going to meet the high bar I have set."

Clinton was generally supportive of the deal during her four years working in President Barack Obama's administration and allowed for some wiggle room to still support TPP or other future trade deals. In a written statement sent after the interview was released, she stipulated that she is "continuing to learn about the deals" of the agreement.

The Democratic front-runner's conditional opposition to the deal comes as Biden, whose policy positions hew more closely to Clinton's than any other candidate, continues to support the deal and will work to build support for it on Capitol Hill, an aide confirmed Wednesday. Biden has not yet announced whether he will run for the Democratic nomination but if he does, his presence in the race will likely force Clinton to more sharply define her positions on issues that have been important to the Obama administration.

Vermont Senator Bernie Sanders, Clinton's main challenger in the race, drew attention to the amount of time it took her to come to a verdict on an issue he has long opposed.

"I'm glad that she reached that conclusion," he told reporters in Washington. "This is a conclusion that I reached on day one."

Former Maryland Governor Martin O'Malley, who, like Sanders, has for months been outspoken about his opposition to TPP, made sure to jab at Clinton after she weighed in Wednesday.

"Wow! That's a reversal!" O'Malley said in a statement. "Secretary Clinton can justify her own reversal of opinion on this, but I didn't have one opinion 8 months ago and switch that opinion on the eve of debates. I'm against the Trans-Pacific Partnership. I let people know that from the outset, and I think we need to focus on building up our own economy."

Clinton has increasingly been distancing herself from the Obama administration, voicing her opposition last month to the construction of the Keystone XL pipeline—an issue that the administration is still considering—and saying she supports a no-fly zone over Syria. She also tweaked the president's enforcement of deportation laws in an interview released earlier this week.

With both the Keystone and TPP announcements, Clinton's staff gave the White House notice before she announced her positions. In both cases, she's taken a position that appeals to the left wing of her party.
Coming out against administration positions that she supported while in the administration is drawing the jeering one would expect. In addition to the above-mentioned potshots from her Democratic opponents, CNN's Jake Tapper found "45 times Secretary Clinton pushed the trade bill she now opposes" back in June when she was hedging her bets. But it's not necessarily hypocritical or flip-flopping. After all, as Secretary of State she represented President Obama to the world; most cabinet secretaries oppose at least some of their boss' policies and nonetheless vigorously execute them.
Then again, she left the administration in January 2013 and continued to support TPP.  CBS' Rebecca Kaplan:
Even after leaving the Obama administration, Clinton complimented the trade deal in her 2014 memoir, "Hard Choices."

"It's safe to say that TPP won't be perfect – no deal negotiated among a dozen countries ever will be – but its higher standards, if implemented and enforced, should benefit American businesses and workers," she wrote.
The problem is that Clinton's history here lends one to believe this latest position is opportunistic rather than principled. AP's Lisa Lerer:
Clinton's support for trade deals has seemed to fluctuate with the political calendar.

As first lady, she trumpeted the North American deal brokered by her husband, telling unionized garment workers in 1996 that the agreement was "proving its worth."

Her support for trade pacts began softening during her time as a New York senator, when she voted for trade agreements with Chile, Singapore, Oman, and Morocco but opposed the Central American Free Trade Agreement.

In a November 2007 presidential debate, Clinton described the North American agreement, with Canada and Mexico, as "a mistake" and called for a "trade timeout."

In that vein, she said she opposed then-pending trade agreements with Korea, Columbia, and Panama. But fast-forward to July 2011 when, as secretary of state, she described those three deals as "critical to our economic recovery."

She also repeatedly lent her support to the Pacific trade initiative being pushed by Obama, at that time, describing the deal during a 2012 trip to Australia as the "gold standard in trade agreements."
It's possible that she truly supported the vision for TPP that existed at the time she was Secretary and up through the time that she submitted the manuscript of the book she "wrote" and simply views the details of the actually-negotiated deal as unacceptable. If so, she's privy to some serious inside information since, as Dave Schuler repeatedly points out at his own place, the details thus far are strangely not public.
In terms of the policy itself, I'll take Dave's tack of waiting until we know what's in the deal before taking a position on it.  My reflexive view is to be in support of free trade agreements while his reflexive view is opposition on grounds that they're almost invariably "managed trade" in that a true free trade deal can be "written on a napkin." In this case, I share Dave's concern and that of most of the Democratic candidates that, since the low-hanging fruit is long since snatched, we're now negotiating mostly with less developed countries whose labor and environmental standards are far below ours and are thus participating in a race to the bottom. My instinct is nonetheless to expand the notion of free trade—and, indeed, simply create more formal agreements—for their shaping effects. On the practical side, Dave is right that the real prize here is Japan and we simply don't know what the deal does there.