As Trump Withdraws Into Fortress America, The World Moves On
President Trump has alienated America's allies and friends, and they are acting accordingly.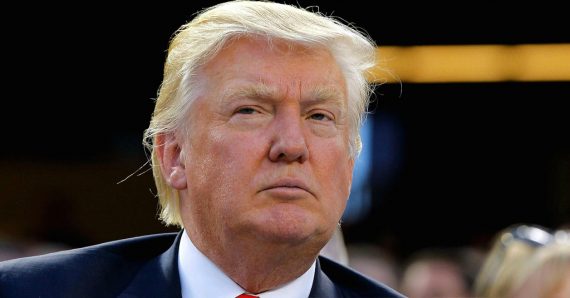 As Donald Trump continues to pursue an "America First" policy that seems to mainly involve alienating long-standing American allies, except, of course, Israel while cozying up to dictators in nations such as Egypt, Saudi Arabia, and The Philippines, the rest of the world is moving on:
WASHINGTON — President Trump is arriving at the World Economic Forum in Davos, Switzerland, to explain his "America First" approach at a moment when the world is moving ahead with a trade agenda that no longer revolves around the United States.

The world marked a turning point in global trade on Tuesday, when 11 countries agreed to join the Trans-Pacific Partnership, announcing they had finalized the pact and expected to sign a deal on March 8 in Chile. It was a remarkable moment for a beleaguered agreement that was conceived and constructed by the United States, then abandoned by Washington when Mr. Trump took office last year.

As the world's largest economy and architect of many international organizations and treaties, the United States remains an indispensable partner. But as the global economy gains strength, Europe and countries including Japan and China are forging ahead with deals that do not include the United States.

Thirty-five new bilateral and regional trade pacts are under consideration around the world, according to the World Trade Organization. The United States is party to just one of them, with the European Union, and that negotiation has gone dormant. The United States is also threatening to withdraw from one of its existing multilateral agreements — the North American Free Trade Agreement with Mexico and Canada — if it cannot be renegotiated in the United States' favor.

"Maybe there was some sort of presumption on the part of the president and his team that if the U.S. said stop, this process would come to a halt," said Phil Levy, a senior fellow at the Chicago Council on Global Affairs and an economist in the George W. Bush administration. "What this shows is that's not true. The world just moves on without us."

In July, Japan signed a wide-ranging new trade deal with the European Union — a step the Japanese prime minister, Shinzo Abe, referred to as hoisting "the flag of free trade high amidst protectionist trends." The European Union pushed ahead with a major update to its agreement with Mexico, while China pursued a pan-Asian agreement, among other deals.

Business interests in the United States are watching with alarm as other countries strike agreements that exclude American exporters. For example, ranchers in Canada and Australia will be able to sell beef at lower prices in Japan than their American competitors, who will be subject to higher tariffs because the United States is not party to the Trans-Pacific Partnership.

Kent Bacus, the director of international trade and market access for the National Cattlemen's Beef Association, said Tuesday that the United States' withdrawal was "a missed opportunity for the United States to gain greater access to some of the world's most vibrant and growing markets."

"This one was really about America's role in the Pacific, and I think pulling out was a signal we're not as interested," said William Reinsch, the Scholl Chair in International Business at the Center for Strategic and International Studies and a former Clinton administration official. "The president can say whatever he wants, but the way this is being perceived is as a pullback of American influence."

The Trump administration has pushed back against claims that the America First doctrine is isolationist and it is ceding global leadership. While advisers have continued to criticize global institutions, they insist their goal is to improve, not destroy, them.

"We're going to the World Economic Forum to share President Trump's economic story and to tell the world that America is open for business," Gary D. Cohn, who heads the White House National Economic Council, said in a briefing on Tuesday. "America First is not America alone."

Mr. Trump and his advisers say that the United States will be pushing ahead with new trade deals — ones that will ultimately be better for American companies and their workers.

"We'll be doing other trade deals," Mr. Trump said Monday as he signed an order imposing tariffs on imports of washing machines and solar modules. "We're in the process of negotiating with other countries, also, all of which have treated us very unfairly."

Yet the willingness of countries to engage with the United States is unclear. For many, a relationship with the Trump administration has been a delicate dance: They do not want to risk access to the American market, or raise the ire of the American president.

(…)

In Davos, at a forum long considered the center for globalization, the administration's America First message has not been entirely well received. On Wednesday, comments by Wilbur Ross, the commerce secretary, that American troops were "coming to the ramparts" in what he called a continuing global trade war prompted blowback from other state leaders.

Chancellor Angela Merkel of Germany warned on Wednesday that "protectionism was not the answer" and called right-wing populism a "poison," in a speech largely seen as a rebuttal to Mr. Trump before his expected speech on Friday. "We think that shutting ourselves off, isolating ourselves, will not lead us into a good future," Ms. Merkel said.

Canada has also contrasted its approach with that of the United States. Chrystia Freeland, the Canadian foreign minister, said she was worried about movements around the world that have blamed trade and immigration for the hollowing out of the middle class, and that Canada was "doubling down" on its openness to trade and immigrants. "It's partly a statement about our values. But we also think it is a really great economic benefit to us as well," she said.

So far, it is unclear which countries the United States could be courting to create new trade deals. Britain has expressed interest in a bilateral deal with United States, but talks could not begin until it finishes extricating itself from the European Union, which does not look likely to be resolved soon.

Japan, the preferred partner for many American businesses, appears to have spurned the United States' offer to forge a trade deal one on one, after Mr. Trump pulled the United States out of the Trans-Pacific Partnership.

And China has tried to position itself as a global leader — a sharp change from the early 1990s, when the leader at the time, Deng Xiaoping, cautioned his countrymen to "hide your strength and bide your time."

China has set about building its own vision of an international order, including an Asian investment bank to rival the World Bank, and its global infrastructure project, One Belt One Road. At last year's meeting in Davos, President Xi Jinping of China portrayed his country as a global leader and vigorously defended free trade — a position some considered ironic for a country that maintains sharp controls on many industries.
As Peter Goodman of The New York Times notes, this pushback is most noticeable from some of America's oldest and most stalwart allies in Europe:
DAVOS, Switzerland — French President Emmanuel Macron laid claim to the mantle of leader of the free world on Wednesday, with an ambitious speech before a packed assembly at the World Economic Forum.

He sought to place France at the center of a mission to revamp global capitalism while spreading its spoils more equitably, forging a mode of commerce centered on innovation, yet bearing protections for workers set back by change.

Mr. Macron's hourlong speech before the annual gathering of the world's wealthy and powerful in the Swiss Alps came on the same day that German Chancellor Angela Merkel and Italian Prime Minister Paolo Gentiloni issued their own forceful speeches toward advancing European integration, while defending the notion of international cooperation.

Collectively, they signaled that Europe — only a year ago dismissed as a crippled economic realm fraught with political recrimination — has regained force. Europe's leaders left no doubt that they aim to channel their newfound economic strength toward advancing the project of European integration first launched in the middle of the last century, seen as an antidote to the brutalities of two world wars.

President Trump was not in the room (he is not due to speak here until Friday). But the shadow of his America First policies hung heavily. The three speeches resonated as a broad rebuttal of the doctrine that Mr. Trump has made his own.

In contrast to Mr. Trump's pullback from international trade agreements and his renouncing of the Paris climate accord, the European leaders emphasized their commitment to prosperity through global commerce.

In place of Mr. Trump's unilateralism, the three European leaders pledged to strengthen the bonds of the European Union and the 19 nations that use the euro currency.

They underscored their commitment to multilateral approaches as the salve to trouble, including widening economic inequality, terrorism and the ravages of climate change.

"If we want to avoid this fragmentation of the world, we need a stronger Europe, it's absolutely key," Mr. Macron declared. "France is back. France is back at the core of Europe, because we will never have any French success without a European success."

A year ago in Davos, the role of world-leading defender of globalization fell to Chinese President Xi Jinping. His address followed Britain's shocking decision to leave the European Union, and only days before Mr. Trump's inauguration.

To an audience fearful that the global, rules-based trading system was unraveling, Mr. Xi's commitment to internationalism drew a mixture of relief and acclaim. But China was at best a compromised claimant to that role, given its preferential credit for state-owned companies, its theft of intellectual property and its jailing of dissidents and journalists.

Mr. Macron put forth his own credentials as a leader singularly able to help guide Europe and the global economy.

"Our vision, our DNA in terms of the relationship between freedom and the furtherance of individual rights, is unique," Mr. Macron said.

He described a sense of responsibility to translate French values into a form of capitalism that can deliver growth along with increased opportunities for middle-class and working people.

"It's a transformational moment for Europe," said Christine Lagarde, managing director of the International Monetary Fund. "There is clearly determination to deepen European governance. These leaders do believe in the rule of law. They do believe in globalization."
Another example of this phenomenon of the world moving on from Trump's withdrawal, of course, can be found in the announcement earlier this week that Canada had completed negotiations with ten Pacific Rim nations to form a revised version of the Trans-Pacific Partnership that President Trump withdrew the United States from just over a year ago. It can also be seen in the manner in which the leaders of nations such as the United Kingdom, France, and Germany have sought to distance themselves and their nations from President Trump and his rhetoric. In addition to the signs noted in the articles linked above, we've also seen some signs from these nations that they are questioning just how committed a United States led by Donald Trump is to things such as the collective defense provisions of the NATO Treaty and how much the United States can be relied on to continue to lead the world in the manner it has since the end of World War Two in the era of a President who seems more committed to a "go it alone" strategy than any in modern memory.
These impressions that Trump has created can only be reinforced by the actions he's taken since becoming President. In addition to his actions with respect to the much-anticipated Trans-Pacific Partnership, Trump's first year has seen a number of actions suggesting that the United States is effectively turning its back on the rest of the world.  In addition to withdrawing from TPP, Trump also fulfilled other campaign promises when he withdrew from the Paris Climate Accords, and recognized Jerusalem as Israel's capital notwithstanding the outstanding issues regarding its status. The later decision was roundly criticized at the time by allies such as the United Kingdom and France, both of whom continue to hold the position formerly taken by the United States that the final status of Jerusalem is something that can only be decided as part of a comprehensive peace deal between Israel and decided to decertify Iranian compliance with the 2015 nuclear deal. In response to this, the European allies who were involved in hammering out the deal along with the United States have all made clear that they accept the statements by the International Atomic Energy Association that Iran is complying with its obligations under the agreement and that they would not be going along with the United States in trying to renegotiate or scrap the agreement. Furthermore, on his two biggest foreign trips during his first year in office to Europe and Asia, During both trips, both his behavior and his rhetoric have come across in the worst possible respect and he has managed to most especially irritating to people living in the nations that have historically been some of America's most important allies. Most recently, of course, he referred to immigrants from African nations and from other nations such as Haiti as coming from "shithole" countries.
All of this has sent a message that the United States under Donald Trump, while it won't be adverse to taking military action abroad, will be one that withdraws itself from the role this nation has had in the world for seventy years now. The consequences of that are likely to be widespread and, in the long run, not in the best interests of the United States. First of all, such a withdrawal likely means that the world will become a more dangerous place, both in general and for the United States itself. Second, as Trump withdraws the U.S. from the world, other nations will no doubt step in to fill the gap. To the extent those nations include long-standing American allies such as the United Kingdom, France, and Germany that's not necessarily a bad thing since those nations tend to share our values and tend to want to pursue the same goals in the rest of the world that we do. However, the biggest beneficiary of Trump's policies is likely to be China, which has already been working to expand its worldwide influence and prestige not just in Asia but in far-flung areas such as Africa and even to some extent in Central and South America in the form of trade and financial investments that are distinct changes from the way the Chinese have acted in the past.
The most important consequence of all this, though, is the fact that this withdrawal will likely mean that it will become far more difficult for the United States to achieve its own goals around the world. Contrary to the way that President Trump and his supporters seem to think, the alliances and relationships that we've formed over the seventy years since World War Two ended have made it possible for us to advance American interests in significant ways. Trade agreements such as NAFTA and the World Trade Organization have strongly benefited the American economy, and it's in the best interests of the United States to liberalize trade throughout the world. Instead of doing that, Trump is attempting to renegotiate NAFTA and has even talked about withdrawing from that agreement, although that seems unlikely given the extent to which the agreement is favored by American industry, the agricultural industry, and even many American labor unions. More recently, Trump imposed huge new tariffs on foreign-made washing machines and solar panels, a move that will only serve to make these products more expensive for America. Finally, it's worth noting that these alliances and relationships have helped America in other ways. The collective defense provisions of the NATO Treaty, for example, have only been invoked once in its history, and that was in the wake of the September 11th attacks. Because of this, we managed to secure significant international cooperation and assistance in connection with the fight against jihadist-inspired terrorism. Such international cooperation has also been of great assistance in our efforts to impose sanctions on North Korea and against Iran related to both its nuclear research program and its ballistic missile program. President Trump's policies threaten to make all of that much more difficult in the future.
Donald Trump won't be President forever, of course. He'll be out of office at some point, whether that comes in 2021 or 2025, and whoever follows him will have a lot of repairing to do when it comes to America's relationships with the rest of the world. The only question is whether it will be too late at that point.