Trump Goes Full Dictator
Donald Trump isn't just admiring dictators now, he's acting like one.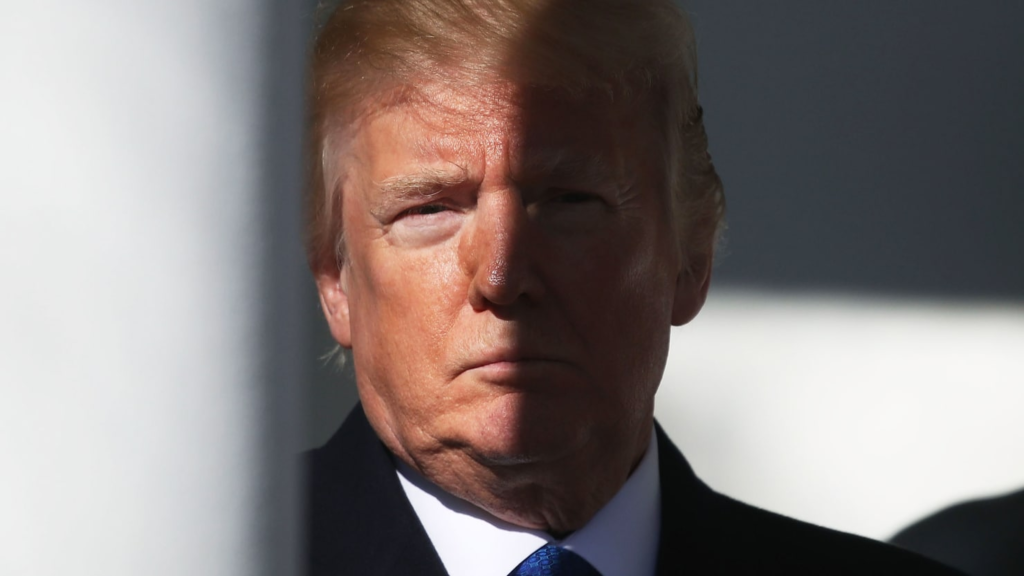 In the middle of his Twitter rant yesterday about Chinese tariffs, the President went off on a bizarre tangent that ended with him "ordering" American companies doing business in China to leave and either find somewhere else to do business or, apparently preferably, bring their operations back to the United States:
President Trump's extraordinary edict demanding U.S. companies move out of China — delivered in a series of angry tweets Friday — left industries of every stripe scrambling to understand how seriously to take the order, and how the White House might enforce it.

Businesses from retail to electronics to home goods, many already under pressure from a months-long U.S.-China trade war, were contacting their industry associations for guidance and awaiting more substantive announcements from the White House.

"I'm trying to keep my cool and not get worried and upset, but it's becoming hard," said Magi Raible, founder of LiteGear Bags, a luggage maker based in Vallejo, Calif.

She has a meeting next week with an industry colleague to discuss moving more of her manufacturing from China to India or South Africa, she said.

"I don't know how much faster I can move or how much more urgency I can have," she said.

Late Friday night, as he arrived in France for the G7, Trump suggested on Twitter he would be looking to the International Emergency Economic Powers Act, signed into law in 1977, to follow up on his demand.

Trump does not have the authority to "duly order" companies to leave China, according to Jennifer Hillman, a Georgetown University law professor and trade expert at the Council on Foreign Relations.

But under the law he cited, Trump can prevent future transfers of funds to China, she said. First, he would have to make "a lawful declaration that a national emergency exists," she said.

Congress could terminate the declaration if it wishes, she said.

"Moreover, even if all this happened, it would not provide authority over all of the U.S. investments that have already been made in China," Hillman said.

Other trade experts said Trump does have powerful tools at his disposal to encourage companies to leave.

They include continuing to hike tariffs on imports from China, as Trump did again on Friday. The White House could also try to punish companies by cutting them out of federal procurement deals, economists said.

"The tweet isn't entirely cheap talk," said Derek Scissors, a China expert at the American Enterprise Institute, a think tank partly funded by industry.

(…)

"We don't need China and, frankly, would be far better off without them," Trump wrote. "… Our great American companies are hereby ordered to immediately start looking for an alternative to China, including bringing your companies HOME and making your products in the USA."

The message made public what Trump has been telling companies in private for more than two years, said William Reinsch, a trade expert at the Center for Strategic and International Studies.

"The reality is many companies have been thinking about leaving, anyway," Reinsch said.

"Labor costs are going up in China, the regime is repressive, and American companies continue to suffer discrimination," he added.

Some apparel and electronics makers have been moving out of China, propelled lately by the U.S. slapping ever-higher import tariffs on goods made in China.

But few of these companies have been moving jobs back to the UniteStates. Instead, they've been shifting to other low-cost countries such as Vietnam or Bangladesh.

Other industries that would like to leave China say they've found it difficult to find manufacturing of the same quality and low cost elsewhere.

"Companies would love to find alternate sources, but it can't happen overnight," said Jonathan Gold, vice president of supply chain and customs policy at the National Retail Federation. "And even when it does, unfortunately a lot of that [manufacturing] won't come back to the United States. We agree that China has been a bad actor, but we need to get back to the table and work out a trade deal."

Some analysts saw Trump's tweets as a particularly aggressive move against Apple and other tech companies, which manufacture many of their goods in China. Dan Ives of Wedbush Securities called Trump's command "a clear shot across the bow at Apple and the semi space," referring to the semiconductor sector.

Over decades, Apple has become intertwined with China's electronics assembly infrastructure to a degree that is extremely difficult to undo. In a best-case scenario, it would take Apple five years to move just half of its iPhone production out of China, Ives said.

In many ways, Apple's rise from an also-ran in the market for personal computers to one of the most valuable companies on the planet is due to its partnership with Foxconn, a Taiwanese juggernaut that manufactures in China.

Apple may have come up with the ideas for its consumer products, but Foxconn founder Terry Gou made them a reality, starting in the early 2000s by leveraging China's manufacturing prowess to build sleek devices at such low cost that they were also profitable.

Apple has toyed with assembling products outside China in the past, building comparatively small numbers of desktop computers in the United States and exploring iPhone manufacturing in India and Southeast Asia, but the company remains highly dependent on China.
Here are Trump's Tweets:
As Chris Cillizza notes, the President can't simply order American companies like this:
Donald Trump can't order American business to do anything. There's a reason the business world is known as the "private sector" — because it's not owned or controlled by the government (aka the "public sector.") We don't have state-run industry (or media). The President of the United States can't "order" privately held business to do, well, much of anything.

Now, that doesn't mean that Trump can't have any influence. Every CEO will be apprised of Trump's tweets — if they haven't already been — and some, in an effort to cozy up to Trump or because they agree with him about the threat posed by China, will look for ways to divest in the country.

But that's very different than companies having to look for alternatives to China because the President said so. They, uh, don't.

It's not immediately clear — to me at least — if Trump understands that.

Throughout his presidency, he has marveled at the total control that authoritarian rulers — in places like Russia and China — exert over their countries and publicly wished he had control like that. He has shown a willingness to trample on the traditional diving lines between the White House and the Justice Department, expressing frustration that the attorney general and his staff aren't pursuing the investigations Trump wants them to. And on and on it goes. He publicly bullies the Federal Reserve chairman for not lowering interest rates fast enough.

What is clear is why Trump is doing this: He's attempting to exert control — even though he has no actual authority to do so — over a situation that he feels he is losing control of.

Remember that Trump famously/infamously tweeted in March 2018 that trade wars are "good, and easy to win." The ongoing trade war with China has been anything but. It has led to a yo-yoing stock market and is now fueling growing concerns that the hard-chugging economy was showing signs of slowing, with some analysts seeing signs of a potential recession on the horizon.

Trump knows that if the economy goes south — or is perceived to be stumbling — he is in deep, deep trouble in 2020. The economy's strength has always been Trump's best chance of winning a second term in spite of his low approval numbers overall. But in a new AP-NORC poll, more people disapprove of Trump's handling of the economy than approve, a shift that, if it continues, spells disaster for the incumbent.

He also knows there are limited number of levers he can pull to change things. It's why he is throwing absolutely everything against the wall — like a payroll tax cut! (Or maybe not!) And why he puts out tweets like he did on Friday in which he tries to assert control over something on which he has no formal control. It just makes him feel better, more in control of a situation that, in reality, he isn't in control of at all.

The law that the President cited in his tweet last night as he was preparing to take off from Joint Base Andrews for the G-7 Summit in France, the International Emergency Economic Powers Act of 1977, authorizes the President to "regulate international commerce after declaring a national emergency in response to any unusual and extraordinary threat to the United States which has its source in whole or substantial part outside the United States." In the past, it has been used in such notable cases as the Iran Hostage Crisis in the early 1980s and the crisis in the Balkans in the 1990s as well as in connection to other international crises. In that sense, it is basically the international equivalent of the National Emergencies Act of 1976, which President Trump is purporting to use to divert money allocated to national defense to build his border wall. Like the 1979 act, any declaration of an emergency under this act can be blocked by Congressional action. Additionally, it's rather obvious that any move like this by Trump, which would be much more far-reaching than any previous President's use of their authority under the law, would most likely end up in court before it even went into effect.
Regardless of whether or not the President has the authority to do what Trump is threatening here, the fact is that disentangling the American and Chinese economies would be far more difficult than he likely realizes:
SHANGHAI — In the space of 24 hours, President Trump ordered American businesses to leave China and suggested in a tweet that he has the authority to do so.

Whether he has that power is a question for Washington lawmakers and lawyers. Perhaps the more important question is whether severing American businesses from China is at all feasible.

At least in the short term, it's not. American business is deeply intertwined with China, and untangling it would be messy and potentially destructive for the global economy.

On a long-term level, a shift is already underway. American tariffs and growing tensions between Washington and Beijing are forcing many companies to rethink their reliance on China. But China's convenience and its vast and growing consumer market make it difficult for many businesses to abandon China entirely.

"We are seeing companies redirect investment, and it's because of the uncertainty," said Ker Gibbs, the president of the American Chamber of Commerce in Shanghai. "I don't think it's because they are abandoning the Chinese market."

(…)

Factories are already leaving China, as Washington and Beijing impose higher tariffs on each other's products.

But Mr. Trump's latest threats have further alarmed American business leaders that changes in trans-Pacific trade relations are moving faster than they can adapt.

"Business is pretty numb about all of this," said Rufus Yerxa, the president of the National Foreign Trade Council, a Washington-based business group. "They're in shock about how badly this has all started to go."

However, the process is slow and difficult.

Companies like GoPro and Hasbro have openly discussed setting up shop elsewhere. Not all of the companies shifting operations are American: Danfoss of Denmark has relocated some production of heating and air conditioning equipment to the United States from China to avoid tariffs, reduce transport costs and limit shipping-related emissions of gases that cause global warming.

Others have sharply cut back their operations as the Chinese economy has slowed. Ford, for example, has seen its car sales in China wither and has responded by laying off thousands of contract workers.

Still, relations between China and the United States may improve someday, perhaps after Mr. Trump leaves office. If that happens, companies that have moved their supply chains could find themselves at a competitive disadvantage compared to those that have stayed in China.

Different industries face different dilemmas. Low-wage, low-skill industries like shoe manufacturing, toymaking and apparel production have already shifted toward Southeast Asia or places like India or Bangladesh, because blue-collar wages in China have soared eightfold in dollar terms over the past 15 years.

Other sectors, notably electronics, are finding it more difficult to cut ties. China dominates production of a vast array of components, with multiple companies bidding aggressively to supply practically anything a company might want.

Even Vietnam, despite its proximity to China and the strong presence of electronics giants like Samsung, does not yet have a well-developed supply chain for electronics.
The article above goes on to discuss other difficulties that make it unlikely that American companies will ever completely disentangle from China and less likely that, if they did, they would choose to or be able to come back to the United States. In addition to those, though, there are good reasons why we don't want to see the American and Chinese economic relationship, which has benefited both countries for the past two decades or more, completely dismantled. For one thing, despite the rhetoric of the President and other trade restrictionists, this relationship has greatly benefited both economies over the years and, even as China becomes more prosperous and a less likely source for cheap labor, it will continue to do so in the future both as a source of customers and suppliers for American businesses and a producer of goods for the American and international markets. Additionally, the more closely intertwined our nations are the less likely it is that we'll see conflict in other areas that could lead to more serious confrontations of the diplomatic or military variety. Good trade relations have long been the source of more peaceful relationships between nations, while protectionism and mercantilism, which is essentially what the President's policies amount to, has led to misunderstanding, rivalries, and conflict. That would not be in our interest and it would be in China's interest either, regardless of what the leaders in either Washington or Bejing might think.
Leaving aside the legal and practical questions that this declaration raises, the mere fact that the President would even raise the possibility that he thinks he has the authority to order American companies around like this is a fairly stark demonstration of just how he views the powers of the Presidency. What he's proposing here is something that no other President has even come close to claiming he has the authority to do, and the language that he uses "I hereby order….." indicates that this is no joke on his part. He truly believes that he has the authority to direct the actions of American companies in this matter and that he doesn't even need to ask Congress for the authority to do it.
Alongside his affinity for international dictators and his open contempt for the Rule of Law and Freedom of the Press, this demonstrates quite starkly where this President's heart lies, and how he views the authority the American people (temporarily) granted to him when he was elected President on November 8, 2016. In his eyes, that authority means he can do whatever he wants without consequence and without any real regard for statutory or Constitutional limitations. It also explains why he admires people like Vladimir Putin, Mohammed bin Salman, Xi Jinping, and Kim Jong Un. He admires them because he wants to be one of them, and these latest tweets are just another demonstration of how dangerous those impulses can be when the Presidency has expanded far beyond what the Constitution intended and Congress has ceded so much of its authority to an Executive Branch all too eager to take it.
In other words, in addition to all the other things wrong with him — the narcissism, the xenophobia, the racism, and the ignorance, Donald Trump is a power-grabbing megalomaniac. This makes getting him out of office in 2020 all the more important.