Honoré: Send Congress to Boot Camp
The general made famous by his leadership of the Katrina effort has some harsh words for our political leadership.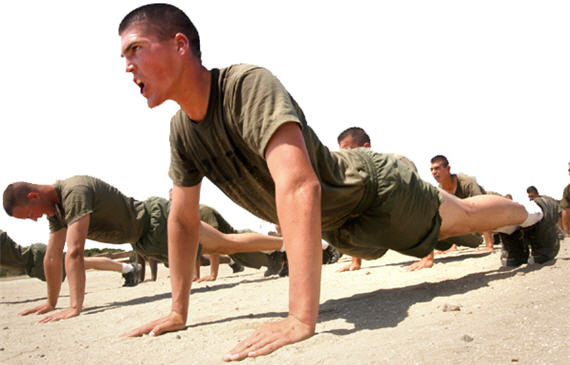 LTG Russel Honoré, best known for his command of Joint Task Force Katrina, is none too happy with our political leadership. In a bizarre CNN rant titled "For lesson in shared sacrifice, send Congress to boot camp," he offers a novel solution.
Our nation won the Revolutionary War because we shared a common purpose: freedom. General Washington's ragtag army, 20% of whom were slaves, were poorly armed and trained, freezing and hungry, yet they defeated the most powerful military in the world. Those men and their families were willing to sacrifice, to risk their lives and everything they had, to achieve our nation's freedom. Now the country that generations of Americans have worked and fought for, that 1.3 million soldiers, marines, airmen, and sailors died fighting for, is at risk.

Why? Because our national elected leaders don't share a common purpose. They have failed to live up to their oaths of office, to protect and defend the Constitution and the United States of America. Instead they strike partisan poses they hope will be remembered during their next campaigns.

This isn't leadership, it's playacting. And we should all be disgusted.

[…]

Our nation's government must remember its purpose: to keep this nation free. Many disabled veterans, the ones who are praying the check comes in the mail after all, can't work as result of injuries sustained on duty. They were willing to die to keep America free, and they sacrifice to this day. How many of the grandstanding clowns in Washington took a bullet in the name of freedom? Are they willing to sacrifice as much as the average National Guardsman does?

It's time to get draconian. But not with the helpless elderly who need their Social Security payments, not with the powerless Army private supporting a family. I mean it's time to load our elected officials on troop planes and send them to Camp Shelby, Mississippi. Put them in tents with no air conditioning, have Army drill sergeants teach them teamwork and physical sacrifice. When they recognize their responsibility to the people of America, they can return to D.C., their upscale restaurants, and military plane trips, as though they were royalty.
Honoré has been retired from the Army since 2008 and is entitled to express his opinion, just like any other citizen. And, certainly, his views will resonate with many Americans given Congress' approval rating is in the teens.
That said, I worry when a retired general lends the prestige of the military to such ideas. It smacks very much of a Praetorian state and undermines the bedrock principle of civilian control of the military.
Young troops go to boot camp to learn to follow orders and work as a team; Congress exists to write the laws that we live by and to represent individual constituencies. By the very nature of their duty and the institutions in which they serve, they are and should be very different animals. Representatives and Senators are supposed to be anything but a team.
Further, while I find preening politicians as annoying as the next guy, the notion that they're somehow unfit for office because they "never took a bullet in the name of freedom" is risible. Aside from the fact that the Purple Heart is not among Honoré's own impressive rack of medals, the Constitution is pretty clear on the qualifications of office for Congress; military service, let alone being wounded in combat, is not among them.
We've lived for nearly four decades under an all-volunteer military that is universally lauded as the best the world has ever seen. I'm proud of my military service and that of my father. But surely we can honor those who have chosen to serve without denigrating those who haven't–especially those who have chosen to serve in a different manner?
Finally, I'm continually dumbfounded  by the resentment that our highest leaders can afford to eat at high priced restaurants or take military planes for certain official travel. It's especially bizarre coming from a wealthy military officer who has been able to afford that sort of lifestyle for decades. While I share the indignance over some forms of special treatment that allow them to escape the strictures they've placed on the rest of us, it's hard for me to get upset that a fifty-something Congressman can afford luxuries commonplace for first-year lawyers in DC firms.