Houses Passes Third Anti-Obamacare CR, Which Senate Quickly Rejects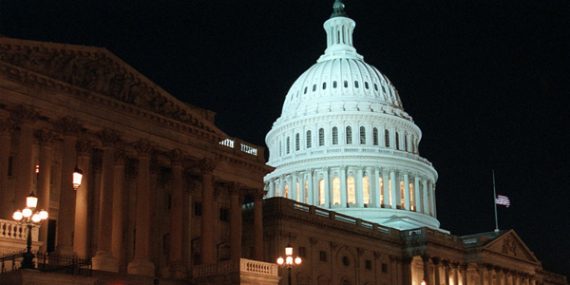 As I write this, there are just under two hours left until the authority of the Federal Government to spend money expires and we're no closer to a resolution than we were when the day started:
The House and Senate continued their game of ping-pong late Monday as the federal government lurched toward a shutdown.

The House passed yet another proposal to fund the government and undermine ObamaCare, but it was just as quickly rejected by the Senate.

House members passed the Republicans' latest continuing resolution in a 228-201 vote, with 12 Republicans voting no and nine Democrats voting yes.

Just more than an hour later, the Senate rejected the measure in a 54-46 vote by tabling it. The vote only required a majority vote.

Every Democrat in the Senate voted to table, while upper chamber Republicans backed the measure.

The latest GOP plan would fund the government through mid-December, delay the individual mandate under ObamaCare, and force top government officials to use ObamaCare. The government is set to shutdown after midnight.

The earlier House vote carried some signs that House GOP leaders may be running out of ideas for passing a spending resolution that somehow tweaks ObamaCare.
Indeed, while this last House CR was being debated, there were rumors floating that moderate Republicans would stage a revolt of their own by voting against the procedural motion to move forward on the bill, thus handing the House GOP with what would've been an embarrassing defeat. Thanks to last minute floor lobbying, that was prevented, but it may have only just postponed the inevitable. At this point, it's hard to see what else the House can do tonight, or at this point effectively early Tuesday morning, that could possibly resolve this other than passing a clean Continuing Resolution.
As of this hour, there's no word about what the House leadership would try to do at this late hour, but both chambers remain open for further action. Frankly, though, it's really all quite pathetic.