How Can Obama Be a Commie and Cut Taxes for the Rich?
Did Obama's tax cut deal demolish the Republican charge that he's a radical? Not hardly.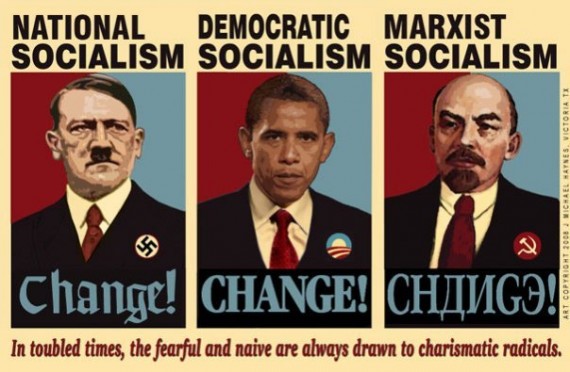 Brian Beutler argues that President Obama's tax cut compromise with the Republicans is "portentous."
How is it that the conservative movement spent two years characterizing Barack Obama as a socialislamokenyan just to the right of Stalin, turning him into a figure so noxious to the GOP base that Republicans only negotiated with him at their peril… and then suddenly, a month after the election, Republican leaders sit down with his administration, and hash out a tax plan and everyone from Olympia Snowe to Mitch McConnell to Paul Ryan walks away celebrating.
In a posting titled "How Do You Compromise With Stalin?" Andrew Sullivan enthusiastically agrees, adding:
The most powerul aspect of this entire deal is how it has delivered a body-blow to the FNC/Limbaugh/RNC notion that Obama is an enemy and an alien and a threat. Instead, he's now the architect of a deal with that most rightwing of Republicans, Mitch McConnell, a deal that legitimizes Obama on the right with consequences McConnell probably hasn't completely absorbed yet. Maybe this was an inevitable consequence of the GOP assuming some responsibility in running the country. But it has pricked that balloon of demonization that has given much of the right its energy these past two years.
First of all, I'd note that American leaders routinely compromised with the actual Stalin, who was our ally during World War II. The nature of politics is that one does one's best to advance one's interests under the circumstances that present themselves.  Just as Roosevelt and Truman compromised with Stalin because we needed Soviet cooperation and he was the Soviet leader, McConnell compromised with Obama because he's the President of the United States and will be, barring tragedy, until noon on 20 January 2013.
Second, McConnell is so far from being the "most rightwing of Republicans" that it's not even funny.  He's a fairly mainstream conservative who's pushed to take hard line stances as a negotiating front in his position as party leader.  (I've been arguing the same, incidentally, about Harry Reid for years.  He was a moderate Democrat, even a slightly conservative Democrat, before becoming Leader.)
Third, while I argued in yesterday's "Obama's Sister Souljah Moment?" posting that the deal was very smart politics for the president in that it both distances him from the more radical elements of his own base and "both belies the Republicans' newfound zeal for fiscal responsibility and makes it harder to keep the Tea Party zealots on the reservation," it overshoots the mark by several miles to think this is "a body-blow" to the Republicans or has "pricked the balloon of demonization."
Republicans will be able to argue — honestly, even! — that Obama wanted to raise taxes and that this was averted only because they forced his hand.  Oh, and the temporary extension of the temporary cuts sets to expire right after the election, which means they can use the issue to demonize him one more time.  Frankly, the "socialist" and "alien" business is red meat grist used to excite one segment of the base.  And those who get their news from Rush Limbaugh and Fox News are going to hate Obama just as much tomorrow as they do today.
Hell, there's a not insignificant number of people who still think Obama is a Muslim from Kenya who takes his instructions from a Church of Christ minister.  Does anyone think that the scales are going to fall from their eyes because they follow the logic trail on a tax deal?!
UPDATE:  I see that Steven Taylor had a similar though independently of Beutler and Sullivan:  "If Obama is really the socialist (if not Communist!) that he has been so often described to be by his political opponents (and, I will add, by commenters to this blog) then why is he willing to compromise on the tax cuts?"  But, again, I think the logic of this is unlikely to persuade anyone who actually though Obama is a socialist, rather than merely a liberalish Democrat.