How Fast is Usain Bolt?
Jamaica's Usain Bolt defended his gold medal in the 100 meter dash, breaking his own Olympic record. The NYT has a graphic showing how far behind previous Olympic medal performances would be: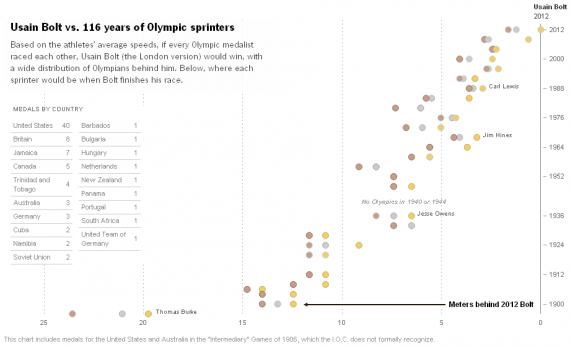 The 2012 version of Bolt would have finished 6/10 of a meter ahead of the 2008 version. And a whopping 2.9 meters ahead of the 1988 performance of the legendary Carl Lewis—itself an Olympic record (although not the fastest 100 at Seoul; Canadian Ben Johnson's result was invalidated for use of performance-enhancing drugs). Ralph Craig, who won gold 100 years ago, would have finished 10.8 meters behind Bolt. Alojz Sokol, who won the inaugural modern Olympiad in 1896, would have been 23.6 meters in the dust.
Granted, the running surfaces, shoes, uniforms, and such have changed over time and have contributed small differences to the improvements in performance over the years. But it's mostly due to improvements in training and nutrition.