Hunter Biden's Art
A new career and a pending art sale.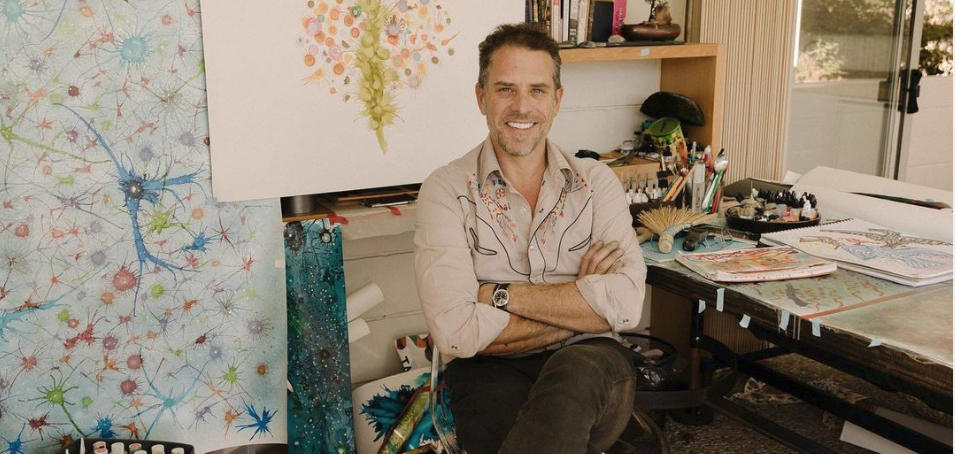 Earlier this week a friend made some crack about Hunter Biden's artwork. I think she had seen something about it on Fox News. Ends up that the president's son is involved in launching an art career. The NYT has probably the most comprehensive backstory on his burgeoning art career, to include examples of the artwork itself from back in February of 2020: There's a New Artist in Town. The Name Is Biden.
While I know a little bit about photography, I am no expert on painting nor the ink-based techniques that Biden is employing. I do know that art is subjective. Indeed, as I was reading about Biden's work, I kept thinking of the great philosopher Huey Lewis, who told us:
I know what I like
(I know what I like)
I know what I like to do
(I know what I like)
I know what I like
(I know what I like to do)
Well what about you?
Granted, that song is not about artwork, but you get the idea.
Silly 80s digressions aside, I will admit that while Biden's work is not really my taste, it strikes me are being pretty good (or more interesting than I expected at a minimum). That he would be able to make a living as an artist based solely on the quality of the work does not strike me as unreasonable.
However, that's not the issue, as a WaPo story noted this week: Deal of the art: White House grapples with ethics of Hunter Biden's pricey paintings. So we return to a topic that both James Joyner and I have both written about in the past: the exploitation of Biden's last name and the ethical issues that it raises.
White House officials have helped craft an agreement under which purchases of Hunter Biden's artwork — which could be listed at prices as high as $500,000 — will be kept confidential from even the artist himself, in an attempt to avoid ethical issues that could arise as a presidential family member tries to sell a product with a highly subjective value.

Under an arrangement negotiated in recent months, a New York gallery owner is planning to set prices for the art and will withhold all records, including potential bidders and final buyers. The owner, Georges Bergès, has also agreed to reject any offer that he deems suspicious or that comes in over the asking price, according to people familiar with the agreement.
The issues here are obvious. First, there is zero doubt that part of the asking price for the artwork prices in Biden's name and the fact that he is the son of a sitting president. Second, the fact that the White House is involved in any way is also off-putting.
And while I understand the goal of not letting the artist know who bought the paintings, I am not sure that such a secret is all that easy to keep (or hard to communicate if one wishes the artist to know). As such, I would argue that full public disclosure would have been the better route.
Officials close to President Biden, who have helped craft the agreement along with Hunter Biden's attorney, have attempted to do so in a way that allows the president's son to pursue a new career while also adhering to the elder Biden's pledge to reverse his predecessor's ethical laxity, especially regarding family members.

But the arrangement is drawing detractors, including ethics experts as well as art critics who suggest that Hunter Biden's art would never be priced so high if he had a different last name. Bergès has said that prices for the paintings would range from $75,000 to $500,000.

"The whole thing is a really bad idea," said Richard Painter, who was chief ethics lawyer to President George W. Bush from 2005 to 2007. "The initial reaction a lot of people are going to have is that he's capitalizing on being the son of a president and wants people to give him a lot of money. I mean, those are awfully high prices."
But, of course, the last name is part of the interest, yes? People who can afford to pay that kind of money for a painting are doing it, at least in part, because of novelty, and having them painted by the sitting president's son is definitely a novelty. Really, on one level the whole thing is just nuts: how many readers of this post have homes plus contents plus cars worth less than $500,000?
Look, this is, in my view, far less problematic than his being named to the Burisma board or other ways in which his name clearly got him opportunities in the past. Still, if one would (and I would) raise an eyebrow over a similar deal for one of the Trump children, it is more than fair to do so about Biden's.
By the same token, I prefer Hunter capitalizing on his last name to sell artwork he himself made over him being directly employed in the administration any day of the week.
My basic view about Hunter Biden is not much different now than what I wrote back in December of 2019:
And let me be clear: I have no interest in defending Hunter Biden, per se. Indeed, everything I know about him suggests a person with questionable judgment at best. The basic litany of publicly known foibles include a discharge from the Navy reserves after testing positive for cocaine (and a general history of substance abuse) and a secret child with a stripper (after initially denying being the father).

[…]

Even beyond all of that, there is no doubt in my mind that he got the offer to work with Burisma because of his last name and that he showed poor judgment in taking the position, since it clearly always had the chance of causing problems for his father.
And, of course, all of this just allows for yet another avenue for attacking Biden by right-wing media as the direct result of his son's activities. But, such is politics in the era of outrage media, I suppose. Gotta have something simple to fill up all those cable news hours–and this story comes with free visuals!
Back to the art itself, here is one assessment from the WaPo story linked above:
Scott Indrisek, a former editor in chief of Modern Painters magazine and a former deputy editor at Artsy, said: "I would call it very much a hotel art aesthetic. It's the most anonymous art I can imagine. It's somewhere between a screen saver and if you just Googled 'midcentury abstraction' and mashed up whatever came up."

Indrisek added, "If he wanted to be judged on his work alone, he'd show them under the name Hunter Wilson or something."
Ouch/sure. But Hunter Wilson would be making a lot less money. And, ultimately, it is neither Hunter's fault nor his doing that his name alone has some amount of value. And of the ways that he could exploit that name, this is one of the less problematic in my view. But I maintain that full transparency would be better here than trying to pretend like this is going to be a fully blind process when art is something that is displayed for others to see.