Indictments Are Hurting Trump
The people want a fast trial and think he's guilty and should go to jail.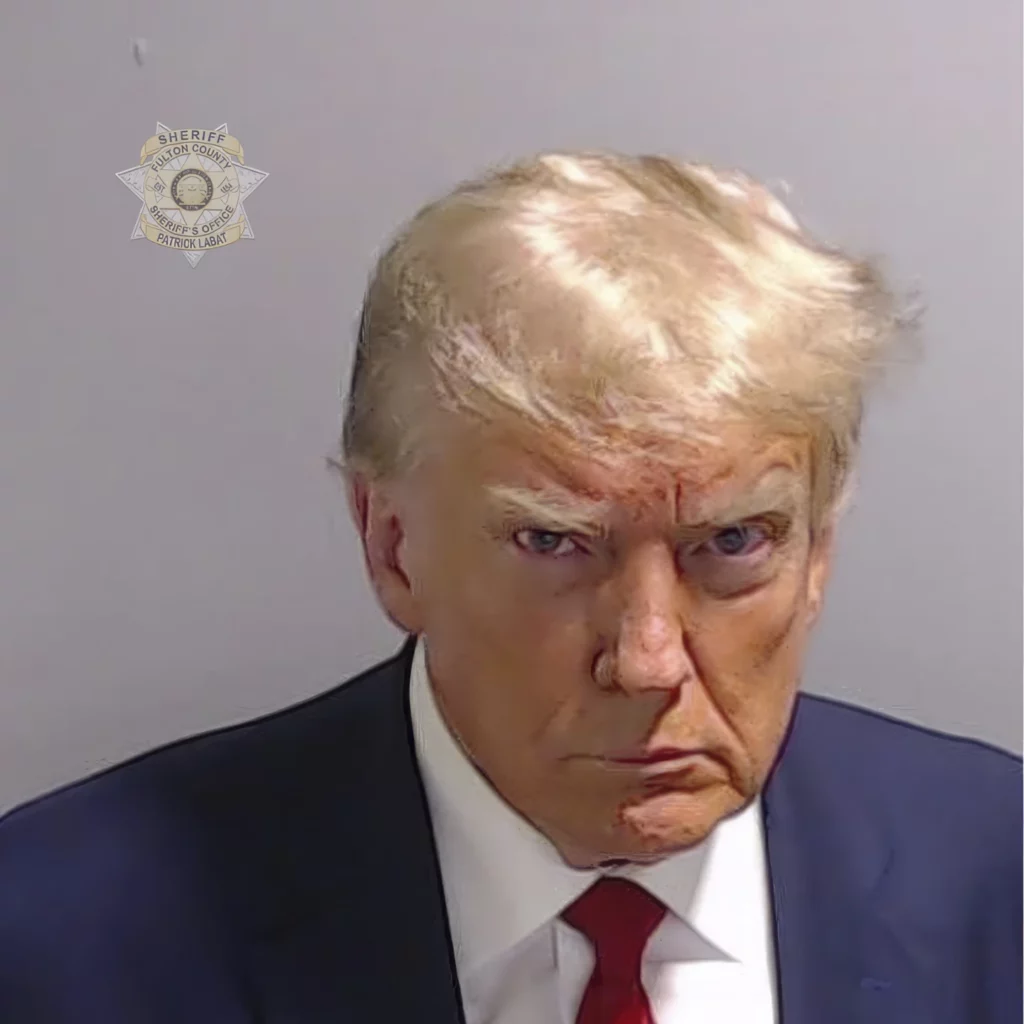 A Politico/Ipsos poll released yesterday has some bad news for former President Donald Trump's bid to regain his previous office.
New Politico Magazine/Ipsos polling finds that most Americans feel former President Donald Trump should stand trial for the federal 2020 election subversion case before the Republican primaries in early 2024 or before the general election in November 2024, something that has held steady between the sensitive documents case and the 2020 election subversion case. However, compared to Politico Magazine/Ipsos June polling, slightly fewer Americans say they understand the charges against Trump, even as a majority say they understand the various cases.

Still, most feel that the Justice Department's decision to indict Trump in the 2020 election subversion case is rooted in a fair evaluation of the evidence and law.
Former federal prosecutor Ankush Khardori analyzes the poll and provides some interesting graphics. I'll leave it to you to read his analysis, which mostly focuses on the topline findings. Here, I'll use his graphics to instead focus on the partisan breakouts. (I'll caveat at the outset that the margin of error for those is relatively large but these numbers are all I have to go on.)
The first is the least surprising and the least interesting: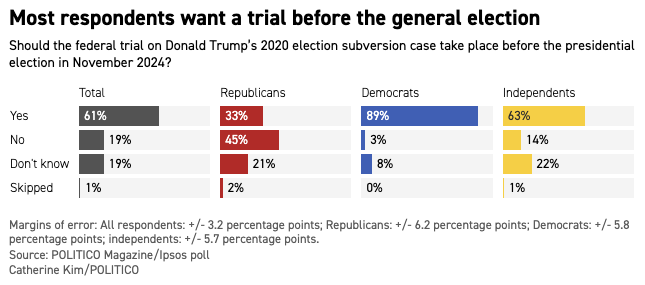 First off, the timing of the trial(s) is not going to be dictated by public opinion. Second it's not at all surprising that a solid majority want to get this over with before the election. That a third of Republicans join them—and a slight majority of them aren't firm No's—despite Trump's opposition is the only thing remotely interesting here.
This is more interesting: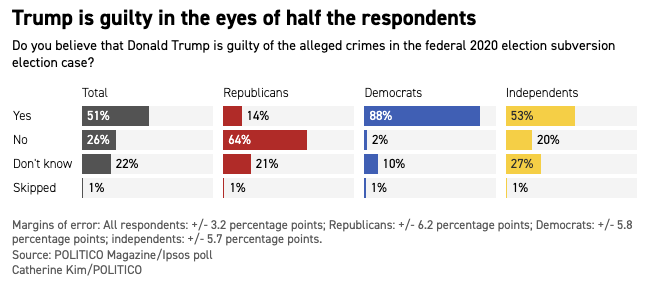 Given the overwhelming public evidence of Trump's guilt, that the topline and Independent numbers are barely at a majority is noteworthy. That Democrats almost universally think he's guilty is unsurprising. That 21% of self-identified Republicans say Don't Know, though, is interesting. I read that as "Yes but I'm not ready to admit it yet."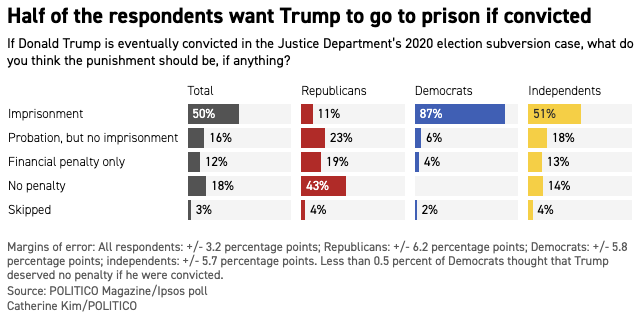 Again, I'm surprised that the topline and Independent figures are so low and unsurprised that Democrats almost universally want to see him go to jail. While it's disheartening on the surface that 43% of Republicans want no penalty even if he's convicted, the same number want some penalty.
From a systemic standpoint, the final two graphics are reassuring: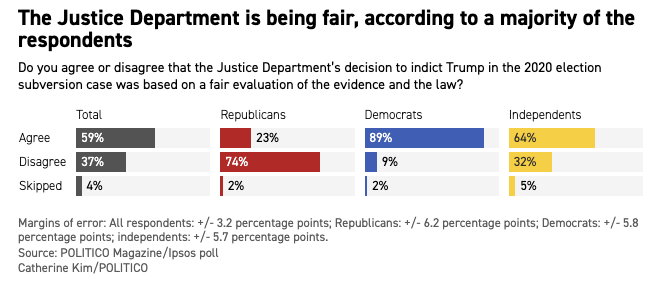 Again, Democrats are in lockstep, with high 80s on all of these questions. Still, roughly two-thirds of Independents and a quarter of Republicans agree that the proceeding has been fair. The latter, especially, is not bad considering how much propaganda they've been fed by Trump and his media enablers. (It's interesting that there wasn't an Unsure option on this question.)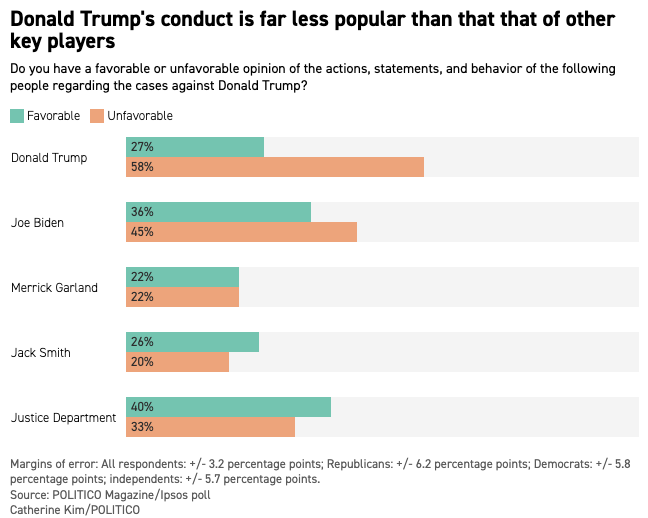 Alas, he doesn't provide a partisan breakout for this one. But here's what it shows on page 6 of the polling breakdown:

The Democrats aren't at 88! This is harder to interpret but my guess is that this means Dems think Biden, the DOJ, etc. are moving too slowly, not that they're acting dishonorably. And I honestly have no idea how to read the Independents: they have unfavorable views of everybody concerned—wildly so for everyone but DOJ—but that could be for hot or cold reasons.
Regardless, none of this bodes well for inmate P01135809.