Instapaper's Business Model: Theft?
InstaPaper's business model is stealing content created by others, stripping it of the ads that pay the creators, and running their own advertising on it.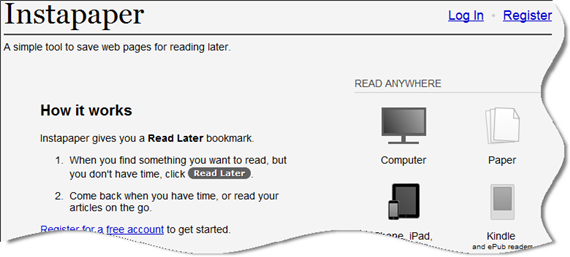 I'm seeing quite a bit of buzz over Instapaper, almost all of it good.   But there seems to be a wee problem with its business model.
A couple of years ago, Marco Arment, who was then the lead technologist of the social-blog platform Tumblr, became frustrated with the way the web made his ideal reading diet difficult.

He couldn't read articles during his commute on the subway because there's no Wifi in the tunnels. And when he was connected, either on a computer screen or a phone, it was taxing to browse through sites designed with seas of links, come-hither slideshow promotion-boxes and "interactive" advertisements and find the articles he actually wanted to read.

[…]

So he created an application to fix his reading experience. It was a simple bookmarking tool, custom-made for Arment, that allowed him to save articles to read at a time and in a digital environment more conducive to reading. He called it Instapaper.

He could bookmark articles from The New York Times, The New Yorker, the tech blog Gizmodo; load the text form each piece into a simple, custom-made template that stripped away formatting and distractions; and queue the articles into an account so he could read the articles whenever he liked, online or off.

[…]

Instapaper is ad-supported (in the form of small, square ads on users' account pages and at the bottom of the article pages). Although a basic form of the Iphone application is available for free, Arment gets a cut any time someone downloads the $4.99 version, which is Ipad-friendly and includes more features. This week, he announced his very first, albeit small, scheme for more direct funding: "subscriptions," for three dollars for three months of service.
So, essentially, InstaPaper's business model is stealing content created by others, stripping it of the ads that pay the creators, and running their own advertising on it?
The argument, apparently, is that these people already "viewed" the ad when they loaded the article the first time to save a copy to Instapaper.  Except that they haven't:  The whole point is to save the piece for later reading.
To be sure, much the same argument has been made against bloggers:  Many of us profit from excerpting the work of mainstream media outlets.   The difference is that our value added is commentary and/or curation.   And we're generally linking the original — not only driving traffic but increasing search engine ranking for the creating site — and excerpting only part of the content.
Additionally, most professional websites are designed to drive readers of a particular article to others that might interest them.  Those reading on an aggregator site obviously aren't getting that.
A related lament about Instapaper and similar services is aesthetic:  They strip the graphic design from the original, leaving only a raw text experience.   That doesn't strike me as a big deal in and of itself, although it might eventually drive down the design quality of sites.