OTB at 20
A look back at two decades of blogging.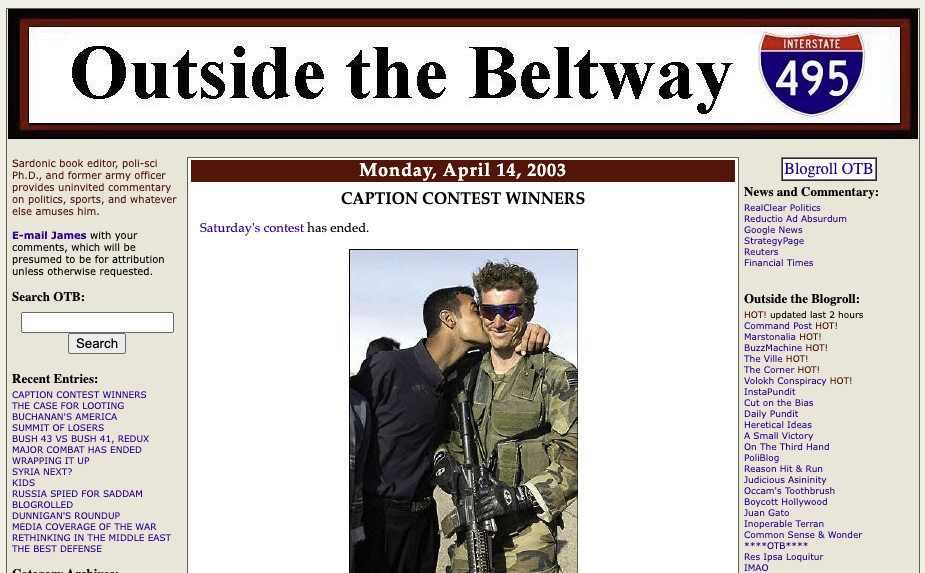 On Friday, January 31, 2003, I started a blog called Outside The Beltway on Google's BlogSpot platform. My first post, with the clever title "FIRST POST," was pithy:
I've finally decided to join the blogging community. Everyone else has one, so why not me? Until now, I have just provided my commentary to my unfortunate friends via a constant stream of e-mails.
That pretty much describes the origin story of the site. While there were several "unfortunate friends" in said stream, far and away the most prolific was my then-recent Troy political science colleague and now-longtime co-blogger Steven Taylor. And they very much resembled 2003-era blogging: links to articles with perhaps a short excerpt and then some, often snarky, commentary.
That first post was followed by another twelve on that same day! Several of them reflected the run-up to the Iraq War, of which I was a reluctant supporter, but I don't regret the tone of any of them. In particular, my pushback against Jonah Goldberg's invocation of Colonel Jessup and rejection of Ann Coulter's assertion that those who disagree with the war are guilty of treason would very much reflect the nature of the blog going forward. My takes on Annika Sorenstam's planned venture into the PGA Tour and Lebron James' amateur status ahead of his being drafted by the NBA stand up pretty well.
Constant outages and other frustrations with BlogSpot over the next couple of months would prove the old adage You Get What You Pay For, so I purchased the outsidethebeltway.com domain and paid someone to set up a website on Movable Type software and had it hosted at HostingMatters. The site launched at this domain on April 4, 2003.
The earliest Wayback Machine archive was 10 days later. The screenshot is too large to embed here but a screencap of the top of the site adorns the top of this post. The logo and site design aren't terrible, considering I did it myself using free software, but essentially three months in, it's a full-on 2003 blog, replete with caption contests, a blogroll, various Javascript embeds for visitor counters and various meta blog gaming ventures, and other artifacts of the era that have long seemed silly.
But it also reflects the fun of blogging's heyday. There were various ecosystems and other ranking systems to game, yes, but also a lot of cross-linkage and community. That lasted maybe two or three more years before fading away. Many of the best bloggers "took the Boeing," getting hired by major outlets to take their hobby professional, or just lost interest over time, either unable to garner traffic or tired of the vitriol that gradually displaced the early playfulness.
A quasi-random stroll through the Internet Archive, looking at the closest scan to January 31 each year, shows the evolution, for good and bad, of the site.
The look and feel was still pretty much the same in January 2004, aside from a more pronounced blockquoting style to more clearly set off excerpts from my own commentary. Still a lot of blog-centric silliness but already an evolution to somewhat longer-form commentary.
January 2005 shows the emergence of BlogAds on the site, representative of a rather short period (maybe four or five years) in which the site brought in a fairly significant amount of revenue. (Although never as much revenue as the Gone Hollywood spinoff a couple years later.) It also shows the appearance of front-pagers other than me. As noted on our About page,
On November 6, 2004, Steve Verdon, Robert Garcia Tagorda, "Rodney Dill," "Dr. Leopold Stotch," and Kate McMillan began a guest posting stint while James was on vacation and they stayed on as co-bloggers upon James' return. OTB has been a group blog ever since. Current front-pager Steven L. Taylor joined the team in November 2006.
In terms of personal milestones, I got married in October 2005 to the former Kimberly Webb, just weeks shy of my 40th birthday. Amusingly, I blogged several times on our wedding day but only tangentially about the wedding. (In fairness, there was a wedding blog that has, for whatever reason, disappeared into the ether.)
My 2006 third anniversary page is captured. The site layout was largely unchanged, other than the cluttering of the sidebar with ever-more doodads representing blog-related affiliations, most notably the Media Bloggers Association, Milblogs, and various ad networks. The writing was still relatively pithy, featuring far fewer long excerpts than would become the norm later, but with less meta-coverage of the rest of the blogosphere than had been the case a year earlier. My third anniversary post was much shorter than the one you're reading now:
My first post at Outside the Beltway was at 9:37 a.m. on Friday, January 31, 2003. You are reading my 11,642th. My co-authors have added another 1270: Rodney Dill, 355; Steve Verdon, 270; Robert Tagorda, 240; Kate McMillan, 215; Leopold Stotch, 152; Richard Gardner, 28; Robert Prather, 5; and Athena, 5.

While the blogging phenomenon was well underway by the time I joined in, it was just beginning to catch the attention of the mainstream press. There was a wave of stories "discovering" blogs that, without fail, explained what a blog was. Now, there is a wave of stories on the growing significance of blogs that, without fail, explain what a blog is. Three years is a long time in the field of big journalism!

It's been a good run. Certainly, we've received more visitors and attention than I would have imagined possible. As always, thanks to all who visit, comment and link.
That I produced 11,642 posts over the course of three years is mind-boggling; I've only written 16,382 more posts in the subsequent seventeen. That I have only a vague recollection of "Athena" (the former associate of terrorism scholar Cori Dauber) blogging for me—and that her posts do not still appear in the site database—is, well, odd. Tracking down our email conversations, she started blogging for me circa July 2005 but her own blog, Terrorism Unveiled, disappeared at least by August of 2006, at which point emails to her started bouncing. I have no record of conversations with her since then, much less a request to delete old posts. ¯\_(ツ)_/¯*
January 2007 reflects a site mostly written by me again, as most of the early co-bloggers drifted away from the medium (or, in Kate's case, to her own, very popular, blog). The site design had changed only modestly but reflects the spin-off sites OTB Gone Hollywood and OTB Sports. The former became a huge moneymaker for a few years before that bubble burst. The latter never drew much interest and eventually became Bill Jempty's solo joint. Also, there's a logo commemorating our winning of the 2006 Golden Dot Award for "Best Blog," awarded by The George Washington University's Institute for Politics, Democracy and the Internet. It was the last year that particular award would be issued, with niche categories replacing it in subsequent years until the novelty of blogging wore off. (Indeed, links to the Golden Dots and IPDI are both now dead. 2006 was a long time ago.)
Early February 2008 (there was no Wayback scan in January) shows the first professional redesign of the site, albeit one that retains the color scheme I established almost from the outset: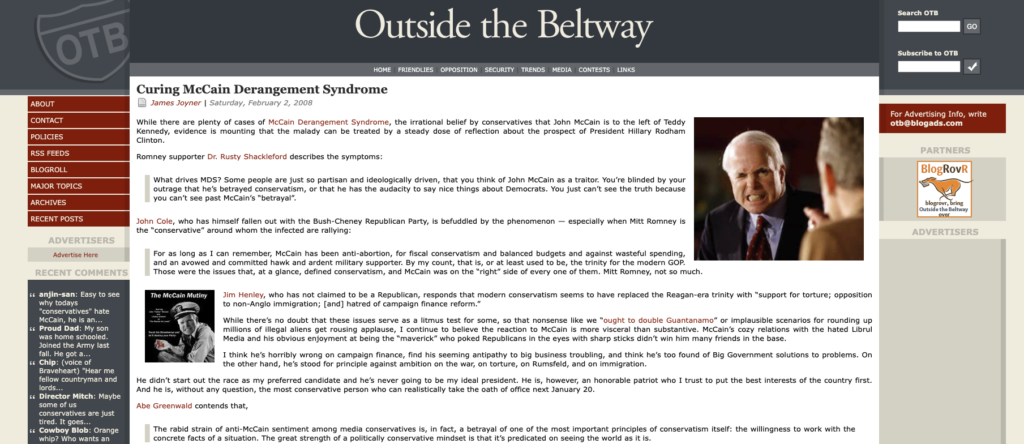 Most notably, the I-495 (the Washington DC "Beltway" from which the site takes its name) shield has morphed into one with "OTB" inside. The writing is a mix of longer-form pieces and short commentaries on news items. The non-me writing team had evolved to include Chris Lawrence and Alex Knapp, both of whom had blogged elsewhere for years, and Richard Gardner, a retired Navy officer who I believe originated as a site commenter.
The year would close, literally, with the birth of my first child, Katharine Webb Joyner, on New Year's Eve.
January 2009 and January 2010 don't reveal much evolution but the latter reminds me of the late, lamented "OTB Radio" program, in which I, usually accompanied by Dave Schuler and occasionally other co-bloggers, discussed the week's events with various guests. It went from a paid venture to one we did for free but stopped once they wanted me to pay for the privilege of providing them weekly content. The sidebar points to the relatively short-lived MANzine blog, my ill-fated effort to do a GQ/Esquire-style blog with a different sensibility. Mostly, there just wasn't a market for that. Also, I just didn't have the bandwidth to do multiple blogs anymore.
On a personal note, my father and namesake, James H. Joyner, passed in January 2010 at only 66. Given that he was 22 when I was born, I've made up more than half the difference since.
January 2011 shows a major evolution in the site design, which actually launched in May 2010, from a traditional weblog into more of a magazine style: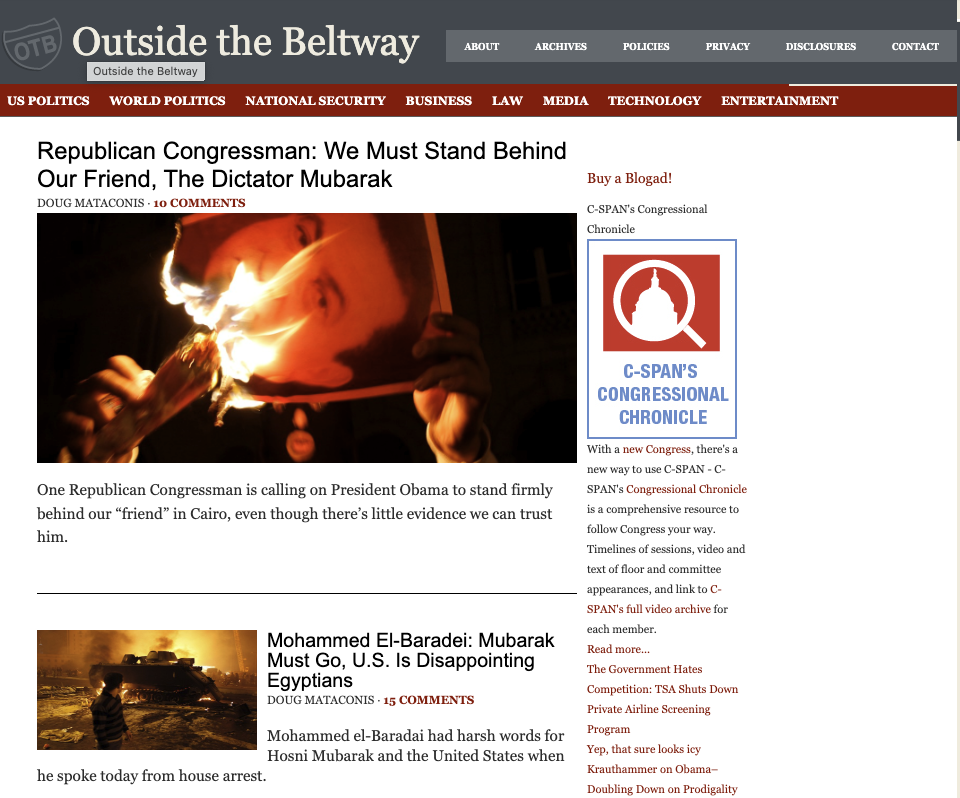 It's a precursor to the site as it still exists today, with a front page consisting of thumbnails and excerpts rather than full articles. The move proved unpopular with some commenters. While it's still possible even today to read the site blog style, it hasn't been the default for a long time now; indeed, it's been a "magazine" longer than a traditional blog.
It's also noteworthy that Steven Taylor (who started guest posting for me in November 2006 but mostly blogged it his old PoliBlog site for years thereafter) and the late, lamented Doug Mataconis (who joined in May 2010) were major contributors to the site by this point.
On the personal front, the year was filled with joy—the birth of my second daughter, Elizabeth Webb Joyner, on the Summer Solstice—and tragedy—the sudden death of my first wife, Kimberly Webb Joyner, on Thanksgiving weekend. It's hard to believe those events are both more than 11 years ago. (I reflected on life "10 Years On" from Kim's passing on that anniversary.)
The site didn't change much by January 2012. Looking through the OTB History archives, I note that the much-commented-upon edit feature essentially died way back in February 2012. For whatever reason, it's been wonky ever since.
Ditto January 2013. My "OTB Turns 10" post was underwhelming in its reflectiveness. On a personal front, August 26, 2013, coincidentally 11 years to the day after I started my first job in the DC area, I started my current job at the Marine Corps Command and Staff College.
A visit to January 2014 reveals nothing significant in the site's evolution. The design remained unchanged and Doug Matconis, Steven Taylor, and I remained relatively equal contributors in terms of output, with Rodney Dill continuing to contribute caption contests.
Ditto January 2015, January 2016, and January 2017—although it appears that my blogging had already started to slow down. Occasional contributor and longtime commenter John Burgess passed in February 2016. Sadly, I didn't learn of it until two years later. Longtime contributor Rodney Dill retired from the site in July 2017, having hosted some 1200 OTB Caption Contests over 13 years.
January 2018 shows a site that had largely become the Doug Mataconis Show, with Steven and myself as occasional contributors. My "OTB Turns 15" post was not all that reflective.
We launched a minor site refresh in February 2018, making it much more friendly for those visiting via their smartphones and tablets. It's essentially the site you know now. It's apparent in the January 2019 scan: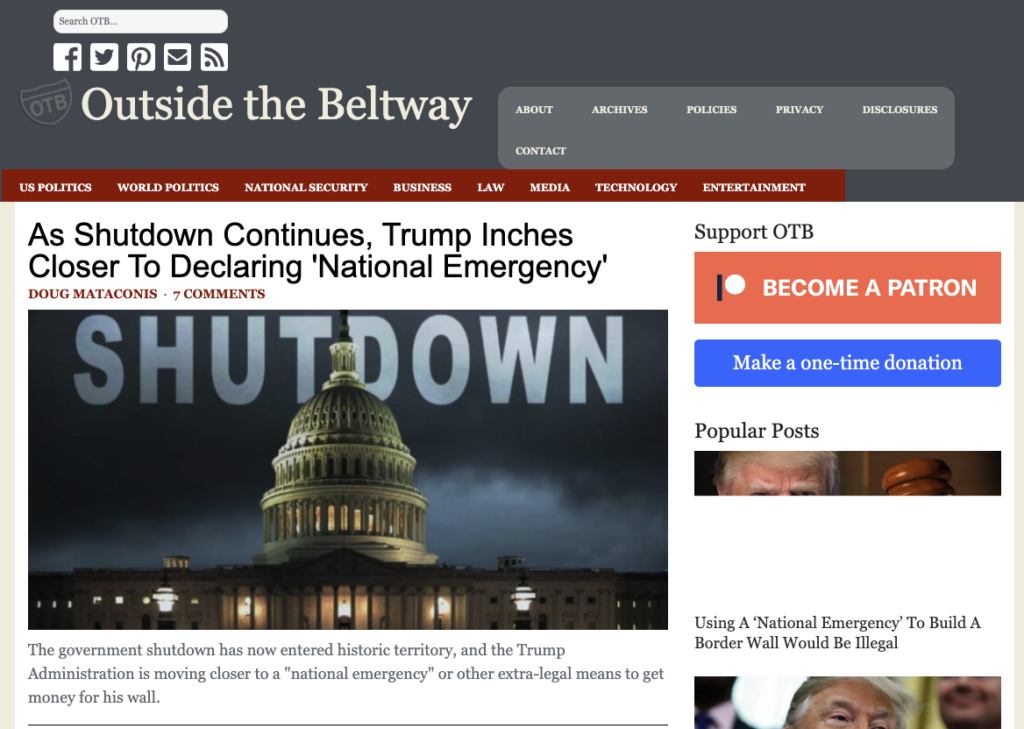 The sidebar reflects my April 2019 decision to make the site ad-free after almost fifteen years of featuring advertising in the sidebars. For a variety of reasons, mostly my own lack of flogging for contributions for what is, after all, a hobby I can afford, we're not bringing in enough in contributions to pay for the hosting costs. But the ads weren't bringing in much, either, by that point and they had gotten increasingly spammy and are missed by no one.
March 24, 2019 was the first of the Open Forum posts, spawned by a lack of posting after the sudden, unexplained, disappearance of Doug Mataconis from the site two weeks earlier. It was initially biweekly (Wednesdays and Sundays) but soon evolved into a daily feature, remaining even after Doug's (alas, brief) return on April 13.
On a personal front, my mother, Waltraud Raule Joyner, passed, aged 75, in December 2018. I re-married, to the former Beverly Funkhouser, in July 2019, adding three stepchildren (then aged 16, 19, and 20) and moved into a larger house 45 minutes away the next month to give the combined family a fresh start.
The January 2020 scan reflects the absence of Doug Mataconis, who had disappeared from the site for the second time, this time for good, and the resultant picking up the pace of Steven and yours truly.
Not much had changed by January 2021. My longtime friend and co-blogger, Steven Taylor, reflected on his own "Eighteen Years of Blogging" in February. The year was not a great one for OTB. We experienced the death of longtime front-pager Doug Mataconis in July and longtime commenter Steve Story in September.
The January 2022 scan and the latest, January 2023 scan, don't show much evolution. Steven and I continue to hold down the fort when we can, with occasional contributions from Kingdaddy, Matt Bernius, and a couple of others. Open Forums, Tab Clearing, Photos for Friday, and the like take up a greater share of the total posts than we'd like but we're both pretty busy guys in late middle age at this point.
While I'm nowhere near as prodigious as I was in the site's early days and no longer feel the pressure to generate content, I've certainly picked up the pace in Doug's absence. Moreover, especially with the demise of the Quick Picks section with the 2018 redesign, I have all but stopped the Instapundit-style "Heh, indeed" posts that were so common in the site's early days. I seldom post if I don't have a few paragraphs to say about a subject—which is often the case.
Partly, I'm 20 years older and a hell of a lot busier. Work and family commitments mean I'm not sitting in front of a computer scanning for new content ideas every waking hour. Further, I'm more pessimistic about the state of American and world affairs than I was in 2003—or even 2015—and no longer think rational discourse will change enough minds to matter.
While the community feel of the old blogosphere has new been gone way longer than it existed, we've managed to capture it in another sense in the interactions with the commentariat, some of which have been with us since the very early days. As noted in two posts from March 2019 ("Where Have All the Commenters Gone?" and "Missing Commenters Redux") there's a real sense of loss when regular commenters drift away from the site, often without any explanation.
As remarked in countless posts over the years, the commentariat has evolved. Whereas it was mostly Republican/conservative folks agreeing with likeminded front-pagers, with a handful of Democrats/progressives mixing it up, it's now almost entirely the latter. Partly, that's a function of the hosts having gradually become less conservative. Mostly, though, it's a shift in the national political landscape, with very little representation available for relatively conservative political junkies who enjoy intellectual discourse.
While Steven and I still get frustrated by the interactions from time to time, OTB has long since coalesced into a community. It has been years since I even checked the daily traffic numbers. At this point, the only reactions that really matter are the comments to the posts. Indeed, the site would likely survive quite a while if it were nothing but daily Open Forum posts.
_____________
*UPDATE: I stumbled on my Fourth Blogiversary and Fifth Blogiversary posts and see that her five posts are mentioned in the former but not in the latter. Thus, for reasons I have forgotten if I ever knew, her writings disappeared from the site between February 4, 2007 and January 31, 2008.