Just 60% Of Americans, 43% Of Republicans, Accept Theory Of Evolution
Once again, a poll shows that large numbers of Americans, and most Americans, reject Evolution via Natural Selection as the explanation for humanity's origin. How do we explain that?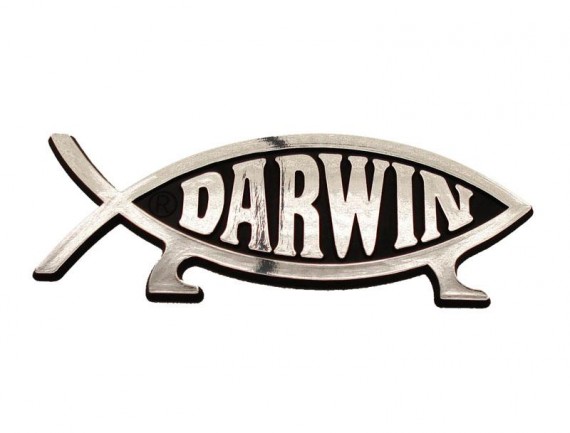 One of the things that has always puzzled me about the United States is the extent to which members of the public let religious beliefs interfere with their opinions on political and cultural matters. This seems especially true when it comes to the whole "War On Christmas" meme and the manner in which certain people become bizzarely offended if someone says "Happy Holidays" instead of "Merry Christmas," or the way that large segments of the public end up rallying around a public figure or business who they believe are being attacked because of their religious faith. Recent examples of this can be seen in the whole Duck Dynasty nonsense, the Chick-Fil-A controversy, or the manner in which the entire conservative movement seemed to defend Rush Limbaugh when he called a young woman a slut when she spoke out in favor of public subsidies for birth control coverage.
None of them, however, have struck me as more bizarre than the manner in which the question of "belief" in the scientific Theory of Evolution is treated in this country. This is an issue that has been a controversy in the United States going all the way back to the early 20th Century and the Scopes Monkey Trial, and its continued well into today. Opponents of the teaching Darwinian Evolution in public schools continue their efforts to restrict such education, often by disguising themselves as people who want to give "equal time" to the totally discredited idea of "Intelligent Design," which is actually nothing more than Creationism dressed up with language that sounds like its scientific. Additionally, polling shows that when Americans are asked if they believe in the Theory of Evolution, the number is seldom higher than somewhere around 65%. I'd suggest that this is far lower than anything you'd garner in a poll conducted in Europe, Australia, or the industrialized democratic nations in Asia such as Japan or South Korea. At the very least, I doubt you'd find as much controversy over the idea of teaching the idea of Evolution via Natural Selection in school classroom as their is here in the United States.
Here in the U.S., though, it's clear that evolution remains as nearly as controversial as it was when John Scopes was put on trial for daring to teach Darwin in violation of Tennessee law. The latest poll from Pew Research Center on this topic shows that a mere 60% of Americans accept evolution as the explanation for how the human race came to exist. What's most interesting from a political point of view, though, is the extent to which there is a significant partisan gap on the issue:
When it comes to increasing partisanship in the United States, it seems no issue is immune. And that includes evolution.

A new Pew Research Center poll shows a widening political gap over theories about how humans came to be, with Republicans growing increasingly skeptical about the idea that humans evolved over time.

Over the last four years, the percentage of Democrats who said they believe in evolution has risen by three points, from 64 percent to 67 percent. But the percentage of Republicans who believe in the theory has dropped 11 points, from 54 percent to 43 percent.

So while there was a 10-point gap in 2009, there is now a 24-point gap.

Pew says similar shifts have not occurred for any other demographics, either racial or religious.
For self-identified independents the numbers for 2013 are 65% to 29% in support of evolution, while in 2009 it was 67% to 27%.
Here's the demographic breakdown on the polling question:
INSERT "evolution2013-5.png
Understandably, there's also a significant gap based on religious beliefs:
A majority of white evangelical Protestants (64%) and half of black Protestants (50%) say that humans have existed in their present form since the beginning of time. But in other large religious groups, a minority holds this view. In fact, nearly eight-in-ten white mainline Protestants (78%) say that humans and other living things have evolved over time. Three-quarters of the religiously unaffiliated (76%) and 68% of white non-Hispanic Catholics say the same. About half of Hispanic Catholics (53%) believe that humans have evolved over time, while 31% reject that idea.

(…)

Just as religious groups differ in their views about evolution in general, they also tend to differ in their views on the processes responsible for human evolution. For instance, while fully 78% of white mainline Protestants say that humans and other living things have evolved over time, the group is divided over whether evolution is due to natural processes or whether it was guided by a supreme being (36% each). White non-Hispanic Catholics also are divided equally on the question (33% each). The religiously unaffiliated predominantly hold the view that evolution stems from natural processes (57%), while 13% of this group says evolution was guided by a supreme being. Of the white evangelical Protestants and black Protestants who believe that humans have evolved over time, most believe that a supreme being guided evolution.
The above chart also shows us a less surprising split on this issue, and that's the one based on the level of education that the respondent has achieved. Someone who has gone to or graduated from college is far more likely to accept evoluion than someone who has only a High School Diploma or never graduated from High School at all.
Rather than engaging in the same kind of let's bash those idiot Republicans that many bloggers seem to be using these poll results to do, I'd like to use this as an opportunity to explore the reasons why we see poll numbers like this, and why they seemingly persist over such a long period of time. After all, it's perhaps not too surprising that people in the early 20th Century might find the still relatively new theories that Darwin were presenting to be questionable at best, but one would think that human beings living in a much more technologically advanced and, presumably, more scientifically literate society to be more accepting scientific reality.
So, that leaves us with two questions.
Why is it that in the first decade of the 21st Century, only 60% of the American public accepts the general idea that human beings evolved over a vastly long period of time via a process of natural selection, something which every piece of archaeological evidence ever uncovered has largely confirmed, while a full 1/3 outright rejects the idea? Certainly, as noted above, demographic issues such as one's level of education and the types of religious beliefs one holds are part of the equation. Is that all it is? Are people resistant to accepting the idea that they 'came from a monkey," which is the way many opponents of teaching evolution in schools fraudulently describe what evolution via natural selection actually says about human evolution? Is it some general distrust of science and scientists? These are some of the questions that I've asked, mostly to myself, every time one of these polls has come out.
The second question is why is it that Republicans/Conservatives are so much more skeptical of evolution via natural selection than Democrats or Independents and, indeed, why is the gap between political parties on this issue larger than pretty much any other demographic split in the poll?Part of this issue, of course, points right back to those same poll demographics. The GOP has a much larger percentage of Evangelical Christians among its members than Democrats and Independents. Conversely, Democrats and Independents tend to be more likely to have advanced degrees or to have gone to college. These are numbers that have been polled over long periods of time and are rather indisputable. Is that sole explanation for the fact that less than half of them accept evolution and nearly 50% reject it outright, a number far higher than for any other political demographic?
Perhaps part of all of this is a reflection of the state of science education in this country. Indeed, the most recent international survey of math,science, and reading test scores among industrialized nations shows the United States ranking below average in math, science, and history, and well below the top scorers in all three categories which was made of students in Shanghai, China. When you're getting results like that, perhaps it's not too surprising that acceptance of such a basic scientific principle as evolution via natural selection is so low in this country. There are more important things in the world, of course, than the evolution question. However, to the extent that it's a reflection of a wider problem such as this, then it's something we really ought to be paying attention to.