10 Years On
Kimberly Webb Joyner, my first wife and the mother of my children, has been gone a decade.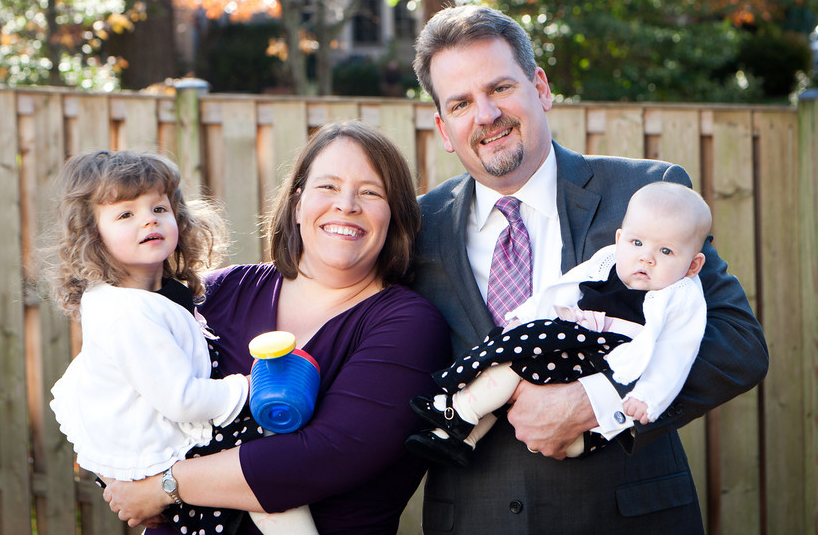 Ten years ago this morning, Kimberly Webb Joyner, died in her sleep at 41. In so many ways, it seems like a lifetime ago.
I posted this at 6 am that morning, a few hours after her passing:
She leaves behind two little girls she loved more than anything, Katie, who turns 3 on New Year's Eve, and Ellie, who was born June 21.

We met in August 2004 and were married on October 8, 2005. She had just turned 35 and I was a few weeks shy of 40 but neither of us had been married before. We shared religious and political worldviews but very different personalities. She was extroverted, sunny, and patient to my introverted, grumpy, and antsy. I almost certainly got the better of that bargain.

Kim was my partner, helpmate, and confidante. Her passing leaves a gaping hole in my life.

I still haven't told Katie. She knows something unusual is going on, since the paramedics came at a little after 1 this morning and the police didn't leave until well after 4. But she seemed pretty much herself, requesting her favorite cartoons and playing with toys until I got her back to sleep a little while ago. Sadly, neither of my little girls are likely to remember their mommy other than from photos and videos.

The next few days will be stressful, not only dealing with my grief and suddenly becoming a single parent but the throngs of people coming by to pay their respects and deal with their own grief. Kim has a large extended family that she was close to and a lot of friends. While I prefer to deal with people in small groups and small doses, I owe it to Kim to do that for her.

Obviously, I'm still in shock at this unexpected loss. Organizing my thoughts and writing them down is how I process, well, pretty much everything. Words fail me right now.
Despite an autopsy, we still don't know the cause of death.
Katie and Ellie, math being what it is, are now just shy of 13 and 10-1/2. They've grown a mite: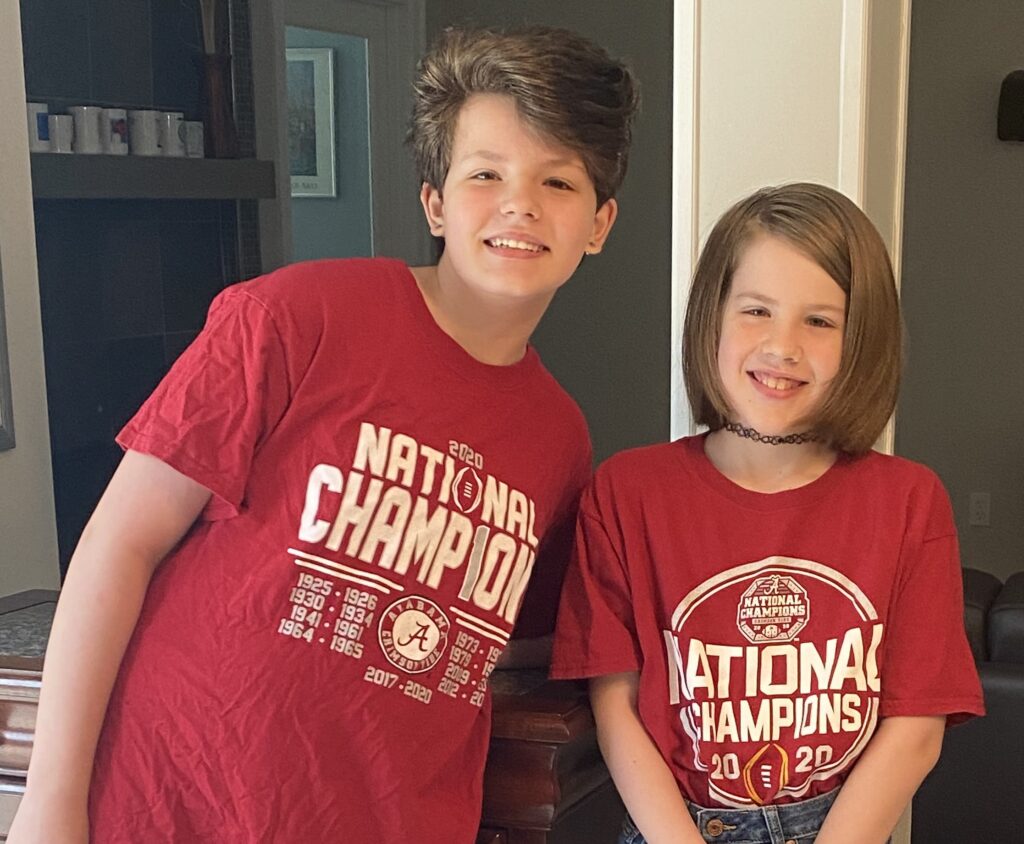 And, alas, they don't remember their mother. They've seen lots of pictures (many, including the one atop the post, still hang in the hallway outside their bedrooms), seen some videos, and heard lots of stories but they were just too young.
Katie was precocious so, even shy of her 3rd birthday, we were able to have a conversation about her mother later that morning. She didn't fully understand, of course, but (per both my natural instincts and some Internet research conducted in the wee hours) I basically repeated variations of, "Mommy died. She can't come back. She loved you very much." She was probably more confused than sad, simply because of her developmental stage. She showed more outward signs of grief a few months back when our old dog, Molly, died.
Ellie, of course, had no understanding at all. She went cold turkey from breast milk to formula but babies are enormously adaptable.
The throngs of people did in fact show up and, as expected, it was more chore than comfort. But I came to better appreciate the ritual. People need to talk about their grief and share some of the burdens.
The tightly-knit polling company that Kim had worked for, rising from research assistant to Chief Operating Officer, essentially her whole adult life stepped up in a big way in helping with the funeral. Mary Newhouse, wife of founding partner Neil, made most of the arrangements; my role was mostly making a handful of choices from options she provided.
It became clear from the aforementioned throngs of people showing up that there were a lot of questions that needed answering, including a few folks hurt that they weren't going to have a speaking role in the funeral ceremony. Despite not having eaten much for a week* and being nauseated from a combination of stress and sleeplessness, I addressed as many of those issues as I could in a 30-plus-minute speech.
Some good friends who flew in from out of town (one all the way from Australia) for the funeral stayed around for a couple of days to help me get the house organized and I spent most of the second week knocking out projects and otherwise getting things in order so that I could go back to work and function as a single father.
I'm wired oddly. I frustrate easily and get more stressed out than is reasonable by a lot of everyday irritations. But I tend to be incredibly calm in a crisis. I'm mission-oriented and, likely owing to my military training, backward planning comes naturally to me. So, I focus on the task at hand but also think several steps ahead and see intermediate tasks that need to be completed. While often useful, it can be aggravating for those around me.
So, for example, a few hours after Kim died, our handyman came for an appointment I had of course forgotten about to install a new garbage disposal. I broke the news to him and he offered to come back some other time but, no, I was going to have a lot of people in the house in the coming days, most of them eating, and a garbage disposal would be useful. I had him back the week after the funeral to knock out some painting and other household projects that we'd been meaning to get around to (Kim was less decisive than me on things like paint colors). I had the time and wanted to get the household in order.
Katie was in her first year of preschool and was going either two or three days a week. When I dropped her off the Monday after the funeral, her first day back, the director expressed her condolences and offered to let Katie move to five days, which was an exception to the normal policy. I accepted immediately, figuring the structure would be good for her under the circumstances.
Once I settled back into work, after a two-week leave, things quickly settled into a new normal.
A little less than two years after Kim's passing, I left the Atlantic Council, where I'd worked for six years, for my current job at the Command and Staff College. Between that move and a gradual fading of the relationship with Kim's old company,** there are few connections left with our shared social circle. The aforementioned friend from Australia, who Kim knew as a child in Connecticut and reunited with years later when both wound up in Northern Virginia, is really my only connection, aside of course from our girls, with our life together. (They moved back to the local area two years later.)
I continued to live in the house we had bought together in 2006 until moving to my current house on the other side of the county two summers ago when I remarried. Aside from the practicalities—the old house was big but functionally only had three bedrooms and we needed at least four for the blended family—it was a fresh start. This house is ours together. And, one of the few upsides of COVID is that my oldest stepdaughter, who had been in Philadelphia halfway through her junior year at Temple, moved in with us and stayed for a year and a half because school went remote. She now has a good job locally and has a place of her own just a 45-minute drive away. My youngest stepdaughter lives on campus at George Mason but is only 20 minutes away and comes to a place she now considers "home" with regularity. That's rather remarkable, considering they were living three hours and three states away when their mother and I started dating.
Katie and Ellie are both thriving and fully embracing the blended family. Despite the age gaps (the stepkids are 22, 21, and 18) they all get along pretty well.
As noted before, I'm wired differently than most. I tend to be future-focused rather than looking back. In the early months and years, grief would hit me at odd times, often when something big was happening with the girls that she wasn't around to share. It happens less as the years go by. Kim has been gone now longer than I knew her.
While I tend to remember birthdays and anniversaries, they don't necessarily have any emotional attachments. Kim died on what was (and is again this year) Thanksgiving weekend and the night after the Iron Bowl, the annual football game between Auburn and Alabama (which is played this afternoon). I'm not sadder on those days, or on her birthday, our wedding anniversary, or this anniversary than any other day.
_____________________
*It turns out that one can lose 15 pounds a week on a diet of Johnnie Walker Black and some occasional grazing. Like all fast weight-loss plans, it's not sustainable.
**We remain on good terms. But Kim was the basis of that relationship and it would have been odd for me to show up at the office and weird to invite me to company social events, turning a celebration of their hard work into a reminder of her passing.