Obama And Biden Will Skip Castro's Funeral
Neither President Obama nor Vice-President Biden will attend Fidel Castro's funeral.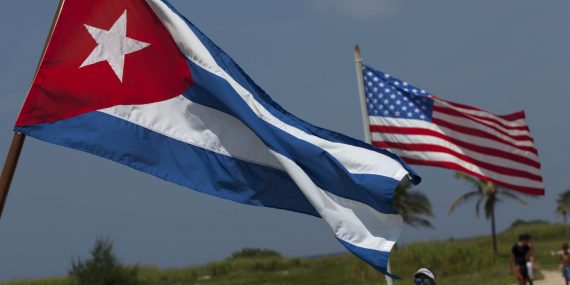 Yesterday, the White House announced that neither President Obama nor Vice-President Biden would attend Fidel Castr0's funeral:
President Obama and Vice President Biden will not attend the funeral of former Cuban leader Fidel Castro, the White House said Monday.

White House press secretary Josh Earnest told reporters to "stay tuned" as to which top U.S. officials, if any, would attend the funeral, scheduled for Dec. 4.

Top Republicans have urged Obama not to attend the ceremony for Castro, 90, who died over the weekend.

Former House Speaker Newt Gingrich (R-Ga.) tweeted Saturday that Obama, Biden and Secretary of State John Kerry should "under no circumstance" go to Cuba for Castro's funeral.

Florida Sen. Marco Rubio (R-Fla.), a Cuban-American, said that sending a high-level representative to the funeral would only burnish the legacy of a longtime U.S. adversary who carried out human-rights abuses against his own citizens.

"I would hope they would send no one to the funeral," Rubio told Fox News on Saturday.

Obama faced criticism for issuing a relatively anodyne statement on Castro's death, saying the former leader "altered the course of individual lives, families, and of the Cuban nation."

"History will record and judge the enormous impact of this singular figure on the people and world around him," he wrote.

Earnest pushed back on that criticism, saying that the president's policy of openness toward Cuba is the best way to force the country to make reforms and expand freedoms for its people.

"There certainly is no whitewashing the kinds of activities that he ordered and that his government presided over that go against the very values that our country has long defended," the spokesman told reporters.
Notwithstanding President Obama's decision to reopen diplomatic relations with Cuba, and to end at leat part of the economic and travel embargo that has been in place against the island nation fpr the past fifty-five years, which I generally support, this decision strikes me as a good idea. Notwithstanding this slight thawing of relations and other reforms, there have yet to be any signs that the long history of political and religious oppression that Castro imposed on Cuba and the Cuban people virtually from the moment that he came to power. These are policies which neither Castro nor the Cuban government have repudiated, and they continue to this day thanks largely to the fact that Castro's brother Raul is nation's President and his cronies remain in power in Havana. For the leader of the United States, or the Vice-President, to attend the funeral of such a man would be an insult to both the principles that the United States stands for, to the millions that Castro and his cronies have victimized over the past half-century, and to the millions of Cubans who sacrificed everything, including in some cases their lives, by making the treacherous journey from Cuba to Florida so that their children could live in a free country. No doubt Castro's funeral will be filled with hagiographic nonsense about how great a ruler Castro was, and there's no reason an American President or Vice-President should give sanction to those lies by sitting through them out of "respect" for a man who deserved no such thing in life and deserves no such thing in death.
Ideally, the United States should send nobody to Castro's funeral as part of an official designation. Let his cronies spread their lies about a dictator who spent far more time on Earth than he deserved without any kind of sanction from the United States. Given the reality of the rapprochement with Cuba and the hope that continuing talks with Havana will lead to political and economic reforms in Cuba that will actually help to alleviate the misery that the Cuban people have been living through for this past half-century, it's probably advisable that we send someone just for appearances sake. If that's the thinking in the White House, then the ideal person would be Jeffrey DeLaurentis, the Acting U.S. Ambassador to Cuba, who has been in office since the U.S. officially restored diplomatic relations with the island nation. As it is, he is already in Cuba and would most likely attend the funeral with any official from Washington who would attend anyway, and sending him would avoid the needless publicity that would come with sending the President, Vice-President, or Secretary of State.
Castro is dead, and at least some of the Cuban people will mourn that fact. That's fine, but the United States Government does not need to give sanction to the lies that will be told about a man who died deserving neither honor nor respect.
Update: The White House has announced that there will be no official U.S. delegation to Castro's funeral:
President Obama has decided not to send a presidential delegation to Havana for the funeral of Fidel Castro, Cuba's former leader who was one of the United States' staunchest Cold War enemies.

Instead of an official delegation, the White House will send one of the president's top foreign policy advisers and its top diplomat on the island to the ceremony.

Obama has worked during his final years in office to end the United States' policy of economic and diplomatic isolation toward Cuba, insisting that the old policy was not working. President-elect Donald Trump and other Republicans have slammed Obama for his outreach to the Cuban regime, and Trump has suggested that he might renegotiate the terms of the opening with the Cuban government or end it all together.

Deputy National Security Adviser Ben Rhodes, who played a central role in negotiations with the Cubans, will attend Castro's funeral. Rhodes "was already planning to travel to Cuba this week" for meetings with the Cuban government, said White House Press Secretary Josh Earnest. Jeffrey DeLaurentis, a career diplomat who has headed the U.S. diplomatic mission in Havana since last summer, will also attend.

The decision to send Rhodes and DeLaurentis is something of a middle ground between sending an official delegation and ignoring the ceremony. "There is a formal process where the president will delegate a delegation . . . that will not be taking place this time," Earnest said.
As noted, this seems entirely appropriate under the circumstances.