Investigation Into Northam Racist Yearbook Photo Inconclusive
An independent review of the racist photo on Virginia Governor Ralph Northam's 1984 medical school yearbook was unsurprisingly inconclusive.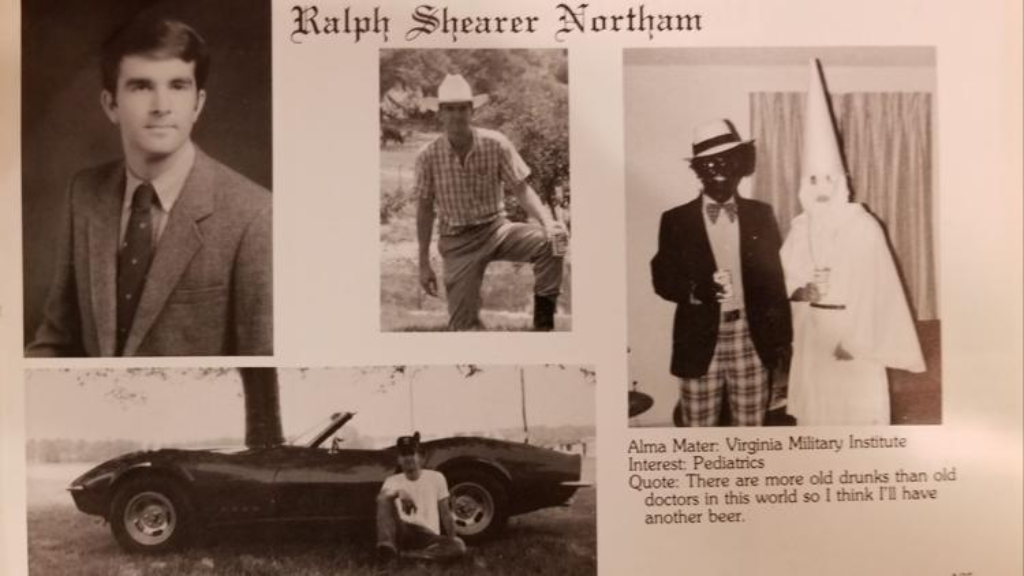 It's been nearly four months now since scandals of various types enveloped each of Virginia's top three statewide leaders. It began, of course, with the seemingly out-of-the-blue discovery of the yearbook page of Virginia Governor Ralph Northam from his final year at the Eastern Virginia Medical School from 1984 which includes, along with pictures of Northam and others, a picture that depicts one person in blackface and another person wearing Ku Klux Klan garb. In his initial response to the news, Governor Northam apologized for the photograph and appeared to admit that he was one of the two people depicted in that photograph, although he did not say which one.
This led a plethora of statewide and national Democrats to call for his resignation, something which at least initially seemed as though it would happen. Within twenty-four hours after the release of the report, though, Northam held a press conference in which he denied being either of the people in the photo although he did admit to having once darkened his skin in connection with a Michael Jackson impersonation he performed in San Antonio later in 1984. This flip-flop and the general weirdness of that Saturday press conference did not satisfy critics and led more of the Commonwealth's top Democrats to call on him to step aside, a move that he has so far not taken.
For better or worse, Northam survived what many initially believed would be a scandal that would force him from office and polls have shown that the voters in Virginia, especially African-Americans, are not holding the issue against him and don't want to see him resign. Now, the story is back in the news thanks to the release of a report resulting from an independent investigation conducted for Northam's alma mater by the prominent Virginia law firm McGuire Woods. That report basically ended with the conclusion that nobody could confirm if Northam was one of the two people in the controversial photograph, but that nobody could say definitively that he wasn't one of the people in the photo:
On a Friday evening in February, Gov. Ralph Northam of Virginia confessed that he was one of two men in a racist photograph that had been published in a medical school yearbook about 35 years earlier. In a subsequent video, he apologized and promised to do better.

The next afternoon, standing before a throng of reporters, the Democrat suddenly recanted, and insisted that neither man in the picture, which showed one in a Ku Klux Klan robe and another in blackface, was him.

On Wednesday, almost four months after the photograph surfaced and plunged Virginia's government into turmoil, investigators said they had been unable to determine which of Mr. Northam's accounts was true.

"No one we interviewed told us the governor was in the photograph, and no one could positively state who was in the photograph," the investigators, hired by Eastern Virginia Medical School, which awarded Mr. Northam his medical degree in 1984 and had been aware of the image for years, wrote in a 55-page report.

The inquiry also did not determine whether the photograph had been placed in error on a page that included Mr. Northam's name and pictures.


But the report detailed how the gravest crisis of Mr. Northam's career unfolded behind closed doors, and how early decisions helped shape a "shocking and chaotic" drama that left Virginians flummoxed, the statehouse in shambles and the governor more a punch line than a powerful politician. On Wednesday, the governor again denied that he was in the "racist and offensive photo that appears under my name."


"I know and understand the events of early February and my response to them have caused hurt for many Virginians and for that, I am sorry," Mr. Northam, who had rebuffed calls for his resignation, said in a statement after the report's release. "I felt it was important to take accountability for the photo's presence on my page, but rather than providing clarity, I instead deepened pain and confusion."


Indeed, the turmoil that began with the yearbook picture taxed Mr. Northam's credibility and also spread throughout Virginia government. In the days that followed Mr. Northam's shifting explanations, Lt. Gov. Justin E. Fairfax was accused of sexual assault, which he denied, and Attorney General Mark R. Herring acknowledged that he had worn blackface as an undergraduate student. Mr. Fairfax and Mr. Herring, also Democrats, remain in office

Given that messy line of succession, as well as polls that showed most Virginia voters wanted Mr. Northam to stay, the calls for his resignation from fellow Democrats ebbed. Some even said they regretted making such calls too quickly.

Mr. Northam then pledged to dedicate the remainder of his term to focusing on issues of inequity, a vow that members of the state's Legislative Black Caucus said he has so far showed signs of honoring.


The governor slowly and steadily began resuming a public schedule, but the awkwardness remains, especially in a year of legislative elections. An appearance by the governor is still seen as a risk by other Democrats on the campaign trail, and rearrangements under public pressure have been necessary. Republicans have been in no mood to let the scandals fade away, and on Wednesday, the Republican Party of Virginia renewed its demand that Mr. Northam quit.


"Only one person has confessed to being in the racist photograph, and that person is Ralph Northam," the party chairman, Jack Wilson, said in a statement.


The black-and-white photograph had been a looming, if largely unknown, threat to Mr. Northam for more than three decades. It was not until Feb. 1, though, with the governor embroiled in a national controversy over abortion rights, that a conservative website published the image and the governor went from a policy dispute to an international maelstrom linked to race.


Mr. Northam's account of events varied slightly from one interview to another, and from the recollection of his chief of staff, Clark Mercer. But Mr. Northam told investigators — in an account corroborated by Mr. Mercer — that he had immediately wondered whether it was fraudulent. A friend's urgent review of a yearbook on Eastern Virginia's campus revealed that it was real.


As the photograph spread quickly online, the governor's roster of allies dwindled just as fast, and "thousands" of messages began to flood Mr. Northam's aides.


"That night his closest political allies abandoned him en masse," Mr. Mercer recounted to investigators. "Not one called him and said 'Governor, can we walk through this?' or offered to stand by him."

(…)

James Boyd, the president of the Portsmouth chapter of the N.A.A.C.P., said he had "zero trust" in the inquiry and believed that it had been improperly tilted toward Mr. Northam. The firm, he said at the news conference where Eastern Virginia announced the results of the investigation, seemed to be "attorneys for Ralph."


The lawyers defended the scope of their inquiry, which included interviews with 52 witnesses, and their findings.
Given the facts that some thirty-five years have passed since the yearbook was published, it isn't surprising that the report was inconclusive. It's unlikely that any substantial written records regarding the publication of the Class of 1984 yearbook were kept for that long of a period, and it's equally unlikely that the people involved in the publication of the book would remember anything significant about a matter so far in the past. So, absent someone who might have had direct knowledge regarding the photograph, such as the person who took it or the people actually depicted in it, coming forward it was unlikely that the investigation was ever going to prove or disprove the identity of any of the persons in the photograph in President. Those persons apparently did not come forward. Therefore, it was somewhat foreordained that any investigation would be inconclusive at best.
In any case, it seems clear that the matter is largely behind Northam at this point. Thanks to the controversies surrounding the person who would succeed him if he were to resign, Lt. Governor Justin Fairfax, the pressure on Northam to resign receded almost as quickly as it had become such a prominent part of the political discussion in Virginia. Additionally, within a week of the charges against Northam, Attorney General Mark Herring voluntarily stepped forward to admit that he too had "darkened" his skin as part of a talent show act and the Majority Leader of the State Senate, a Republican, made a similar admission. In other words, by mid-February, politics in Richmond had come to resemble a dumpster fire.
While state and national Democrats did speak out against Northam and Fairfax, and to some extent Herring. there was no move to remove them from office and it doesn't appear likely that such a move will be coming in the future, especially since the state legislature ended its regular session months ago and the grounds for impeaching any of these men under the relevant provision in Virginia's Constitution appears to be rather weak. Additionally, polling in the Old Dominion has not shown any signs that the public wants action such as impeachment. For example, a Washington Post poll released not long after the scandals broke showed Virginia voters were evenly split on whether or not Governor Northam should resign, and also showed that larger numbers of voters believed that Lt. Governor Fairfax and Attorney General Herring should not step aside. These results are generally the same in two polls released near the end of February. Given this, there's little incentive for politicians on either side of the aisle to act.
As far as Northam's political future goes, this report obviously does not vindicate him but it seems unlikely that it's going to be anywhere near enough to force him from office early. As it stands, that means that he will continue to serve as Governor until the 2021 election and a new Governor takes office in 2022. (Under Virginia law, Governor's are not permitted to run for re-election although they could run for another term after being out office for at least one term.) What will be interesting to see is what impact all this has on his ability to govern and what the trifecta of scandals will mean for Democrats when the time comes to pick candidates for Governor, Lt. Governor, and Attorney General prior to the 2021 election.
More immediately though, the biggest question about the events of February is what, if any, impact the events will have on the 2019 midterm elections. During those elections, the entire state legislature will be up for grabs. This includes both the House of Delegates, where Democrats came within one vote of capturing in 2017, and the State Senate where Republicans currently have a slim two-seat majority. So far, there is no indication of that, and the chances of Democrats to take over one or both of the legislative bodies does not appear to be being negatively impacted by the scandals surrounding their statewide leaders, although it does make it less likely that any of these politicians will be campaigning for their fellow Democrats as we get closer to the fall elections. Beyond that, though, it doesn't look like Northam, Fairfax, or Herring will be going anywhere.
Here's the report:
Eastern Virginia Medical Sc… by on Scribd