Virginia Governor Faces Pressure To Resign Over Racist Yearbook Photos
National and Virginia Democratic officials are calling on Virginia Governor Ralph Northam to resign over racist photos in his 1984 medical school yearbook.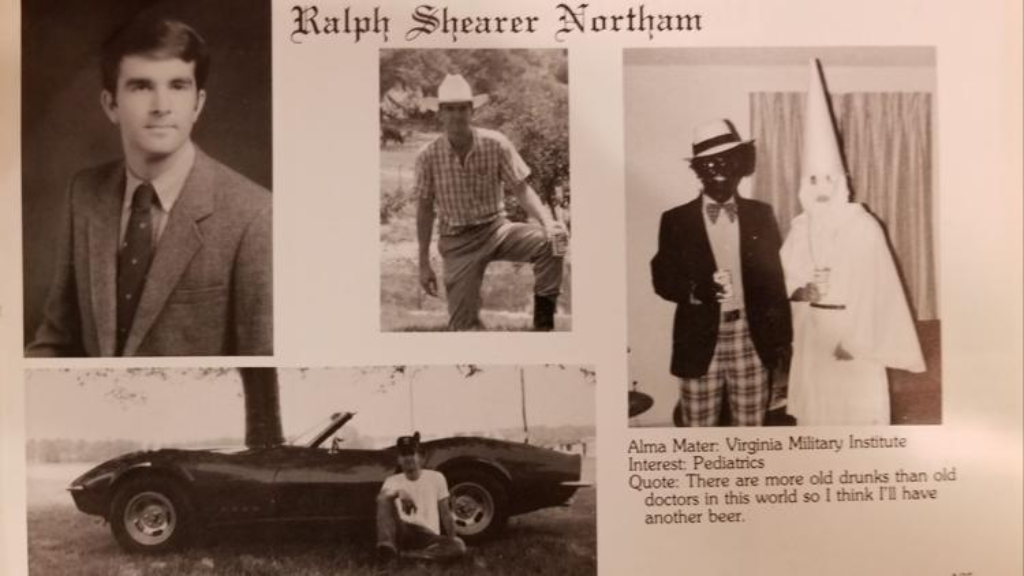 The controversy that erupted late yesterday after the revelation of a medical school yearbook page attributed to Virginia Governor Ralph Northam that includes photos of people in blackface and Ku Klux Klan attire widened overnight as more and more prominent Virginia and national officials began to call on the Governor to resign:
Gov. Ralph Northam of Virginia faced intense pressure to resign on Saturday after losing the support of leading Virginia Democrats, including black lawmakers in the Legislature, after admitting that he posed in a racist costume as a medical student more than 30 years ago.

Mr. Northam, who apologized on Friday night but said he planned to finish his term, was increasingly isolated, and Virginia Democratic leaders said privately that he would most likely realize he had no choice but to quit.

As calls for Mr. Northam to step down came from Democratic presidential candidates and even members of the state's congressional delegation on Friday, the Legislative Black Caucus, a strong ally of Mr. Northam, who was elected in 2017, at first held off. But after an emotional meeting with the governor Friday evening, the caucus said in a statement, "It is clear he can no longer effectively serve as governor."

The statement prompted others to call for his resignation. Among them were former Gov. Terry McAuliffe and Mayor Levar Stoney of Richmond, both longtime allies of the governor, who spoke with him by phone before issuing their statements.

Mr. Northam would be the first Virginia governor to resign since at least the Civil War. Under the Virginia Constitution, Lt. Gov. Justin E. Fairfax, a Democrat and the second black person to be elected to statewide office in Virginia, would assume the governorship.

Mr. Northam's overnight political implosion began with the surfacing of a photograph from 1984 in his Eastern Virginia Medical School yearbook, showing Mr. Northam and another man, one in blackface and the other in white Ku Klux Klan robes. The governor, in issuing his apology, did not say which costume he had worn, but offered his "absolute commitment to living up to the expectations Virginians set for me when they elected me to be their governor."

It was the latest agony over race to befall Virginia, a state that in modern times often seemed to have moved beyond its 400 years of slavery and a 20th-century embrace of segregation, only to be painfully reminded that the past isn't always past.
More from The Washington Post:
RICHMOND — Virginia Gov. Ralph Northam (D) faced an avalanche of calls for him to step down Saturday – fallout from a 1984 medical school yearbook photo in which he appeared that showed one man in blackface and another in a Ku Klux Klan robe.

Northam spent Friday night huddled with advisers, determined to hang onto the office he'd assumed not 13 months ago. A meeting with the state's legislative black caucus went poorly. National Democrats, leading 2020 contenders, said he must resign. And soon even home-state allies who regarded him as a dear friend — including immediate predecessor and patron Terry McAuliffe(D), himself a potential presidential candidate — said he had to go.

By 9 a.m. Saturday, Northam still had sent no official word of his plans. But even friends who hoped he could weather the crisis were bracing for his resignation — a first for a Virginia governor in modern times. They said an announcement either way could come as early as this morning.

More than a dozen protesters braved the frigid air to protest outside the governor's mansion, holding signs such as "Blackface, no place" and "Step down and do Virginia a favor." They chanted "Resign now!"

"There's no question the tide turned," said one ally, who had been briefed by the governor's senior staff and spoke on condition of anonymity because he was not authorized to disclose the private discussions.

Northam and his inner circle had been preparing to fight as news of the photograph broke Friday afternoon – he issued a written apology, then a video mea culpa. They planned a "reconciliation tour," taking him across the commonwealth to say he was sorry in person, his ally said.

"Then everything changed between 6 and 9 p.m.," the ally said, as national Democrats unleashed a torrent of calls for his resignation.

Northam, 59, admitted to appearing in the photo, dressed either in blackface or in a Klan robe and hood. He did not make clear which costume he wore.

"I am deeply sorry for the decision I made to appear as I did in this photo and for the hurt that decision caused then and now," he said. "This behavior is not in keeping with who I am today and the values I have fought for throughout my career in the military, in medicine, and in public service. But I want to be clear, I understand how this decision shakes Virginians' faith in that commitment."

Late Friday, even his most trusted allies called for him to step down, including his onetime partner, McAuliffe, state Senate and House Democrats, Virginia's Legislative Black Caucus and Planned Parenthood. Calls to resign also came from Democratic presidential hopefuls Sen. Elizabeth Warren (Mass.), Sen. Kamala D. Harris (Calif.), Sen. Kirsten Gillibrand (N.Y.), Sen. Cory Booker (N.J.) and Julián Castro, a former mayor of San Antonio.

On Saturday, former vice president Joe Biden, who had campaigned for Northam during the gubernatorial race, and Sen. Bernie Sanders (D-Vermont), joined the chorus of resignation calls.

"Black face in any manner is always racist and never okay," tweeted Derrick Johnson, president of the NAACP. "No matter the party affiliation, we can not stand for such behavior, which is why the @NAACP is calling for the resignation of Virginia Governor @RalphNortham."

The photo reverberated across the country and shook Virginians, who have struggled with a long and difficult legacy around race.

Northam's ugly yearbook photo and the racist origins of blackface

"Virginia's history is unfortunately replete with the scars and unhealed wounds caused by racism, bigotry and discrimination," said Virginia Attorney General Mark R. Herring (D), who plans to run for governor in 2021. "It is imperative that Governor Nor­tham hears and truly listens to those who are hurt by this image as he considers what comes next."

Herring's remarks, which stopped short of calling for Northam's resignation, closely echoed sentiments expressed by the state's U.S. senators, Tim Kaine and Mark R. Warner, both Democrats.

Members of the state legislature's Black Caucus said earlier that "what has been revealed is disgusting, reprehensible, and offensive. We feel complete betrayal. The legacy of slavery, racism, and Jim Crow has been an albatross around the necks of African Americans for over 400 years. These pictures rip off the scabs of an excruciatingly painful history and are a piercing reminder of this nation's sins. Those who would excuse the pictures are just as culpable."

The caucus was also grappling with revelations in another yearbook, from Northam's time at Virginia Military Institute. That book listed one of his nicknames as "Coonman," which some members interpreted as a racial slur.
As of the time that this post is being written, there has been no further comment from Northam's office, but we're at the point now where there really isn't anything more that he can say. In both his written statement issued shortly after the story broke nationwide, the Governor acknowledged that one of the two people depicted on the yearbook page was him, but he didn't say which one it might be. In the end, of course, it really doesn't matter which one it is because both are obviously deeply racially divisive to the point where it's hard to see how Northam can survive this politically and continue in his position as a credible leader for the state going forward. This would seem to be especially true given the fact that the person who would succeed him, Lt. Governor Justin Fairfax, is an African-American who most recently made the news when he refused to preside over the Virginia State Senate when it honored Robert E. Lee as part of the state's holiday honoring both Lee and Confederate General Stonewall Jackson. So far, Fairfax himself has not commented on the matter but that may be due to the fact that he stands in the line of succession any believes it would be inappropriate to comment in matter that he would directly benefit from.
In any event, given the speed with which this story has led to calls for Northam's resignation from national and state Democrats, it's hard to see how he survives this politically. Indeed, his resignation could come as early as this morning according to a tweet last night from Benjamin Tribbett, a Democratic activist in Virginia who has deep connections to those in power in Richmond. Tribbett also stated that Northam is likely to call a press conference for some time early today. This could be the point at which he resigns, or it could mean something else. In any case, with basically the entire Virginia Democratic Party, as well as every Democratic candidate for President with the exception (so far) of Tulsi Gabbard, whose presence in Hawaii may account for the lack of a response yet due to the time difference, makes it clear that Northam's position is untenable and that choosing to stay and fight would mean he's going to be a very lonely man.
Update: Shortly after this post was published, Jonathan Martin of The New York Times reported on Twitter that Northam is claiming this morning that he is not in the photograph:
The governor has also been calling his former med school classmates to jog their memories. He does NOT think he is the man in Klan hood or blackface and doesn't want to resign before trying to determine who is in that photo.

— Jonathan Martin (@jmartNYT) February 2, 2019
This, of course directly contradicts what Northam said in his statement last night when he said: "I am deeply sorry for the decision I made to appear in this photo and for the hurt that decision caused then and now." Of course, even if it's not Northam in the photo, the fact that he's on his yearbook page still raises questions. According to at least one medical school classmate of Northam's the students had control over what appears on the page, meaning that Northam had to choose to put that photo there whether he was in it or not. Meanwhile, there are reports that Northam will hold a press conference this afternoon. If it isn't to announce his resignation, then I'm not sure what the point is.
Update #2: Northam is holding a press conference at 2:30 p.m. but, as of now, will not be resigning:
NEWS: @RalphNortham will hold a 2:30pm press conference. I'm told he will NOT be resigning.

— Frank Thorp V (@frankthorp) February 2, 2019