Virginia Governor Faces Questions About Racist Photos In Medical School Yearbook
There's not really a good explanation for this, Governor Northam.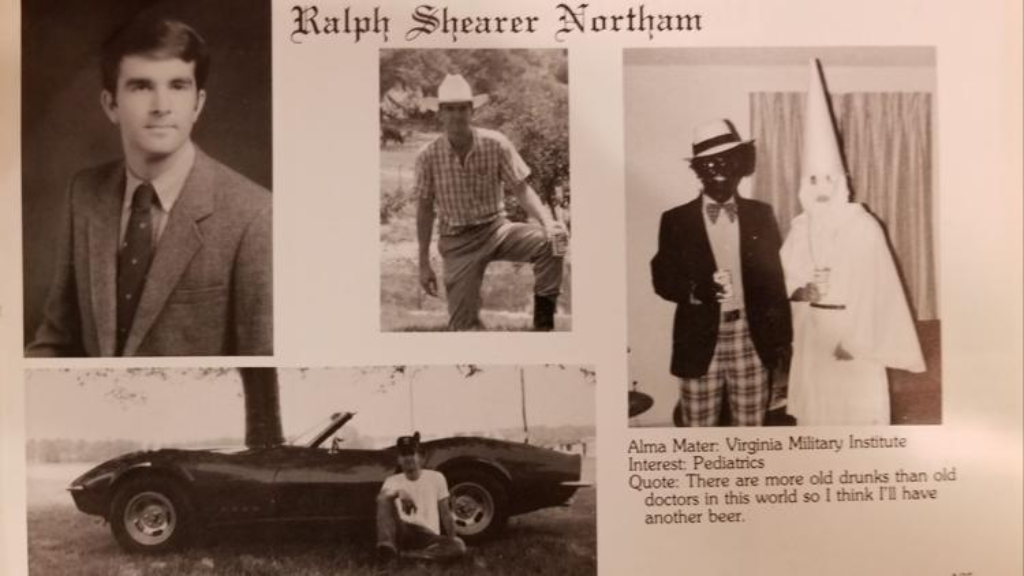 Virginia Governor Ralph Northam finds himself in a seriously embarrassing and potentially career-ending situation with the uncovering of a yearbook page that includes two unidentified individuals in blackface and Ku Klux Klan garb:
A photograph on Gov. Ralph Northam (D)'s medical school yearbook page shows a man wearing blackface next to another person in a Ku Klux Klan robe.

The image is in a 1984 yearbook from Eastern Virginia Medical School on a page with other photos of Northam and personal information about the future governor.

Northam, a pediatric neurologist, graduated from the Norfolk medical school in 1984 after earlier graduating from Virginia Military Institute.

The page is labeled Ralph Shearer Northam, along with pictures of him in a jacket and tie, casual clothes and alongside his restored Corvette.

It shows two people, one in plaid pants, bow tie and black faced, and the other in full Klan robes. Both men appear to be holding beer cans.

The person in black face is smiling. Beneath the photo is a writeup about Northam listing his alma mater, noting that his interest is pediatrics and giving a quote: "There are more old drunks than old doctors in this world so I think I'll have another beer."

It is unclear whether either man is Northam.

A spokeswoman for the governor did not have an immediate response.

Jack Wilson, chairman of the Republican Party of Virginia said that if Northam had dressed in either blackface or a KKK robe, he should step down.

"Racism has no place in Virginia," Wilson said in a statement. "These pictures are wholly inappropriate. If Governor Northam appeared in blackface or dressed in a KKK robe, he should resign immediately."

The yearbook image was first posted Friday by the website Big League Politics, a conservative outlet founded by Patrick Howley, a former writer for the Daily Caller and Breitbart.

The Washington Post independently confirmed the authenticity of the yearbook by viewing it in the medical school library in Norfolk.

(…)

House Speaker M. Kirkland Cox (R-Colonial Heights), Senate Majority Leader Thomas K. Norment (R-James City) and other Republican leaders released a statement that said, "This is a deeply disturbing and offensive photograph in need of an immediate explanation by the Governor."

A Northam ally, Senate Minority Leader Richard L. Saslaw (D-Fairfax) defended the governor.

"His whole life has been about exactly the opposite and that's what you need to examine, not something that occurred 30 years ago," said Senate Minority Leader Richard L. Saslaw (D-Fairfax). "While it's in very poor taste, I would think no one in the General Assembly who would like their college conduct examined. I would hate to have to go back and examine my two years in the Army. Trust me. I was 18 years old and I was a handful, OK? His life since then has been anything but. It's been a life of helping people, and many times for free."

Sen. Richard Stuart (R-Stafford), one of the governor's closest friends, said he had not been able to talk to Northam about the yearbook and did not know what to make of it, but said he stood by him.

"He's my friend and I will always stand up for him," said Stuart, who also took exception to claims that Northam had advocated infanticide.
Incredibly, it appears that the yearbook page was something that Northam's classmates were well aware of:
Joan Naidorf, whose husband Tobin Naidorf's yearbook page sits opposite Northam's in the yearbook, said she was surprised the photos are only now just coming out, given Northam's stature in Virginia politics.

"We've often wondered over the last 10 years or so why someone didn't dig this up sooner," said Joan Naidorf, a non-practicing emergency room physician who lives in Alexandria.

When she first saw the photo shortly after the yearbook was published, Naidrorf said, "I thought: `That's awful.' I assumed it was something at a drunken frat party."

Naidorf said she didn't know when or where the photos were taken. Her husband wasn't available Friday. He had met Northam a few times when they worked medical rotations together, but weren't friends, she said.

Like other schools, Eastern Virginia Medical School allowed students to pick their own photos for their yearbook page, Naidorf said. Her husband chose their engagement photo and some other personal pictures. Another student chose a picture of men also in blackface and dressed as woman in what appears to be a variety show routine.

Northam has built his 12-year political career on a clean-cut image as a soft-spoken doctor and Army veteran who headed Honor Council at VMI, a demanding job that required him to pass judgement on fellow students who lied or violated the school's honor code.

First elected to the state Senate from Norfolk in 2007, Northam has had a charmed political career. He was courted by Republicans because of his conservative leanings, and was identified early by then-Gov. Tim Kaine (D) as future governor material because of his experience in both health care and the military. Northam served in the Army for eight years after medical school, treating soldiers wounded in the Gulf War.

Politicos in Richmond reacted in muted disbelief, and many declined to speak on the record as the news first circulated Friday. Northam is not a dynamic public speaker but has a reputation for sterling character that has won the trust of Republicans, who worked with him last year to pass Medicaid expansion after four years of resisting it under previous governor Terry McAuliffe (D).
Northam's office has issued a statement in which he admits he is in the photograph in question:
STATEMENT FROM NORTHAM APOLOGIZING FOR YEARBOOK pic.twitter.com/NB646Gkh4m

— Mike Valerio (@MikevWUSA) February 1, 2019
Given that this story first broke on a conservative blog and that it did so amid an ongoing controversy regarding comments that the Governor made earlier in the week regarding an abortion bill currently pending in the Virginia legislature, I was initially skeptical about the story. However, as the highlighted section noted above states, the authenticity of the contents of the yearbook page have been independently verified by reporters for The Washington Post, The Richmond Times-Dispatch, and The Virginian-Pilot. Additionally, the later news outlet had asked the Governor's office as early as yesterday and did not receive a response until the statement that was issued late today. Northam's supporters will likely try to dismiss this as some sort of youthful indiscretion, but he was 25 at the time this was published and the year was 1984, not 1954. Politically, though, this is bound to be damaging to Northam even though he can't run for re-election as Governor and likely would not be impeached over this.
The rather obvious question, of course, is why this never came to light before. Northam entered politics when he was elected to the Virginia Senate in 2007. Six years later he was the Democratic nominee for Lt. Governor and four years after that, the nominee for Virginia Governor. Throughout that whole time, neither the media nor the candidates he ran against in either the Democratic primaries or the General Election managed to find this even though it was publicly available in the library at the Eastern Virginia Medical School. At the very least, a revelation like this would have been the death knell for his campaign, most especially in 2017 when he was running against progressive Democrat Tom Perriello in the Democratic primary or the General Election where he ended up in a tight race against Republican Ed Gillespie. Of course, in addition to the opposition researchers for these candidates, the media also missed this. In any case, I suspect that Northam's admission is just going to be the beginning of this story.
Update: CBS News reports that it found similar racially divisive content in Northam's yearbook from the Virginia Military Institute:
CBS News uncovered a page from Northam's yearbook at the Virginia Military Institutewhich had nicknames listed underneath his name. One of them was "Coonman," a racial slur.
As a matter of law, Northam still has two years left on his term in office. Whether he actually survives politically is another question.
Additionally, Northam has released a video expanding on his written statement:
My fellow Virginians, earlier today I released a statement apologizing for behavior in my past that falls far short of the standard you set for me when you elected me to be your governor. I believe you deserve to hear directly from me. pic.twitter.com/1rSw1oxfrX

— Ralph Northam (@GovernorVA) February 2, 2019