Ralph Northam's Forgivable Sin
Virgnia's governor has to resign. But not because of some 35-year-old photos.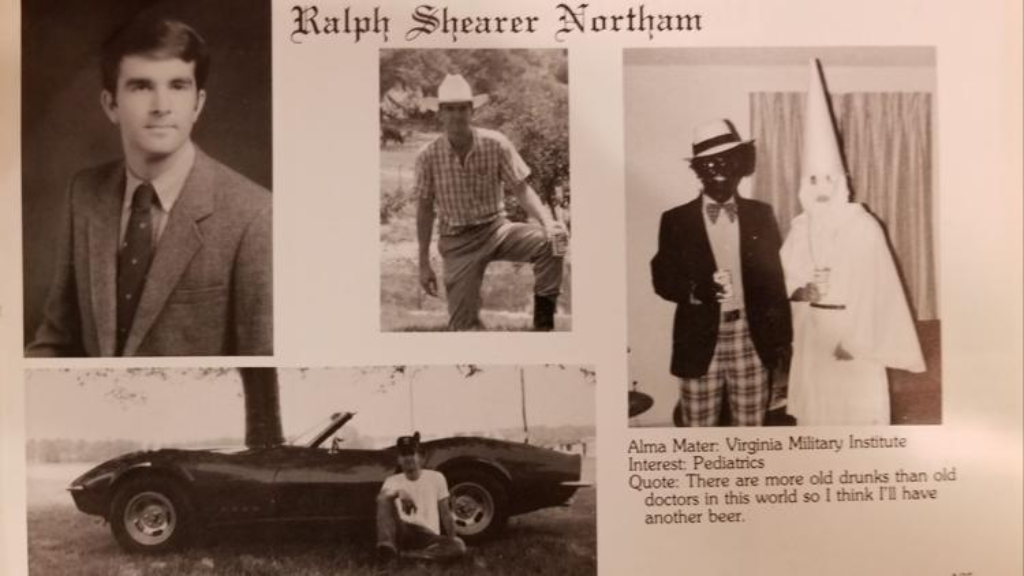 I've been on the road the last few days dealing with my mom's estate. I've been following the dust-up over Ralph Northam's yearbook photo and want to weigh in.  A starting point is a Twitter thread from over the weekend by comedian and blogger Robert A. George, which I'm excerpting here with cleaned-up format:
A few tweets have run along the lines of, "Even in the South, 35 years ago, everyone knew that wearing a Klan outfit or blackface was racist." Having been in college myself at that time, I started nodding.

But then I pause. EVERYONE knew that this type of behavior is racist? That means Northam must have been racist (he admits in his Friday statement that what he did was racist). It means his partner in crime was racist. But there was a compiler/editor of the yearbook, right? That supposedly responsible person accepted Northam's photo. — and let it go, right? Was there a faculty advisor? Did that person approve it too? My point here is that either everyone knew this was something REALLY ugly and racist OR they were doing something what they bizarrely thought was "funny" and no one stopped to think, "Oh, it's funny, but really ugly and maybe we shouldn't do it." IOW, the 20/20 hindsight we have now that EVERYONE knew this was something you didn't do might not have been as strong back then.

To make it a bit clearer::a personal anecdote: I went to a small liberal arts college in Maryland (below the Mason-Dixon line). Of a student body of 400, I was one of five or six blacks over 4+ years. In 1985, senior class leaders bounced around ideas for a fundraiser. They settled upon a "slave auction" — seniors would be "auctioned" to odd jobs for the winning bidders. Yeah, yeah, already, you're thinking, "What the hell?" In fairness, this was a school where which studies Greek and Latin classics. So, it's theoretically possible to do a "Greek" or "Roman"-style slave auction. Even so, I approached the planners and said tread carefully. I didn't hear about it anymore, so I assumed it got dropped. Instead, I awoke to find posters declaring, "Welcome to 1865: It's a real live slave auction!" Um, WHAT?

I, well, got upset. But, here's the thing. There were quite of few other, white friends — including other seniors — who were stunned. There was an African-American underclassman who I'd become friends with who came up to me with whatever the 1985 version of "WTF?" was.

I put together a strongly-worded letter (no, seriously, it was an "open letter" to the student body), got it co-signed with a couple dozen other people infuriated, stuffed copies in mailboxes. A day or so later, the fundraiser was cancelled. Yes, there were bruised feelings.

My African American pal and I had a tense discussion with the organizers. We cleared the air. And, it should be noted, I'm friendly with them to this day. I don't consider them racist then or now. It was an insensitive action — but an ultimately learning moment.

In the days that followed, I felt out of sorts. Even though I had many friends who had my back and immediately supported me and whatever I wanted to do in response, I was still feeling alone, wondering if I did the right thing. Then, something happened. The auditorium attendant (African American, like the entire grounds crew). Jimmy, came up to me. I had chatted with him over the years as I had a work-study job in the dining hall. He said to me, "Thank you for speaking up about that. These kids, they just don't know."

It had quite the impact. "These kids just don't know." In truth, *I* was a "kid" myself. I didn't know. Irritated as I was with the class leaders who ignored my cautionary heads-up, in fact, this was bigger than me — bigger than them. Other eyes were watching.

So, beware the "EVERYONE knew such-and-such was racist in 1985" trope. Ralph Northam is a few years older than I am. He *should* have known better. But so should several other people involved in getting that photo into that yearbook (Hey, kids! It WASN'T a selfie!)

The definition of racism isn't as set in stone as we might like. The spectrum of racially insensitive or "microaggression" (ugh.) to out and racism is, to use an in-vogue phrase, "fluid." Some get it right away. Others? "They just don't know."
At 53, I'm a few years younger than Northam. I graduated a rural Alabama high school in 1984 and, after a year and a half at West Point, finished my undergraduate and masters degrees in a rural Alabama university in 1987 and 1988. Confederate flags were everywhere, although beginning to be controversial. One of the most prestigious fraternities on campus—and they were all segregated in fact, if not officially—had an annual party in which attendees wore Confederate uniforms.
Even in that environment, while I don't understand it nearly the way I do today, it was quite clear that blackface and white hoods were racist symbols. And my dad was a retired Army first sergeant working as a retail manager, not an attorney and judge as Northam's was. It's inconceivable to me that he didn't know what he was doing had racial connotations, even if he might have blanched at the notion that he was racist.
But, as George points out, gatekeepers let this in the yearbook. Not a high school yearbook.  Not even a college yearbook. But a medical school yearbook. Presumably, at least one student editor—and one presumes more—and a faculty advisor thought the photo montage was suitable for publication. And, as CNN reports, it wasn't just Northam's page:
— On page 10 of the yearbook, a photo shows a man dressed up like a woman in a lowcut white dress, pearls, a black wig and blackface. Next to the photo is the caption, "'Baby Love', who ever thought Diana Ross would make it to medical school" — an apparent reference to the lead singer of the Supremes, a Motown singing group made up of three black women. A woman behind him is wearing a hat as if she is dressed like a witch. The photo is on a page full of photos of other student outings and parties.

— Later in the yearbook, in a section devoted to student personal pages, a photo of three men with their faces blackened wearing white dresses, white gloves, pearls and wigs appears. That photo appears on the page before Northam's personal page. It is surrounded by other photos of this student at school and has no captions.

— On page 34, the pharmacology page, a photo of a white man, not in blackface, shows him holding a coffee mug bearing the words, "We can't get fired! Slaves have to be sold."

— On page 10, there's also a photo of a man groping a mannequin with the words "I try never to divulge my true feelings while examining my patients."
The last of these is a strange inclusion, in that there are no obvious racial overtones. But perhaps it exemplifies a bizarre spirit of tomfoolery throughout the publication. (Bizarre to me in that none of my high school or college yearbooks did this sort of thing; they were exceedingly dry and serious.)
Beyond that, Northam is 59 years old.  He first entered politics in 2007, successfully getting elected to the Virginia State Senate. He was re-elected in 2011. He was then elected Lieutenant Governor in 2013 and Governor in 2017. And he faced Democratic primary opponents in all of those races but one. Yet, those photos from a yearbook possessed by what one presumes is a significant number of current medical doctors in the Commonwealth—some of them surely Republicans—never surfaced until a tipster shared them with a blogger a few days ago.
The source of the tip appears to have been a medical school classmate or classmates of Northam who acted as a direct result of the abortion controversy that erupted earlier in the week, according to two people at Big League Politics, who spoke on the condition of anonymity because they were not authorized to discuss the matter publicly.

"The revelations about Ralph Northam's racist past were absolutely driven by his medical school classmate's anger over his recent very public support for infanticide," one of the two said.
This yearbook was published in 1984. It surfaced 35 years later, after four successful statewide races. And not because someone's conscience was finally shocked by the rampant racism of his medical school class. No, it was because someone was angry over Northam's abortion politics and correctly thought releasing the photos would be politically damaging.
Like my co-bloggers Steven Taylor and Doug Mataconis (a fellow Virginia resident), I think Northam is going to have to resign his post. His hamhanded handling of the scandal pretty much guarantees it. But the fact that the photos in question—not just Northam's but others'—got through the editorial process at the time and didn't surface until now is a pretty fair indicator that a whole lot of prominent Virginians didn't think they were that big of a deal despite all the virtue signaling now going on from the political class.
It's simply baffling to me that Northam has gotten this far in politics—hell, in life—and doesn't understand that he needed to confess his sins and beg forgiveness. But, absent evidence of something more nefarious than some offensively bad attempts at humor as a 25-year-old, the crime here was certainly forgivable. Northam has been out of medical school 35 years now, serving as an Army doctor for six years and then as a pediatric surgeon for decades. He's risen to governor of the state. One presumes that it would have been difficult to hide virulent racism that long.