Iowa's First Place Status
Has Iowa "blown its special claim as the first state" in the nomination process? No, it never had any special claim in the first place.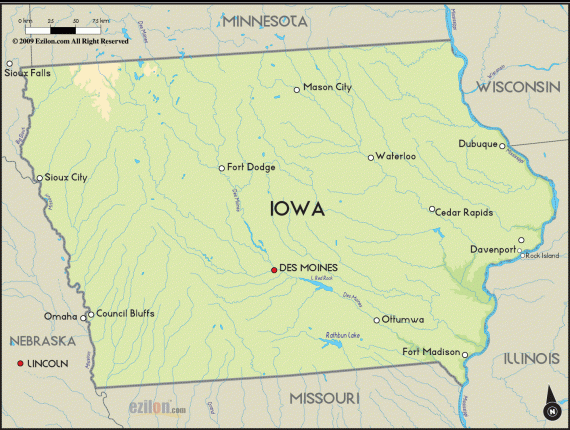 Michael Crowley at Time's Swapland writes Why Iowa Shouldn't Vote First Anymore (a sentiment I share—indeed, I would would utterly revamp the nomination process, but I digress).
Crowley starts with what strikes me as an odd claim (in bold below):
A week before Iowa's January 3 caucuses, the outcome of the Republican contest is hard to predict: Ron Paul, Newt Gingrich and Mitt Romney all stand a chance at winning. But something else already seems clear: Iowa has blown its special claim as the first state to vote in presidential contests.
I was unaware that Iowa ever had a special claim (save in the minds of Iowans) to being first.  Rather, they became first as a fluke and took on an aura of "specialness" because of the Carter nomination in 1976.
Indeed, Crowley notes:
Iowa's first-to-vote-status dates to 1972, when a quirk in Democratic Party rules scheduled its caucuses ahead of the New Hampshire primary, which had opened the presidential nominating process since 1920. Republicans followed suit four years later. Iowa's political establishment quickly found that it enjoyed all the attention and economic activity that came with going first, and enshrined into state law a mandate that Iowa vote at least eight days before any other state.
So, we have a "quirk" in the schedule in 1972 and the recognition that being first was cool for the state—hardly the stuff of a "special claim" to going first.  It also helps the cause, so to speak, that Iowa was able to secure its position just as the modern nomination process was instituted (i.e., when delegates to the conventions were selected by the primary/caucus process in a binding fashion rather than functioning as so-called "beauty contest").
In truth, Iowa's status as "special" is a mix of media-creation (and is linked, again, in large part to Carter's rise from obscurity to win caucuses, and then the nomination and the White House in 1976) and the simple fact that going first draws attention.  Iowa qua Iowa isn't all that relevant or special.  The notion that (like claims in New Hampshire) that being small means candidate make a  special bond with voters via so-called "retail politics" has not credence in terms of actually enhancing the quality of nominees.   Indeed, Crowley notes what has been noted usually every election cycle, that Iowa is an especially odd choice for being the initial "testing ground" for the candidate:
But with every passing decade, Iowa's electoral character grows more out of step with the reality of the United States. Iowa is an unusually homogenous — that is, white — and rural state in an increasingly diverse and urban nation. And it's long been a custom of presidential politics to see the candidates extol the virtues of expensive farm and ethanol subsidies with precious little economic rationale.
My quibble with the above is the "with every passing decade" part, because Iowa has always been a non-representative state vis-a-vis the rest of the country.  It has always been whiter and more rural than that rest of the country and it is has always made policies like farm subsidies and ethanol ridiculously important to presidential politics.
Crowley goes on to question whether the allegedly special type of campaigning in Iowa matters:
Iowa's procession of frontrunners — Bachmann, Herman Cain, Rick Perry, Gingrich, Paul — has roughly mirrored the boom-and-bust pattern found in national polls. It seems unlikely that these fluctuations have been driven by the "sophisticated and nuanced policy questions" of Iowans. More likely, they reflect the drama of the televised debates and national media events like Herman Cain's string of female accusers. (Cain, by the way, leapt to first place in the state at a time when he was paying it no visits at all.) What's the point in having Iowa go first if its voters are simply reacting to the same debate zingers as the rest of the country?
Now, to be fair to Iowa, its odd process (caucuses are a series of very small meetings held simultaneously across the state on caucus night) leads to low turnout and therefore can produce results out of sync with national sentiment (like Pat Robertson's 1988 second place finish) and it does not always crown the eventual winner (indeed, is often does not).  However, the fact of the matter is that the candidates do run national campaigns, not just Iowa-centric ones, and those national campaign affect Iowans just like they affect everyone else.   His point about Cain leading in IA polls without visiting the state should be well-taken (as is the fact that while Rick Santorum has practically lived in the state and has visited all of the state's counties apparently will end up meaning very little in terms of electoral success).
Crowley hits, what I think is a major media fallacy with one critique:
And by the way, remember the Ames straw poll in August? That contest was supposed to tell us important things about the candidates' true strength and appeal in the state, and to winnow the field in ways that would make it stronger. But the straw poll's victor, Michele Bachmann, promptly tanked, and the candidate whose third-place finish drove him from the field — Tim Pawlenty — looks in hindsight like the credible Mitt Romney alternative for whom the party has spent the past six months searching. It's been six months in which Iowa has played along with the hyping of one candidate after another.
The fallacy in the above paragraph is this:  Straw. Polls. Do. Not. Matter.  Ever.  They represent something for the media to talk about.  They are non-scientific, they are self-selected, they usually require payment to allow participation, and they take place well before sufficient information in available within the selectorate. They are worthless as predictors.  They tell us the preference of those who participated in the given straw poll and nothing more.
In short, Crowley's piece is right about it criticisms about the caucuses, but he is wrong in making it sound like these are new issues.  They are not.  It is not that time has made Iowa a lousy choice for going first, it is rather that it has always been a lousy choice for going first.  And, indeed, a major culprit in making Iowa so important is the media itself.  I think that many in the media (and, indeed, the public in general) are so smitten with the myth of Iowa's significance that once they start to realize its deficiencies, they assume that something must have changed over the last three decades plus, but no:  giving Iowa the status it currently has was a mistake from the beginning.