Iraq War Cost Less Than Stimulus!
FOX reports that the entire combat phase of the Iraq War will cost less than President Obama's stimulus. That's not a useful comparison.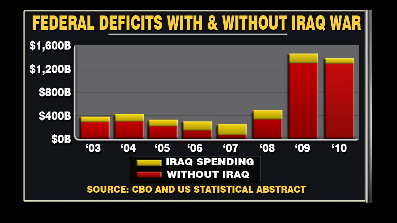 The FOX headline "CBO: Eight Years of Iraq War Cost Less Than Stimulus Act" is causing the desired splash.
As President Obama prepares to tie a bow on U.S. combat operations in Iraq, Congressional Budget Office numbers show that the total cost of the eight-year war was less than the stimulus bill passed by the Democratic-led Congress in 2009.

According to CBO numbers in its Budget and Economic Outlook published this month, the cost of Operation Iraqi Freedom was $709 billion for military and related activities, including training of Iraqi forces and diplomatic operations.

The projected cost of the stimulus, which passed in February 2009, and is expected to have a shelf life of two years, was $862 billion.

The U.S. deficit for fiscal year 2010 is expected to be $1.3 trillion, according to CBO. That compares to a 2007 deficit of $160.7 billion and a 2008 deficit of $458.6 billion, according to data provided by the U.S. Office of Management and Budget.
Dave Weigel thinks this both insensitive and misleading, noting that the cost of the war in Iraq also included "thousands of combat deaths and life-altering injuries" and that the announced ending of the combat phase doesn't mean that the costs won't continue to mount.  And James B. Webb notes that the stimulus costs are "projected," and could in fact be wildly less than this.  (Not noted: They could also be wildly more.)
Fair points, all.
But, while I supported the Iraq War and opposed the stimulus package (although not the idea of stimulus per se) the greater point is the fact that the comparison is immensely silly.
First, different kinds of activity often have wildly different costs associated with them.  My monthly satellite television bill dwarfs my monthly water bill.  Yet, forced to choose, I'd rather have water!
Second, while the issue of deficit spending was indeed one of the key objections to the stimulus, it was a virtual non-issue in the Iraq War debate.  Opponents had a variety of reasons with the impact on the national debt was very low on the list, indeed.