Is Accuracy Racist?
Is quoting President Obama without fixing his grammar "racist"? Some say it is.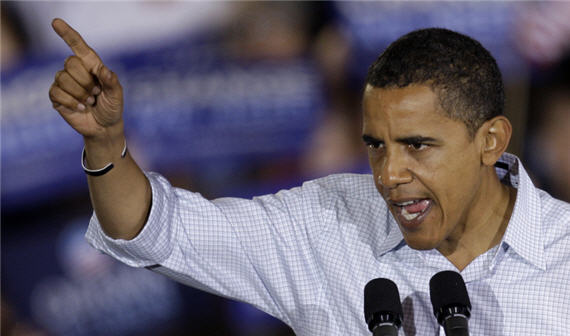 Is quoting President Obama without fixing his grammar "racist"? Some say it is.
Dylan Stableford, YahooNews ("Was the Associated Press transcription of Obama's CBC speech 'racist'?"):
By most accounts, President Obama gave a fiery speech at the Congressional Black Caucus Foundation's annual awards dinner in Washington, D.C., on Saturday, telling blacks to "quit crying and complaining" and support him in the fight for jobs, according to the Associated Press. But was the AP transcription of Obama's remarks racist?

That's the subject currently being debated afterthe issue was raised on Chris Hayes' MSNBC show on Sunday.

On MSNBC, the African-American author Karen Hunter complained the news service transcribed Obama's speech without cleaning it up as other outlets did–specifically including the "dropped g's."

Via the AP version:

"Take off your bedroom slippers. Put on your marching shoes," he said, his voice rising as applause and cheers mounted. "Shake it off. Stop complainin'. Stop grumblin'. Stop cryin'. We are going to press on. We have work to do."

Hunter called the AP's version "inherently racist," sparring with New Republic contributing editor and noted linguistics expert John McWhorter, who argued the g-less version "is actually the correct one," noting that the president's victory in the 2008 election was due, in part, to how effortlessly "he can switch into that [black] dialect."

Whatever the reason, Hunter found it offensive. "I teach a journalism class, and I tell my students to fix people's grammar, because you don't want them to sound ignorant," she said. "For them to do that, it's code, and I don't like it."

It's worth noting that the same sorts of arguments arose during George W. Bush's presidency, with the White House cleaning up the president's speeches to make him sound smarter, and news outlets sometimes not doing so.

According to Mark Smith, the AP reporter who filed the story, Obama was making a point by dropping his g's, making the transcription a no-brainer.

"Normally, I lean toward the clean-it-up school of quote transcribing—for everyone," Smith told Mediaite. "But in this case, the President appeared to be making such a point of dropping Gs, and doing so in a rhythmic fashion, that for me to insert them would run clearly counter to his meaning. I believe I was respecting his intent in this. Certainly disrespect was the last thing I intended."

"The AP Stylebook counsels against using spellings like gonna or wanna–or in this case, complainin' and cryin'–'in attempts to convey regional dialects or informal pronunciations, except to help a desired touch or to convey an emphasis by the speaker,'" Tom Kent, the AP deputy managing editor for standards and production, said in a statement to The Cutline. "In this case, our reporter, who was there in person, felt the spellings were appropriate to convey a particular touch that President Obama appeared to be intentionally making use of."
This isn't of a piece with a discussion of dressing witches in pink and avoiding white paper and other such nonsense that links any association with color as potentially racist. The rendering of informal speech into a formal setting can indeed make the subject come across as less intelligent and play into racial, ethnic, and regional stereotypes.
This hit me starkly yesterday reading a column by Jason Whitlock on Michael Vick. This quote in particular stood out:
"Everybody seen the game," Vick said. "I'm on the ground constantly, all the time. Every time I throw the ball, in all my highlights, just watching film in general, every time I throw the ball I'm on the ground, getting hit in the head. I don't know why I don't get the 15-yard flags like everybody else do."
My immediate reaction was that Vick, who attended Virginia Tech for two years before departing for the NFL, was an illiterate moron. The repeated issues with basic subject-verb agreement is jarring in written form in a way that it isn't in an informal television interview or even a press conference.
Whitlock, himself a former college football player and a black man, is neither a racist nor trying to make Vick look dumb in the column. Indeed, he staunchly supports Vick's grievance here. But accurately quoting Vick had the impact of reinforcing the notion that he's an ignorant thug.
My informal rule in quoting is essentially the AP's: I'll naturally clean up the quotations transcribed from speeches so that they fit the expectations of the written form. My intention, whether in reporting on a session I've attended or an interview I've conducted, is to convey the speaker's message as clearly as possible and doing so using their own words. To the extent there's a conflict, I err on the side of the former. Similarly, when I quote a commenter or something on another blog, I'll quite often correct typos and obvious spelling errors so that the conversation is about the ideas, not the grammatical acuity of the person being quoted.
In this case, AP made the right call: Obama was purposefully affecting an informal idiom in his speech and presenting that informality in the transcript captures that.
It helps that the reader is likely to already have a firm sense of Obama's intellect and verbal skills. If the speaker were a not particularly well known black man, a different judgment might have been called for–particularly in the news reports about the speech, if not the transcripts.