Is an Electoral College Sweep even Possible?
Sunday afternoon musings on an electoral college sweeps.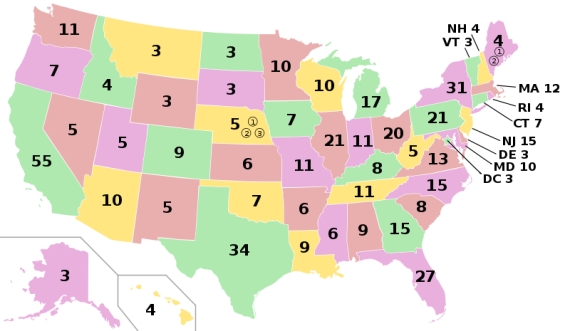 The comment thread in Doug Mataconis' post on the Iowa Caucus polls raised the question of whether a 50-state sweep of the electoral college could take place if Michelle Bachman was nominated (and leading to an Obama sweep).  Before I get into the broader issue, I am of the opinion that Bachmann could win a number of states if she were nominated, although I do think a Bachmann nomination would guarantee an Obama re-election.  This, however, is not the point of this post.
The question of a 50-state sweep got me to thinking (because of the politics/elections geek that I am):  is there a viable scenario wherein a candidate could get an EC sweep?
It is true that we have come pretty close in recent memory:  in both 1972 and 1984 the winner won 49 states (with the loser winning 1 state plus the District of Columbia).  As a point of comparison, even FDR, who won four EC landslides, failed to complete a sweep, losing six states in 1932, two states in 1936, ten states in 1940, and twelve in 1944.
My hypothesis in regards to a scenario in which a candidate could actually win all 50 states (I will get to DC in a minute) is that the only candidate who could win such a contest would have to be a Republican in a period of serious economic prosperity as well as general peace.
Part of my reasoning in based in the fact that Republicans, at the moment and for the foreseeable future, have an extremely strong base in the deep south to the degree that one finds it rather unlikely that even in times of extreme prosperity that the entire southeast would vote Democratic.  However, there does remains some examples of Northeastern states voting Republican (although one acknowledges that Democratic numbers run deep in some of those states).  The fact, however, that even deep-blue states like NY and MA have had Republican governors and/or Senators in recent memory (or, in the case of MA, a GOP Senator right now) suggests at least the possibility of a GOP EC win in those states in ways that seem far less likely for the converse in places like Alabama, Mississippi, or Texas.  If one takes the 1984 outcome it is not impossible to see a GOP 50-state sweep under the right conditions (although I would count it as an unlikely outcome).
However, beyond all of that, I would argue that a Democratic 50-state sweep is especially unlikely, even if there was a popular Democrat in the White House during an era of extreme prosperity.  My basic evidence is detailed in table below.  I looked up the percentage of the vote for Democratic candidates in three states since 1980 and the trend is pretty obvious: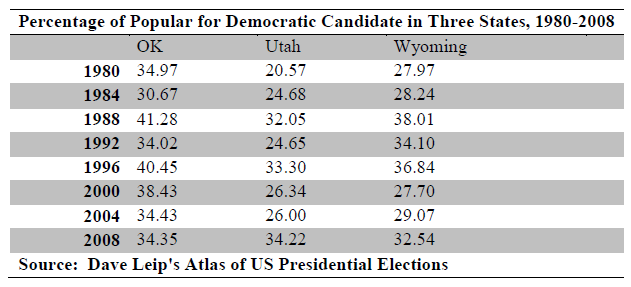 I went with percentage of the Democratic vote because in 1992 and 1996 the Perot vote comes into play, and Perot clearly siphoned votes from the GOP in these states far more than from the Democrats (indeed, Utah was the only state in which Perot came in second in 1992). So, if I had just gone with GOP percentages, 1992 and 1996 would have dropped the percentages and averages in a misleading fashion (since the question on the table is the likelihood of a Democratic sweep, which would require winning these states).   The table demonstrate that it is pretty clear that these electorates are rather profoundly anti-Democratic.  The averages for the elections in question are 36.08% for Oklahoma, 27.73% for Utah, and 31.81% for Wyoming.
These are states highly unlikely to go Democratic under any circumstance (barring substantial demographic shifts over time in ways that at the moment would require fantastical scenarios*).  As such, a Democratic 50-state sweep would appear impossible under any scenario that doesn't involve aliens, mind-control, or other tropes from bad SF movies.
An total electoral college sweep, btw, is likely impossible under any scenario.  If the above analysis is correct about the probabilities of a 50-state Dem sweep, one could ask if a 50-state GOP sweep + DC is possible.  Even if a Republican could manages a 50-state EC sweep, winning DC just isn't in the cards.  From 1980-2008, DC averages 84.57% of the popular vote for the Democratic candidate, including 85.38% for Mondale in the 1984 Reagan landslide.  Somehow I cannot see any reasonable scenario in the foreseeable future where DC goes for the GOP.
To summarize my basic point:  I think (building on 1972 and 1984 as example, amongst other factors) that it is at least conceivable for a Republican to sweep the 50 states in the electoral college (but not DC), but that it is nearly impossible to conceive of a Democrat doing the same.
The 2012 application of this hypothesis is that even if the Republicans were to nominate the most extreme candidate possible, they will still win some states in the election (at least OK, UT and WY and likely several more).
____
*I am thinking, for example, of a scenario in which Utah is inundated with non-Mormons in massive numbers.   This strikes me as unlikely for the foreseeable future.