Israel at War after Gaza Attack
The 50th anniversary of the Yom Kippur war sees a re-escalation.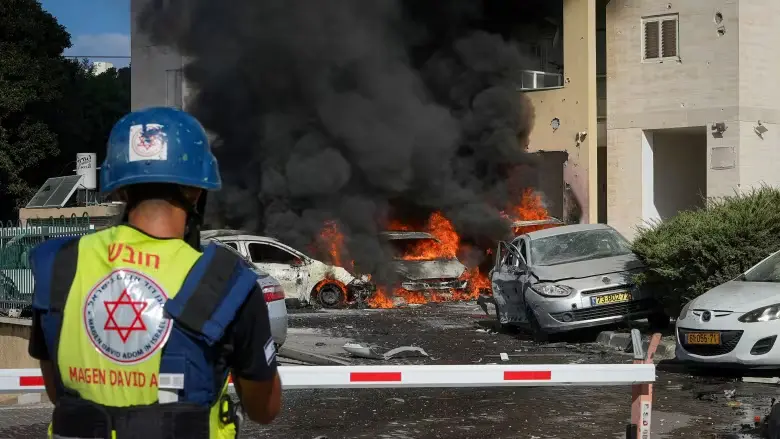 WaPo ("Netanyahu says Israel 'at war' after Hamas attack; Gaza militants claim Israelis held hostage"):
Israeli Prime Minister Benjamin Netanyahu said "we are at war, and we will win it" as the country's air force began striking Hamas targets in Gaza on Saturday, in response to a surprise assault on the 50th anniversary of the start of the 1973 Yom Kippur war. Hamas militants infiltrated Israeli territory from the Gaza Strip — including by paraglider and over the sea — and launched more than 3,000 rockets, Israeli military leaders said. The confrontation, which has killed at least 40 Israelis and injured at least 740, is one of the most serious in years following weeks of rising tensions along the volatile border. A militant group in Gaza, Palestinian Islamic Jihad, announced Israeli soldiers were being held captive as the Israeli Defense Forces refused to comment on unverified videos circulating of hostages allegedly being taken by Hamas.
Like all the major sites, WaPo is essentially live-blogging the crisis rather than issuing full reports.
Other snippets from scrolling down:
Arab states that normalized ties with Israel stay silent on attack
Arab countries that had normalized relations with Israel in recent years were glaringly silent as events unfolded in Israel and Gaza, even as appeals from Gaza for support rang loud.

No declarations were issued by Morocco or Bahrain on the attacks. The United Arab Emirates later released a tempered statement calling for restraint and offering condolences to "all victims who fell as a result of the recent fighting."

In contrast, Saudi Arabia and Qatar, both of which remain resistant to normalization with Israel, released statements that blamed Israel, saying its actions were a precursor to the coordinated attack.

The Qatari Ministry of Foreign Affairs said Israel "alone" is responsible for the escalation because of its "continued violations of the rights of the Palestinian people, the latest of which was the repeated storming of the holy Aqsa Mosque under the protection of the Israeli police."

Saudi Arabia's Foreign Ministry also criticized what it called "provocations" toward Islamic holy sites, including al-Aqsa Mosque. In a chiding tone, it said it had issued "repeated warnings of the dangers of the situation exploding" as a result of the "deprivation of the Palestinian people of their legal rights."
Palestinian militants in West Bank celebrate Hamas attack
Palestinians poured into the streets of cities across the West Bank on Saturday to celebrate Hamas' multipronged attack on Israeli territory, clapping and shouting, "God is Great!," according to Palestinian news agencies.

In Jenin, a northern West Bank city that has been a hotbed of militant activity — and focal point of Israeli raids — over the past year and a half, militants distributed sweets, waved flags and prayed in the streets, according to the Hamas-affiliated Quds News Network.

Photos showed a throng of smiling young men in the West Bank city of Nablus clapping, with one man perched on the shoulders of another, flashing peace signs. In Ramallah, residents marched through the streets in support of Hamas. Through the loudspeakers of mosques in the Shuafat refugee camp in East Jerusalem, religious leaders encouraged Palestinians to take up arms.

"They only understand the language of the gun, fight them!" one could be heard yelling in a video posted by Quds News Network on the social media platform X, formerly known as Twitter. The sound of gunshots could be heard in the background.
Hamas official Ismail Haniyeh calls fighting 'heroic'
Ismail Haniyeh, head of Hamas's political office, has hailed those fighting in Gaza, terming their efforts "heroic" and "historical" in a statement. He called on Muslims globally to stand in "defense of Al-Aqsa [religious complex in Jerusalem] … to do whatever they can, for this is not the time to wait and watch."
U.S. condemns 'unprovoked attacks by Hamas' on Israel
The United States said it "unequivocally condemns the unprovoked attacks by Hamas" on Israel on Saturday. "There is never any justification for terrorism," said National Security Council spokesperson Adrienne Watson in a statement. "We stand firmly with the Government and people of Israel and extend our condolences for the Israeli lives lost in these attacks."
I've disliked Netanyahu, thinking him a thug and a bully, going back to his first stint as prime minister in the 1990s. His illegal and immoral occupation policies have certainly contributed to this crisis.
That said, this attack by Palestinian militants was stupid. Attacking Israeli civilians was obviously going to result in a massively disproportional response. And, while there are no good guys here, I don't see how the United States could have done other than side with an ally whose territory has been attacked.