It's A Socialist Life?
One conservative contends that George Bailey is teaching America the wrong lessons.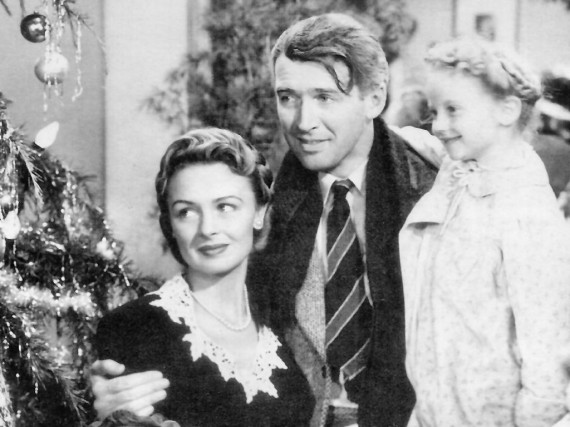 Boston Talk Radio Host Michael Graham contends that It's A Wonderful Life, long a staple of holiday movie viewing, is not only the worst movie ever made, but basically anti-American:
The fact is, "It's A Wonderful Life" is a movie that only an Occupod could love. The story is sweet, but the message is truly awful.

Consider George Bailey. In your mind, you see him after a lifetime of poverty, grief and bad luck, running through Bedford Falls shouting "Merry Christmas you old Building and Loan," just happy to have a family he loves.

Well I agree that having a loving family can help us all get through crises. (Remember the stewardess in the disaster-film spoof "Airplane?" "At least I had a husband . . . ")

But the name of the film is "Wonderful Life," not, "Well, Things Could Be Worse." And in George Bailey's case, things are truly tragic.

Smart, ambitious George gets stuck at the modest Building and Loan back in Hickville when his brother marries into a cushy corporate gig and his father dies. After years of dreaming of going off to college, traveling the world and becoming a top engineer or architect, his life is spent scraping by, and helping others do the same.

Somehow the movie — like the Occupiers of today — tries to turn that into a virtue. Despite his wife and kids, George turns down $20,000 a year so he won't have to work for that "evil banker," Mr. Potter.

Occupy Bedford Falls!

Then disaster strikes. His addled Uncle Billy accidentally drops the daily deposit into Potter's lap and guess who happens to show up that day but the bank examiner. As usual George is broke and, well, that's when the movie really falls down.

Because the obvious solution is for George's guardian angel, Clarence, to simply tell George that Potter has his money, send the cops to slap the cuffs on him and that would be that.

But Clarence is apparently a counter worker from the heavenly Registry of Motor Vehicles. Rather than solve the problem, he goes the long way around, showing George how lousy everyone else's life in Bedford Falls would be without him.

And, of course, Clarence is right, but how is that wonderful for George? Sure, his neighbors all bust their piggy banks to help out, but in the end George is still stuck in Bedford Falls, his friends are out their savings  . . .  and Potter still has the 8 grand! You call this "wonderful?"
Instead, Graham wants to see what he says George Bailey's actual "Wonderful Life" looks like:
Show me George in his New York penthouse, with that hottie Violet dressed to the nines, talking about the new dam he's building in Central America, bringing power to an entire country. Show me his plans for a big-city skyscraper that will house thousands.

Show me the great life of George Bailey at his unfettered best, with a family safe and prosperous thanks to the wealth he's earned making the world a better place for the most people. Now that is a wonderful life.
Now, I am not going to argue that It's A Wonderful Life is the best movie ever made (that title belongs to a film with a far darker plot) but the manner in which Graham tries to apply modern politics to a film made in 1946, just after Americans were coming out of a Depression and War, is really quite ridiculous. For one thing, I think it's fair to say that Capra had a better pulse on what Americans of the day valued than Graham does, even today. Sharing a New York penthouse with a loose woman may be Graham's idea of a "wonderful life" but it's certainly not the way Americans of the 1940s viewed the world. The small-town family life that George Bailey lived was the life that many Americans lived, and others aspired to. The villain of the movie, played quite nicely by the great Lionel Barrymore, represents the forces of modernization that would soon sweep through small-town America, and Capra's vision of a Bedford Falls without George Bailey was represents what many at the time, and today, still fear about the destruction of small-town life. On another level, the one that most people approach it at I would submit, the movie is about the idea that material success in life isn't as important as personal success, while Bailey is surrounded by family and friends coming to his rescue at the end, Mr. Potter is alone in his office. Arguing that this is somehow the 1940s version of the Occupy movement is absurd.
Approaching this from a different angle, John Feehrey argued earlier this week, that Mr. Potter deserves a break:
Mr. Potter is meant to embody all that is wrong with the business world.  He lacks empathy for his fellow citizens.  He is mean.  He is bitter.  He is childless.  And worse, he is very, very wealthy.

Frank Capra, the famous director who brought IAWL to the silver screen, would fit in well with the Occupy Wall Street crowd.  The man simply did not care much for bankers.

But think about it from Potter's viewpoint for a second.

The man has a lot to recommend him, especially as played by Lionel Barrymore.

First, he is overcoming a disability.  He does not let that wheelchair slow him down.

He is cool under pressure.  Even George Bailey admired that attribute: "Potter isn't selling. Potter's buying! And why? Because we're panicking and he's not. That's why. He's picking up some bargains. Now, we can get through this thing all right. We've got to stick together, though. We've got to have faith in each other."

Potter was a realist.  He knew what people thought of him. "George, I'm an old man and most people hate me but I don't like them either so that makes it all even," he said at one point in the movie.

He was a community servant.  His fellow citizens thought enough of him to put in charge of the draft board when the war started.

He pushed for policies that stressed personal responsibility.  He didn't favor loans to people who would most likely not pay them back.  He didn't like the Building and Loan because he feared it's loan policies would create, "A discontented, lazy rabble instead of a thrifty working class."
You could spin it that way, I guess, but then you'd be missing the entire point of the movie. Besides, in a deliberately melodramatic movie, the villain and the hero are always going to be exaggerated. The real George Baileys of the world aren't as good as Jimmy Stewart's character, and the real Mr. Potter's aren't as evil. That's why it's a movie, and not real life.
Like I said, this isn't the best movie ever made, and it's far from being Jimmy Stewart's finest performance either (for that, you need to go look at the two movies he did with Alfred Hitchcock), but it's hardly the piece of propaganda that Graham seems to consider it. On the other hand, though, it does have a message that's seems more valuable than that vision of a New York penthouse that Graham seems so obsessed with:
I think it is a particularly important movie for young people to view because the messages it delivers are so powerful, the principle one being that every single life has value, that every person on the planet has the potential to impact others in positive, meaningful and even life-saving ways. The movie beautifully illustrates that so many times we do this without even knowing it; we are affecting others in beneficial ways without even realizing that we are doing so. The movie tells us, "This is what is important, not that you are well-known, or make a lot of money, or are a super-successful executive/sports star/singer/actor, or have a certain body type or a beautiful face."

Let's face it, our kids are growing up in a culture of celebrity. It's thrust into their faces 24/7. It's a Wonderful Life is counter-cultural, because it's a film about doing what is right in life, even if it isn't glamorous or adventurous or exciting or wealth-producing. It's a film about loyalty to family and friends, even when money and other temptations are dangled before your eyes. It's a film about putting your whole heart and soul into whatever task is before you, even if you can't see the immediate results. This is a message we all need to hear and take to heart, but young people in particular need to be exposed to this timeless truth in the hope that it will become one of the core beliefs for their entire life.
The other option, of course, is that you could just enjoy the movie and not worry about the politics. In fact, that seems to be the best idea of all.