James Arness Dead at 88
James Arness, best known as the iconic Marshal Dillon on Gunsmoke, has died at 88.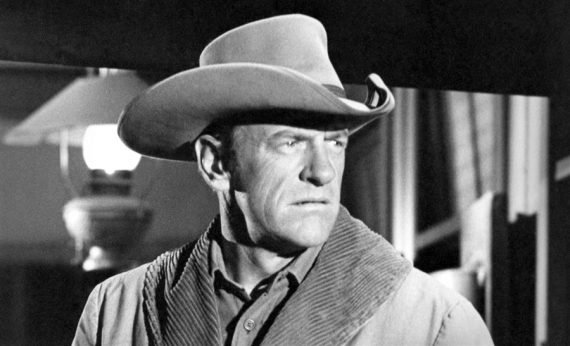 James Arness, best known as the iconic Marshal Dillon on Gunsmoke, has died at 88.
AP's Frazier Moore: ("James Arness of 'Gunsmoke' fame dead at 88"):
Matt Dillon, the mythical marshal of Dodge City, stood tall — all 6 feet, 6 inches of him — on "Gunsmoke" from 1955 to 1975. He outlasted dozens of other Western heroes while making history on TV's longest-running dramatic series, a record that held until NBC's "Law & Order" tied the CBS Western's record in 2010.

Through all those gunslinging years, James Arness, who died Friday, kept Marshal Dillon righteous, peace-seeking and, most of all, believable. Fickle viewers can kill a TV hero as surely as a bullet from an outlaw's six-gun. But Arness knew how to maintain order not only in circa-1870s Dodge City, but also among the TV audience, whose itchy fingers on their channel changers he knew how to calm.

In an era when TV actors typically chewed the scenery, Arness had a credible, commanding presence by hardly uttering a word. A typical scene found a dozen cowboys riding up to the town jail intent on busting out a prisoner pal. Dillon faces them all down. "The first move anybody makes," he says, with a slight shake of his head, "I cut you in two." Arness' defiant but rueful delivery is so understated, he makes Clint Eastwood seem like a loudmouth.

No wonder "Gunsmoke" wore so well. And became the last word on a programming craze that some seasons found as many as 30 Westerns on the air. When "Gunsmoke" went off in 1975, it was the only Western left.

By the end of his career, Arness, who was 88 when he died at his home in the Brentwood section of Los Angeles, seemed almost indistinguishable from Matt Dillon in the audience's mind. Befitting Marshal Dillon's dignity and composure, Arness wrote, and left behind, a simple, straight-from-the-heart farewell which, at his request, was posted posthumously Friday on his official website. "I had a wonderful life and was blessed with … (so) many loving people and great friends," he said, then went on to thank his multitude of fans. In life, Arness was a quiet, intensely private man who preferred the outdoor life to Hollywood's party scene, rarely gave interviews, and refused to discuss his personal tragedies (his daughter and his former wife, Virginia, both died of drug overdoses).
Very interesting:
The actor was 32 when friend John Wayne declined the lead role in "Gunsmoke" and recommended Arness instead. Afraid of being typecast, Arness initially rejected it.
"Go ahead and take it, Jim," Wayne urged him. "You're too big for pictures. Guys like Gregory Peck and I don't want a big lug like you towering over us. Make your mark in television." Then Wayne filmed an introduction for the first episode of "Gunsmoke" to give the largely unknown Arness the proper send-off. "I predict he'll be a big star," Wayne told viewers. "So you might as well get used to him, like you've had to get used to me."
I've seen the intro but didn't realize Wayne's behind-the-scenes role.  Here's the Wayne into and opening scene from that first episode:
I only vaguely knew this:
Arness' 20-year, prime-time run as the marshal was tied only in recent times, by Kelsey Grammer's 20 years as Frasier Crane from 1984 to 2004 on "Cheers" and then on "Frasier."
And if I knew this, I'd forgotten:
Born James Aurness in Minneapolis (he dropped the "u" for show business reasons), he and younger brother Peter enjoyed a "real Huckleberry Finn existence," Arness once recalled. Peter, who changed his last name to Graves, went on to star in the TV series "Mission Impossible." (He died in 2010.)
A nice video, also from AP:
Robert McFadden, NYT ("James Arness, Marshal on 'Gunsmoke,' Dies at 88"):
James Arness, who burnished the legend of America's epic West as Marshal Matt Dillon, the laconic peacemaker of Dodge City on "Gunsmoke," one of the longest-running dramatic series in television history, died on Friday at his home in Los Angeles. He was 88.

A family spokeswoman, Ginny Fazer, confirmed the death. Mr. Arness was terribly shy and had almost no training as an actor. A wartime leg wound made it painful for him to mount a horse. But he became the best-known tin star of his era, portraying the towering, weathered marshal for 20 years, from 1955 to 1975. He also made some 50 films and television movies, mostly westerns, in a career that stretched across five decades.

To a generation of television viewers, Mr. Arness and "Gunsmoke" embodied a new, more adult vision of the mythic Old West: a quiet, vulnerable lawman facing not stereotyped villains and clichéd situations but a chaotic frontier freighted with moral judgments and occasional failure. He might be too late to stop a killing. He could save a girl from kidnappers, but not from her father's brutality.

Audiences had long been accustomed to western heroes who never were, having been sanitized by the trail songs of Gene Autry and Roy Rogers and the righteous gunplay of the Lone Ranger and Hopalong Cassidy . But Marshal Dillon never got the girl, did not love his horse, wore only one gun and fired it reluctantly, usually drawing last but shooting straightest in dusty street duels. Over the years, the marshal was shot 30 times.

[…]

In the premiere, which established the tone for the series, Marshal Dillon faces a gunslinger who had killed an unarmed man. The outlaw insists on a showdown, and the marshal, always a moral touchstone, must accommodate him.

"He's a gunman, Doc," Dillon says to Doc Adams. "He has got to be eliminated."

The supporting cast was a snug family, stock but multilayered characters who spent much time talking: the beer-drinking philosopher, Doc (Milburn Stone); the careworn Long Branch saloonkeeper, Miss Kitty (Amanda Blake), her love unrequited; and the lame sidekick, Chester Goode (Dennis Weaver). Characters and actors came and went in tales that often focused on travelers passing through on their way west.

"Gunsmoke" was not an instant success. But from 1957 to 1961, when it became a one-hour series, it was the top-rated show on television, seen every week by 40 million Americans and millions more in Britain, where it was called "Gun Law." It bred dozens of copycats, including "Have Gun, Will Travel," "Wagon Train," "Rawhide," "The Rifleman" and "Bonanza."

The ratings declined until 1967, when color and a new time slot sent "Gunsmoke" back into the Top 10 until the 1973-74 season. The show was still in the Top 30 when it was canceled in 1975. In its 20-year run, there had been 635 episodes. Mr. Arness had been in the saddle for all of them, and would ride again through decades of reruns and sequels.
On that war wound:
In his first year at Beloit College in Wisconsin, Mr. Arness was drafted into the wartime Army as an infantryman. During the invasion of Anzio, Italy, in 1944, his right leg was shattered by machine-gun fire. Hospitalized for nearly a year, he underwent a series of operations but for many years suffered pain, especially when mounting a horse, and walked with a slight limp. He won the Bronze Star and the Purple Heart.
Not many of today's stars have that kind of background. Most have wounds, too, but they're self-inflicted.