Jim Angle, 1946-2022
The veteran journalist and Fox News original is gone at 75.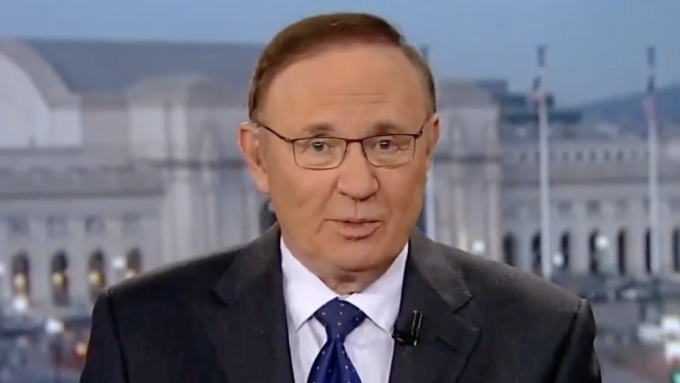 Fox News ("Fox News Channel original Jim Angle dead at 75"):
Fox News Channel original Jim Angle died Wednesday at his home in Arlington, Virginia. He was 75.

"Jim was a FOX News original and a top Washington correspondent whose talent and fearless reporting was unmatched. He was a central figure to establishing our Washington bureau in 1996 and was beloved across the entire network for his down-to-earth easygoing demeanor, his kindness and a smile that was ever present. He will be greatly missed, and we extend our heartfelt condolences to his entire family," FOX News Media CEO Suzanne Scott said.

Angle joined Fox News Channel when the network launched in 1996 as a senior White House correspondent where he appeared nightly on "Special Report with Brit Hume." Angle, who was also a regular substitute anchor for "Special Report," covered many of the most important news stories from the early years of Fox News.

[…]

Prior to joining Fox News Channel, Angle covered politics and the economy for CNN. He was on the road covering the Bob Dole campaign for CNN when Brit Hume reached out and talked him into joining the upstart network.

"I came to Fox a week before we went on the air at the behest of Brit Hume and it has been the most rewarding part of my career," Angle wrote in a 2014 memo to colleagues when he announced his retirement.

[…]

Angle had previously covered economic policy for ABC News, where he contributed to "World News Tonight," "Nightline" and "Good Morning America." Angle spent 1990-1993 anchoring NPR's "Marketplace," and served as NPR's White House correspondent for seven years, covering the Ronald Reagan and George H.W. Bush administrations.

[…]

During his storied career, Angle was a recipient of the White House Correspondents' Association Merriman Smith Memorial Award for outstanding presidential news coverage for broadcast journalism in 2001 and 2003.

He was also honored with the "Excellence in Financial Journalism Award" for his reporting on economic issues on "Nightline" in 1994 and 1995. Prior to his journalism career, Angle served in the U.S. Army after being drafted, with tours in Berlin, Germany and Danang, Vietnam. As a member of the special Berlin Brigade, he gave tours of the city to GIs.
Angle was one of the last of the old breed. It's net to impossible to imagine someone working as a high-level reporter for both NPR and Fox now—much less be voted as the best White House correspondent by one's peers under the Fox brand. While Fox News would come to be known for its bombastic talking heads, it at least started with a cadre of well-respected journalists doing hard news.