Joe Miller Won't Answer 'Personal' Questions About Professional Conduct
The Alaska Republican says he won't answer questions about alleged misconduct as a public official, deeming it "personal."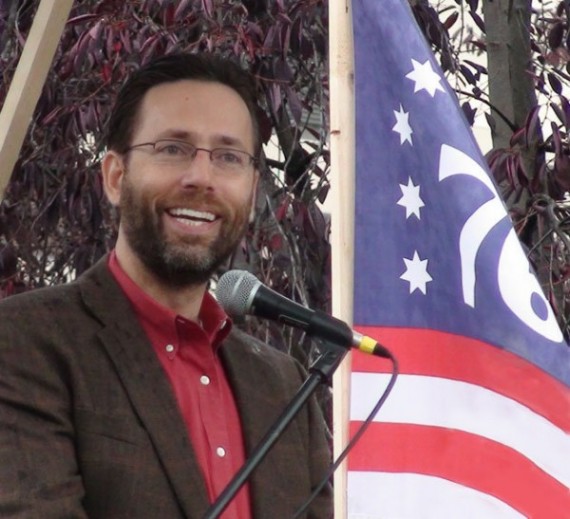 Joe Miller, the Republican nominee for the Alaska Senate seat held by Lisa Murksowsi, says he won't answer any more personal questions until after the election.   Sean Cockerham and Richard Mauer for the Anchorage Daily News:
"We've drawn a line in the sand. You can ask me about background, you can ask me about personal issues — I'm not going to answer," Miller said.

Miller made the statement to reporters following Monday's Anchorage Chamber of Commerce candidate forum at the Dena'ina Center. Standing with his wife, Kathleen, Miller delivered a seven-minute address in which he complained he had been mistreated by the Alaska news media and announced he would no longer be answering personal questions. He took no questions, then quickly left down a nearby stairwell.

Miller said he has been the victim of "journalistic impropriety."
Were reporters asking him whether he'd sexted with Brett Favre?   Making insinuations about his family?
The statement followed the Alaska Dispatch quoting an anonymous source Sunday night saying that Miller used borough equipment in the unsuccessful 2008 attempt to oust state Republican Party Chairman Randy Ruedrich. Several Alaska news organizations, including the Daily News, have been asking for borough records about Miller's employment since summer, including information related to any disciplinary action Miller faced while employed there. The Dispatch and the Fairbanks Daily News-Miner filed a lawsuit Monday seeking their release.

In March 2008, Miller was the Interior regional chair of the Republican Party and, along with then-Gov. Sarah Palin, attempted to have Ruedrich replaced as party chair at the annual GOP convention. The Fairbanks borough this summer released a heavily redacted set of documents. But other files were denied, including statements made by other employees regarding Miller and "web activity" reports from the day before the state Republican Party convention where Miller tried to oust Ruedrich.
Oh.   Certainly, these would seem to be questions about his public background rather than personal issues.    They seem highly relevant to his fitness to serve in the United States Senate.    And, certainly, it's more useful to ask these questions now than after he's been elected to a six-year term.
Miller asserted Monday that "members of the media have gained access to my confidential file, my personnel file from the Fairbanks North Star Borough. It is clear violation of law, the access to that file."

Miller did not offer evidence for his assertion that the media had gained access to his personnel file, or cite the law that had been broken. "We are calling upon all responsible members of the media to focus on the issues, the legitimate issues and not repeat basically the lies and innuendos, not repeat the clear violations of law, but to focus on the issues at hand. Now I'll admit, and I've said this before, I'm a man of flaws, there's no question about it. You know, I wasn't born with a silver spoon, I haven't been born wealthy," he said.
If, in fact, journalists have looked into a "confidential file" illegally, that's a problem.   But the information would seem to be in the public domain at this point.    And, frankly, it's not at all clear why this sort of information should be withheld from the public.   Miller was, after all, a public employee.
There seems to be a feeling among politicians in Alaska that they're entitled to run for office without having to be accountable to the public or answer questions from the press.    And it seems to be perfectly acceptable to Alaskans that they adopt this attitude.  But it strikes me as most odd.