Murkowski's Sore Loser Write-In Bid
Lisa Murkowski is the worst kind of sore loser candidate, willing to screw over her party's voters and her own donors to keep her seat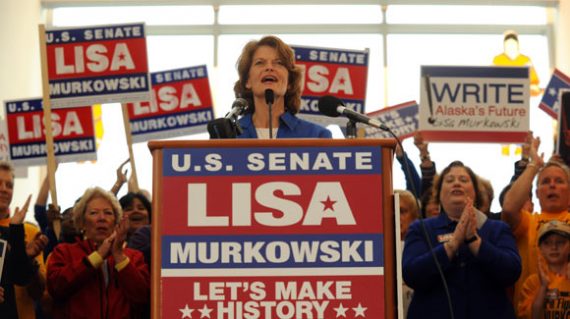 Reports that Lisa Murkowksi will run as a write-in candidate for her Alaska Senate seat have been confirmed.  Anchorage Daily News:
With the slogan "Let's Make History," Lisa Murkowski announced Friday that she'd pursue a write-in bid to keep her seat in the U.S. Senate after losing the Republican primary to Joe Miller.

[…]

No one has run a successful write-in campaign for the U.S. Senate since Strom Thurmond in 1954. Murkowski said she knows she faces a massive undertaking, not only to convince voters to support her but also to educate them on what they need to do for their vote to count. She acknowledged she made mistakes in her campaign, chief among them her failure to hit back when Miller and the Tea Party Express attacked her.

[…]

It was clear that Murkowski won't have the support of state and national Republican leaders. Senate Minority Leader Mitch McConnell said he told her she no longer has his support to serve in the Senate Republican leadership ranks, and accepted her resignation from that role. Alaska Republican Party Chairman Randy Ruedrich said "she will receive no support of any kind from the Alaska Republican Party." "Lisa has chosen to run against the Republican Party and its primary voters. We will treat her candidacy as we would anyone who chooses to oppose our party's nominees, Ruedrich said.

Former Gov. Sarah Palin, whose support for Miller drove hundreds of thousands of dollars in donations from the Tea Party Express his way, called Murkowski's effort futile. Murkowski offered a response to Palin, who resigned as governor last year, and to others she described as "naysayers" in Washington D.C.

"Perhaps it's one time they met one Republican woman who won't quit on Alaska," Murkowski said, receiving a huge standing ovation from her supporters.

Murkowski said she agonized over the decision to run as a write-in and that, as of Thursday night, she still didn't know if she was going to do it. She said she kept hearing from Alaskans who felt they couldn't vote for either Miller or the Democratic nominee for the U.S. Senate seat, Sitka Mayor Scott McAdams. "They told me that we cannot accept the extremist views of Joe Miller," she said. "We can't accept those views and, equally, we can't accept the inexperience of Mr. McAdams," she said.

[…]

Murkowski will be boosted by the $1 million reported left in her campaign account. She told her supporters that a write-in campaign was not a futile effort, citing a friend who told her there was no word for "impossible" in the Aleut language. And yes, Murkowski said, "you're going to have to learn to spell my name." "They tell us this is impossible, you cannot do it," Murkowski said. "Alaskans can't figure out how to fill in an oval and spell M-U-R-K-O-W-S-K-I?"
Murkowski is the worst kind of sore loser candidate, willing to screw over her party's voters and her own donors to keep her seat.   At very least, she should be forced to return the money to people who donated to her bid to win the Republican primary; those people are, after all, Republicans.
As to Joe Miller, he's by all indications a pretty upstanding guy.   He's a distinguished graduate of West Point, decorated Desert Storm vet, Yale Law graduate, and former state judge and prosecutor.   Aside from being a global warming skeptic, his stated views are pretty mainstream.
The "won't quit on Alaska" line is a nice dig on Palin.   But Palin was elected to a four-year term and left early.   Murkowski was fired and refuses to quit.   Neither is particularly honorable.