Murkowski Threatened By Possible Upset In Alaska GOP Primary
Before Sarah Palin endorsed him, most Alaskans had never heard of Joe Miller. This morning, he's on the verge of upsetting an incumbent Senator in the GOP Primary.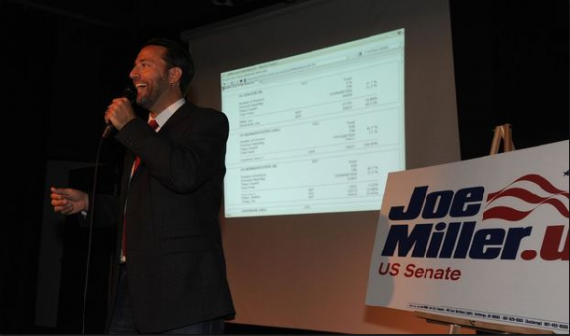 The biggest news coming out of Tuesday's primary elections comes from Alaska where incumbent Senator Lisa Murkowski is fighting for her political life:
U.S. Sen. Lisa Murkowski is battling for her political life this morning against Republican primary challenger Joe Miller, the Tea Party-backed candidate who had a slim lead as ballots continued to be counted overnight. Miller, a Fairbanks attorney, led from when the first returns came in Tuesday night, and was on the verge of pulling off one of the biggest election upsets ever in Alaska. With 84 percent of Alaska's precincts reporting around 2 a.m., Miller had 45,188 votes to 42,633 for Murkowski.

Miller credited the support of former Alaska Gov. Sarah Palin for his lead.

"I'm absolutely certain that was pivotal," he said.

Murkowski on Tuesday night took a shot at Palin, saying that when Palin resigned as governor last summer she said she would use her new national role to help out Alaska.

"I think she's out for her own self-interest. I don't think she's out for Alaska's interest," Murkowski said as she waited at her campaign headquarters for results to come in.

Miller made a triumphant entrance to election central at the Egan Center in downtown Anchorage on Tuesday night, surrounded by loudly cheering supporters with red-white-and-blue balloons.

"We did it!" one shouted.

Murkowski didn't come to election central, the traditional celebratory venue for Alaska candidates. She stayed in her campaign headquarters in Midtown Anchorage to watch the returns come in.

Her campaign spokesman, Steve Wackowski, was holding out hope that she would benefit from support in rural and coastal areas of the state that hadn't yet reported.

"We knew the race was going to be tight. The rural areas have yet to come in and we know Sen. Murkowski is going to be very strong in the rural areas."

Most of the precincts that hadn't reported were in rural areas, particularly Western Alaska including the regions around Bethel, Nome and Kotzebue, where paper ballots are counted by hand. Counting was to continue through the night, according to the Division of Elections. There were also some precincts yet to report in the Dillingham-Aleutians region and the university area of Fairbanks. But all those of tend to be Democratic-leaning areas where many independent voters might choose the Democratic primary ballot. Those who are registered Democrats aren't allowed to vote in the Republican primary so can't have a say in the Miller-Murkowski race.

The final results of the race won't be known for over a week. The Alaska Division of Elections said over 16,000 absentee ballots were requested and as of Monday night 7,600 had been returned. The first count of absentees will be next Tuesday and there will be two subsequent counts as the absentee votes trickle in on Sept. 3 and on Sept. 8.
However it turns out, though, it's fairly clear that most political pundits, including, yes, your humble correspondent, were completely wrong on this one and that Miller was a far stronger candidate than anyone anticipated. Over at Slate, David Weigel points to a few reasons why:
The first: The Tea Party Express threw around half a million dollars into the campaign on Miller's behalf. That's huge money in Alaska. Second: Measure 2, a parental consent ballot initiative, brought out pro-life voters who have never trusted Murkowski. Sarah Palin's early endorsement also handed Miller credibility and media attention which, in a GOP primary, was more important than Palin's increasing unpopularity in the state.
That parental consent measure passed quite handily, garnering more votes than Miller has so far, and likely did bring voters to the polls that otherwise might have stayed home. Those voters were more likely to support the more conservative Miller than Murkowski.
So, we'll have to wait a week or more to find out who won in Alaska, but the idea that Alaska is not Tea Party country seems to have been blown out of the water.
Photo: Anchorage Daily News