Joe Miller's Security Team Handcuffs Journalist
Don't ask Senate candidate Joe Miller questions he doesn't want to answer else his security team might cuff you.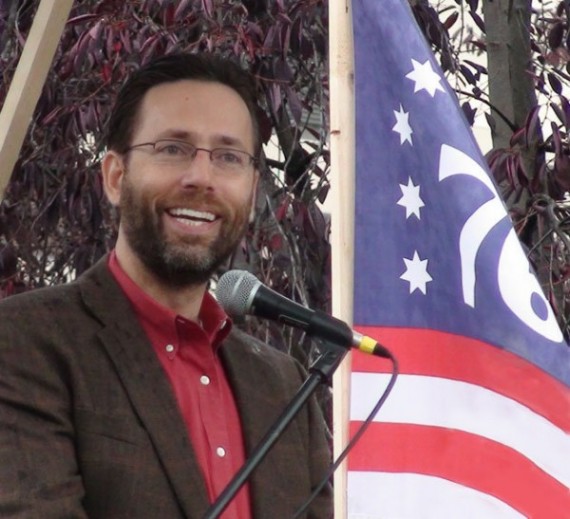 Via the Anchorage Daily News:  Miller security guards handcuff journalist
The editor of the Alaska Dispatch website was arrested by U.S. Senate candidate Joe Miller's private security guards Sunday as the editor attempted to interview Miller at the end of a public event in an Anchorage school.

Tony Hopfinger was handcuffed by the guards and detained in a hallway at Central Middle School until Anchorage police came and told the guards to release Hopfinger.

Hopfinger has not been charged but the owner of the Drop Zone, the private security firm that's been providing Miller's security, accused Hopfinger of trespassing at the public event, a town hall sponsored by the Miller campaign. The owner, William Fulton, also said Hopfinger assaulted a man by shoving him.
The story itself involves Hopfinger attempting to get an interview with Miller at the end of a townhall-style meeting at a public school.
The shoving in question is described by Hopfinger as follows:
Hopfinger, who was holding a small video camera, said he was attempting to draw out a statement from Miller on why he was disciplined by the Fairbanks North Star Borough when Miller worked there as a part-time attorney. After Miller walked away, Hopfinger said, he was surrounded by Miller supporters and security guards and felt threatened, so he pushed one of them away.
The security detail also seized Hopfinger's camera and allegedly erased the portion that contained video of the handcuffing.
First, I am not sure how one can be trespassing whilst at a pulic event being held at a public school.  According to the story, Hopfinger wasn't the only one being threatened:
While Hopfinger was still in handcuffs, the guards attempted to prevent other reporters from talking to him and threatened them too with arrest for trespass. A Daily News reporter interviewed Hopfinger anyway. No other reporters were arrested, though a few shoving matches and chest bumps ensued as the guards attempted to cordon off Hopfinger and block photographs and videos from being taken of the bizarre school scene.
If one is going to run for the Senate, then reporters are going to ask questions.  I have little doubt that Hopfinger was being obnoxious from Miller's point of view (a blogger and his video camera and all), but that comes with the territory.
Second, even if Hopfinger could be said to have been trespassing (which again, strikes me as a problematic position), then surely he could have a) been escorted from the property, or b) the police could have been called.  The notion that a candidate's private security details could handcuff a private citizen and take possession of his camera strikes me as highly problematic.
Miller has created his own problem in many ways by saying that he will not answer legitimate questions about actions he undertook whilst a public employee saying, instead, that such matters are "private."
h/t:  The Political Wire.