Joe Wilson's "You Lie" Engraved On AR-15 Parts By Gun Maker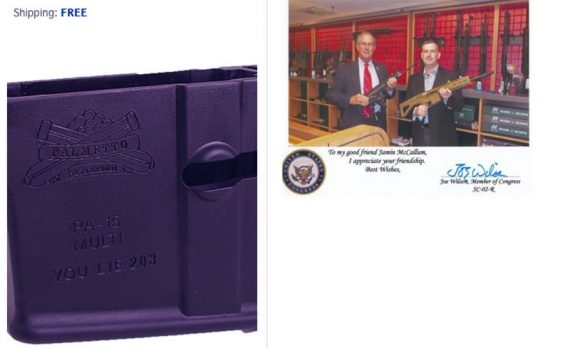 This one comes from our Is This Really Necessary? Department:
Rep. Joe Wilson's (R-S.C.) health care-era "you lie" interruption of President Obama is now reportedly being commemorated with a place on a new, limited edition line of assault rifle components.

The Columbia Free Times reports that the words are being engraved on a series of lower receivers manufactured for popular AR-15 assault rifles. Lower receivers are one of the primary pieces of the firearms.

"Palmetto State Armory would like to honor our esteemed congressman Joe Wilson with the release of our new 'You Lie' AR-15 lower receiver," the weapon manufacturer's site writes in the product description. "Only 999 of these will be produced, get yours before they are gone!"
What's next, a Bobby Kennedy Commemorative target?