Johan Santana Pitches First No Hitter In New York Mets History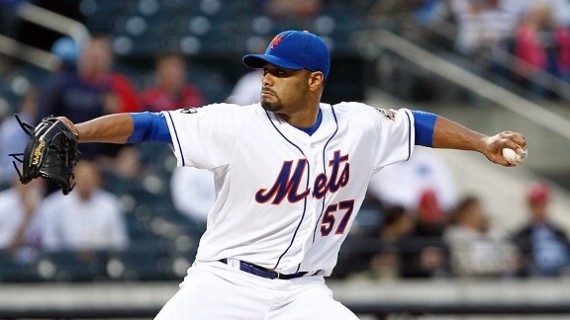 The New York Mets started playing baseball in 1962, but it took 50 years for them to grab their first no-hitter:
NEW YORK — It took 50 years, but the New York Mets and Johan Santana finally have their no-hitter.

The 33-year-old Santana held the Cardinals hitless in an 8-0 victory Friday in front of 27,069 at Citi Field, who witnessed the first no-hitter in franchise history. The left-hander walked five as his pitch count climbed to 134, but manager Terry Collins could not pull his starter, who Collins said he would limit to about 110 pitches before the game.

"Wow — amazing," Santana said after the game. "Coming into this season, I was just hoping to come back and stay healthy and help this team. And now I'm in this situation in the greatest city in baseball. I'm very happy, and I'm happy for [the fans], finally — the first one.

"It was a crazy night, trying to command my fastball, moving all over the plate. But I was able to locate it, command it and get some quick outs and get out of there."

When asked how he felt after throwing the final pitch, Santana could hardly contain his excitement.

"That's the greatest feeling ever," Santana said, just as he received a celebratory pie to the face.
It has been a rather ironic history for the somewhat hapless Mets. Over their half-century of history they have been the home of some of the best pitchers in modern baseball history. Nolan Ryan, Tom Seaver, Dwight Gooden, David Cone. Those are just four of the names of great pitchers that once played for the Mets, but achieved one of baseball's ultimate goals wearing the uniform of a different team. But now, that curse has been broken.
San Diego Padres? You're the only team left without a no-hitter.
Photo via ESPN