Reds Pitcher Homer Bailey Grabs Second No-Hitter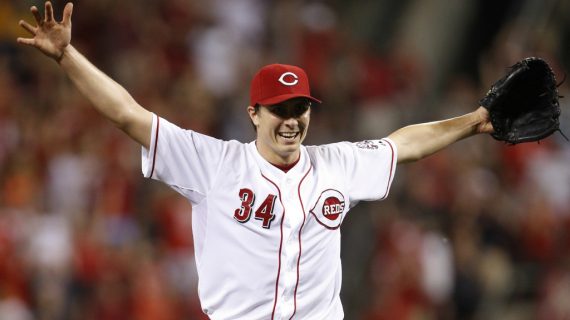 The last no-hitter in Major League Baseball occurred last September when Homer Bailey no-hit the Pittsburgh Pirates, capping off a season in which seven no-hitters were tossed. Last night, Bailey became the first pitcher of the 2013 season to pitch a no-hitter:
Another hard-throwing Texan who wears No. 34 made some no-hit history Tuesday night.

That Texan, Homer Bailey, threw his second no-hitter in 10 months for the Cincinnati Reds in a 3-0 win over San Francisco.

Bailey became the third Reds pitcher with more than one no-hitter, joining Jim Maloney and Johnny Vander Meer — still the only big leaguer to toss two in a row. Bailey no-hit the Pirates, 1-0, in Pittsburgh last Sept. 28 and got another no-hitter 17 starts later.

This one was at home with 27,509 fans standing and chanting "Homer! Homer!" as he finished it off in a tidy 102 pitches with one walk — in the seventh inning — and nine strikeouts.

"It was a pretty easy no-hitter," Giants Manager Bruce Bochy said. "We didn't hit too many balls hard. He was really overmatching us all night."

Yes, it was reminiscent of Nolan Ryan, a Hall of Famer from Texas who holds the record with seven no-hitters.

Bailey threw the last of the majors' seven no-hitters last season, and now the first of 2013. The last pitcher to throw one no-hitter and then another before anyone else in the majors was Ryan, according to STATS. Ryan, baseball's career strikeout king, did it for the California Angels on Sept. 28, 1974, against Minnesota, and on June 1, 1975, versus Baltimore.
While not nearly as rare as a Perfect Game, no-hitters are still by no means common, with only 280 (or 281 by some counts) over the course of the 138 years or recognized official baseball records.
Update: I learned via Twitter that some guy won $16,000 betting that there would be a no-hitter last night.